Co to jest szpiczak mnogi?
Szpiczak mnogi to nowotwór komórek plazmatycznych, który atakuje i niszczy kości.
Szpiczak to drugi pod względem częstości występowania nowotwór kości, stanowiący około 12% wszystkich rozpoznawanych nowotworów hematologicznych.
Leczenie szpiczaka jest możliwe, a wyniki takiej terapii stale ulegają poprawie. 
Co to jest IMF?
Założona w roku 1990 International Myeloma Foundation (IMF, Międzynarodowa Fundacja do spraw Szpiczaka) jest najstarszą i największą na świecie fundacją zajmującą się problematyką dotyczącą szpiczaka mnogiego.
IMF pomaga poprawić jakość życia pacjentów ze szpiczakiem, podejmując działania mające na celu udoskonalenie metod profilaktyki i leczenia.
IMF utworzyła International Myeloma Working Group (IMWG, Międzynarodową Grupę Roboczą do spraw Szpiczaka), w skład której weszło 187 cieszących się największym uznaniem na świecie ekspertów w dziedzinie szpiczaka. Należą oni do czołówki grup prowadzących zarówno badania laboratoryjne, jak i translacyjne, osiągając doskonałe wyniki. Przewiduje się, że w najbliższym czasie możliwe stanie się wyleczenie tej choroby.
Infolinia IMF jest obsługiwana przez przeszkolonych specjalistów udzielających informacji. Z osobami tymi można skontaktować się pocztą elektroniczną pod adresem

[email protected]

.
Edukacja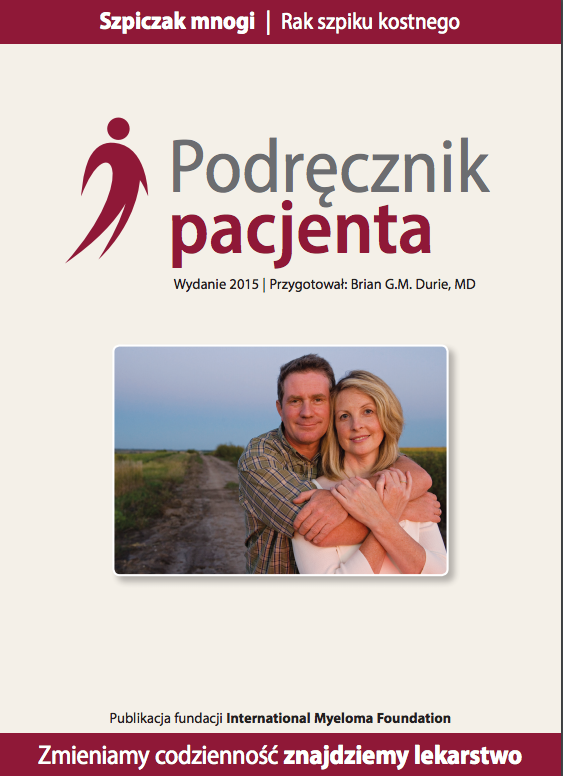 TC-Wczesne objawy ostrzegawcze szpiczaka
Wczesna diagnoza jest kluczem do osiągnięcia najlepszych wyników dla pacjentów.
b
Image Left
White