Wat is een multipel myeloom?
Een multipel myeloom is een kanker die ontstaat in de plasmacellen in het beenmerg.
In de Verenigde Staten is myeloom de op één na meest voorkomende vorm van bloedkanker, goed voor 1,8% van alle kankerdiagnosen.
De incidentie van myeloom neemt toe met de leeftijd en varieert van het ene land tot het andere, met een lage incidentie van minder dan 1/100.000 in China tot ongeveer 4/100.000 in de meeste geïndustrialiseerde westerse landen.
De vaakst voorkomende symptomen van myeloom zijn botpijn, vermoeidheid en infecties.
Een myeloom kan worden behandeld en de prognose blijft verbeteren.
Over de IMF
De International Myeloma Foundation (IMF) werd opgericht in 1990 en is de oudste en grootste liefdadigheidsorganisatie die specifiek op myeloom is gericht. De IMF telt meer dan 350.000 leden in 140 landen en stelt zich ten dienste van myeloompatiënten, familieleden en gezondheidswerkers. De IMF biedt een brede waaier van programma's aan op het vlak van onderzoek, educatie, ondersteuning en belangenbehartiging:
ONDERZOEK  De IMF is wereldleider op het vlak van collaboratief onderzoek naar myeloom. Sinds 1995 heeft de IMF meer dan 100 projecten van toponderzoekers gesponsord. Daarnaast brengt de IMF de wereldwijde toonaangevende experts samen in de International Myeloma Working Group (IMWG), die de weg uitstippelt naar een genezende behandeling, de nieuwe generatie van innoverende onderzoekers begeleidt, en levens verbetert dankzij betere zorg.
EDUCATIE  De IMF houdt overal ter wereld educatieve seminars en workshops. Op die bijeenkomsten krijgen myeloompatiënten en hun familie rechtstreekse up-to-date informatie van vooraanstaande myeloomexperts en onderzoekers.  De bibliotheek van publicaties van de IMF is zowel voor patiënten, mantelzorgers als professionele zorgverleners gratis beschikbaar in het Engels en in meerdere andere talen.
ONDERSTEUNING  De InfoLine van de IMF wordt bemand door coördinatoren die telefonisch of via e-mail elk jaar voor duizenden gezinnen vragen beantwoorden en ondersteuning en informatie bieden. Het IMF onderhoudt een netwerk van meer dan 150 steungroepen en geeft opleidingen aan honderden toegewijde patiënten, mantelzorgers en verpleegkundigen die zich als vrijwilliger opgeven om die groepen in hun gemeenschap te leiden.
BELANGENBEHARTIGING  De IMF werkt zowel wereldwijd als op het niveau van de staten en federaal in de VS en biedt opleiding en ondersteuning aan voor de betrokken individuen die de gezondheidsproblemen behartigen van de gemeenschap van mensen die met myeloom te maken krijgen. De IMF heeft duizenden mensen opgeleid die zich inzetten om de toegang van patiënten tot geneesmiddelen tegen myeloom te verbeteren.
Als u meer wilt weten over hoe de IMF de levenskwaliteit van myeloompatiënten helpt te verbeteren en een preventieve en genezende behandeling helpt te zoeken, dan kunt u contact opnemen met ons op de nummer +1-818-487-7455 of de website myeloma.org raadplegen. 
Levens verbeteren    Een behandeling vinden®
Educatie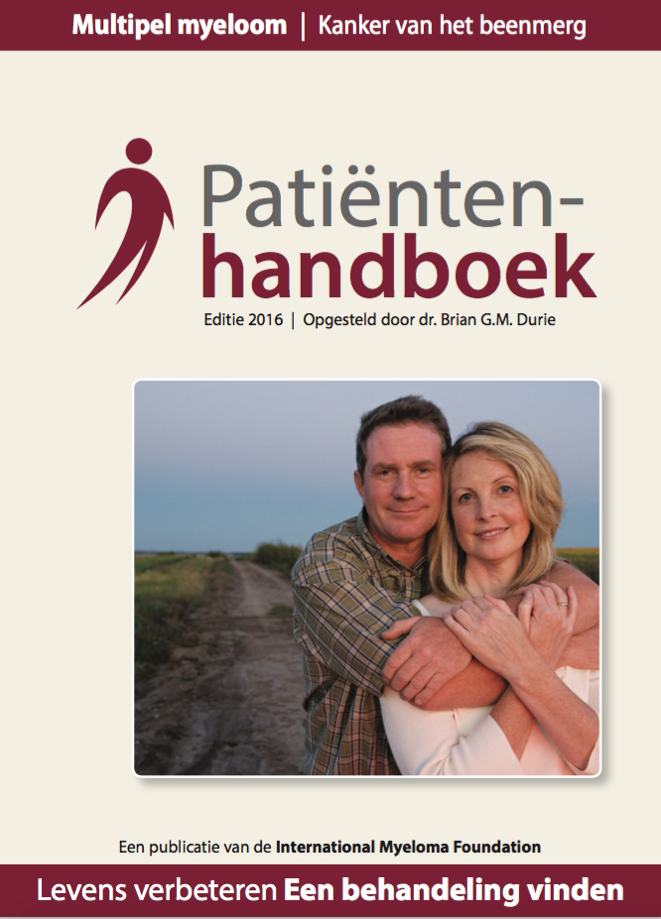 TC-Vroege waarschuwing Tekenen van myeloom
Vroege diagnose is de sleutel tot het bereiken van de beste resultaten voor patiënten.
b
Image Left
White