Empliciti® (generic name elotuzumab) is a monoclonal antibody. It is used as an intravenously (IV, into a vein) infused prescription medicine used to treat multiple myeloma in combination with the medicines Revlimid® (lenalidomide) and dexamethasone, in people who have received one to three prior treatments for their disease.
How Is It Used?
Unlike traditional chemotherapy treatments, Empliciti is a new type of immunotherapy that works with a patient's own immune system to fight MM in two ways:
Empliciti activates a key type of white blood cell in your immune system called a Natural Killer (NK) cell.
Empliciti identifies myeloma cells so they are more easily recognized by NK cells. That way, activated NK cells can find and destroy those cells.
Possible Side Effects of Empliciti, Revlimid, and dexamethasone
Empliciti with Revlimid/dexamethasone adds little or no toxicity over Revlimid/dexamethasone alone. As with other monoclonal antibodies, Empliciti may cause infusion reactions that can occur during the IV infusion or within 24 hours after the infusion. Most infusion reactions occur with the first dose, and include fever, chills, elevated blood pressure, rash, trouble breathing, and dizziness or lightheadedness. Medications are given before each dose of Empliciti to reduce the risk of infusion reactions. Reactions can also be managed by slowing or stopping the infusion.

Other Common Side Effects of Empliciti, Revlimid, and dexamethasone
low white cell count
anemia (low red blood cell count)
low platelets (the cells that enable blood to clot after an injury)
fatigue
diarrhea
fever
constipation
infections
muscle spasms
decreased appetite
Empliciti Dose and Schedule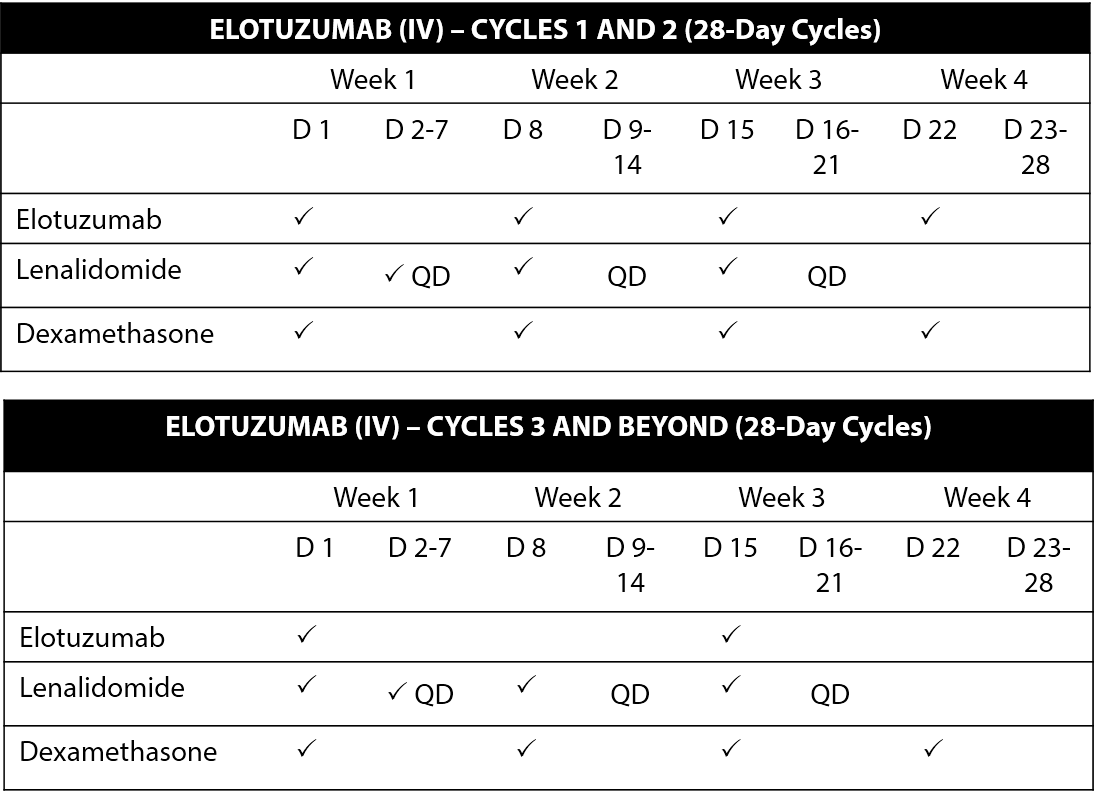 Clinical Trials
Active, Not Recruiting
Phase III Study of Lenalidomide and Dexamethasone With or Without Elotuzumab to Treat Newly Diagnosed, Previously Untreated Multiple Myeloma.
Active, Not Recruiting
Phase III Randomized, Open-label Trial of Lenalidomide/Dexamethasone With or Without Elotuzumab in Relapsed or Refractory Multiple Myeloma
ClinicalTrials.gov is a registry of federally and privately supported clinical trials conducted in the U.S. and around the world. ClinicalTrials.gov gives you information about a trial's purpose, who may participate, locations, and phone numbers for more details. This information should be used in conjunction with advice from healthcare professionals.