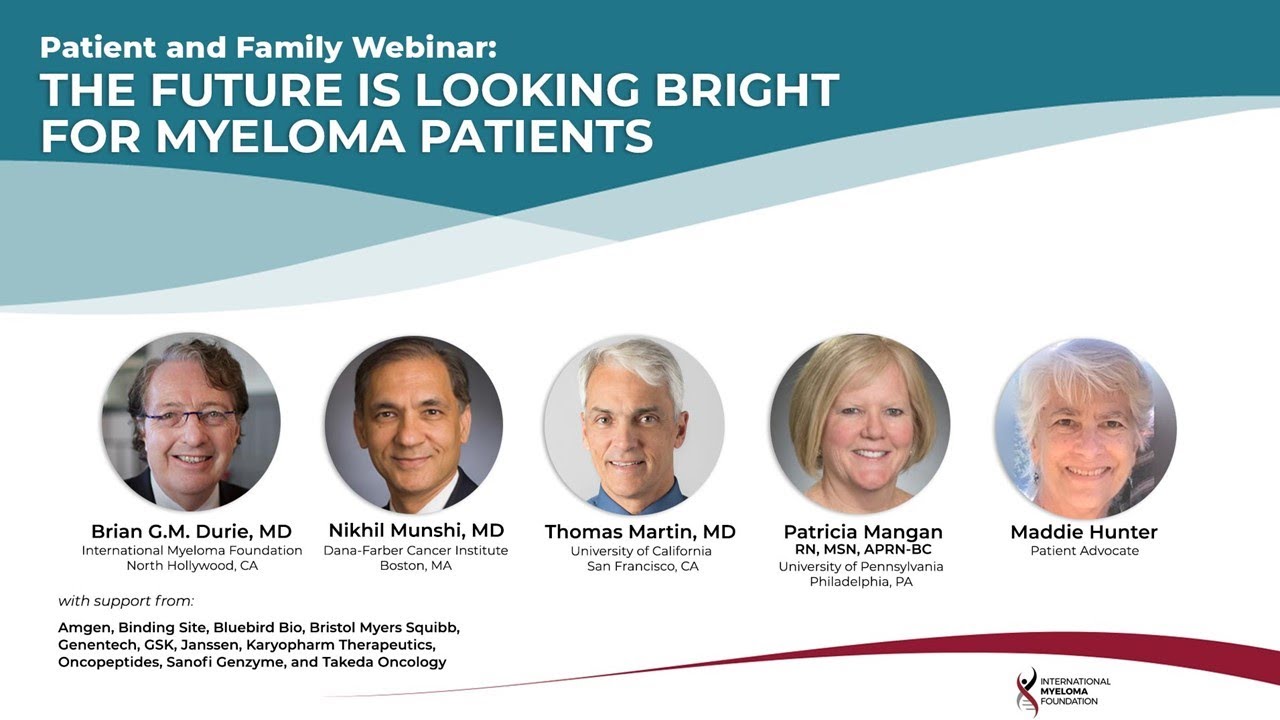 Virtual Webinar on How The Future is Looking Bright for Myeloma Patients
Virtual Myeloma Webinar on Promising New Therapies For Myeloma Patients
Myeloma Experts From Across the Nation Share News on CAR T-Cell Therapy, Provide Updates on the COVID-19 Vaccines, and More.
This IMF Patient & Family Webinar features exciting, late-breaking news about CAR T-cell and other promising therapies: Who are the likely candidates for these treatments and how can eligible patients access them? Dr. Durie shares important updates on COVID-19 vaccines and variants. For newly diagnosed patients, "Myeloma 101" offers a simple introduction to what can be a complex disease, while a myeloma patient shares personal insights.
Addressing Patient Questions:
Our expert panel answers questions on what to do when myeloma comes back, how to stay safe during a COVID-19 summer, and more.  Some questions addressed in this webinar include: Should patients continue to conduct meetings with friends, family, and healthcare professional virtually when possible? How do myeloma patients respond to the COVID-19 vaccines? Should patients go in to the clinic to receive their treatment? and more.

Speakers and Topics:
Brian G.M. Durie, MD
IMF Chairman of the Board
Cedars-Sinai Samuel Oschin Cancer Center

Myeloma 101 & COVID 19: Vaccine & Variant Update

Maddie Hunter
Patient Advocate

Navigating the Journey: A Patient's Perspective

Thomas Martin, MD
University of California San Francisco

CAR T: Using Your Own Immune System to Fight Myeloma

Nikhil Munshi, MD
Dana-Farber Cancer Institute

Treatment When Myeloma Comes Back

Patricia Mangan, RN, MSN, APRN-BC
University of Pennsylvania

Supportive Care Updates: COVID, CAR T & More
This Webinar Includes the Following Segments:
In his Myeloma 101 presentation, Dr. Brian G.M. Durie highlights how multiple myeloma is a highly treatable disease with over 90% of patients responding to the current treatments available. In 2021, the average patient survival is 7-10 years, with some patients living over 15-20 years. He also addresses when smoldering myeloma patients should begin treatment, as well as recommended therapies for high-risk smoldering multiple myeloma patients (HRSMM). He discusses essential tests for diagnosing and monitoring myeloma, and more.
Dr. Durie provides an update to the ongoing COVID-19 pandemic. He addresses the latest news on COVID-19 vaccines, as well as the emerging disease variants. He provides safety recommendations for myeloma patients and outlines the importance of getting vaccinated against the COVID-19 virus.
Patient Advocate Maddie Hunter brings a patient's perspective on how to navigate a myeloma diagnosis. Drawing on her personal experience of living with multiple myeloma for over 20 years, she provides insights for staying grounded, the benefit of support groups, the importance of nourishing one's body, and using her passions as fuel in her myeloma journey.
In this presentation on emerging immune therapies, Dr. Thomas Martin answers the question: What is a CAR T-cell? He breaks down the process of how CAR T cells are used to fight myeloma, and how this type of therapy uses a patient's own immune system to target myeloma. He also discusses the side effects of CAR T-cell therapies as well as the reason why such side effects occur. Dr. Martin also outlines other emerging immune therapies on the horizon.
Dr.Nikhil Munshi goes over what it means to be relapsed/refractory and what treatment options are available to relapsed patients. He discusses what doctors' consider when selecting a new treatment for patients, as well as what factors can influence this decision. Dr. Munshi touches on the major advances in myeloma treatment and how there have been 14 new myeloma-drugs in the last 15 years alone.
Patricia Mangan presents updates in supportive care for patients. She details how patients can communicate effectivelywith their healthcare team, the importance of being an informed patient, and how myeloma and myeloma treatments both contribute to how patients feel.
Download Webinar Resources
Additional Resources:
Acquaint yourselves with the following resources on the IMF website to better understand the discussions.
Essential Tests for Diagnosis and Monitoring
Myeloma Acronyms & Abbreviations
Watch Ask Dr. Durie Videos:
"Myeloma 101: What does a newly diagnosed patient need to know?"
"What imaging studies, or scans, should myeloma patients undergo?"
Download the IMF's Multiple Myeloma Informational Booklets:
If you have any questions, please contact:
The International Myeloma Foundation
1-800-452-CURE (2873)
[email protected]
---
Patient and Family Webinar Sponsors:
with support from:
Amgen, Binding Site, Bluebird Bio, Bristol Myers Squibb, Genentech, GSK, Janssen, Karyopharm Therapeutics, Oncopeptides, Sanofi Genzyme, and Takeda Oncology
Please check out these multiple myeloma resources from our sponsors:
(All the sponsor links below are external links and you acknowledge that you are leaving the IMF website. The IMF is not responsible for content provided by the links below and you may be subject to the Privacy Policy and Terms & Conditions of the destination site(s).
Even The Odds
Virtual Patient Booth

Bluebirdbio website

Revlimid Treatment Overview brochure

Pomalyst Transition Treatment brochure

DARZALEX FASPRO™ Patient Brochure

Learn About Our Mechanism of Action

Oncopeptides, Inc. website

Talking to Your Healthcare Team
Previous Post
Newly Diagnosed Myeloma Patients and Their Caregivers
Next Post
How does the M-spike correlate to the amount of myeloma protein in the body?