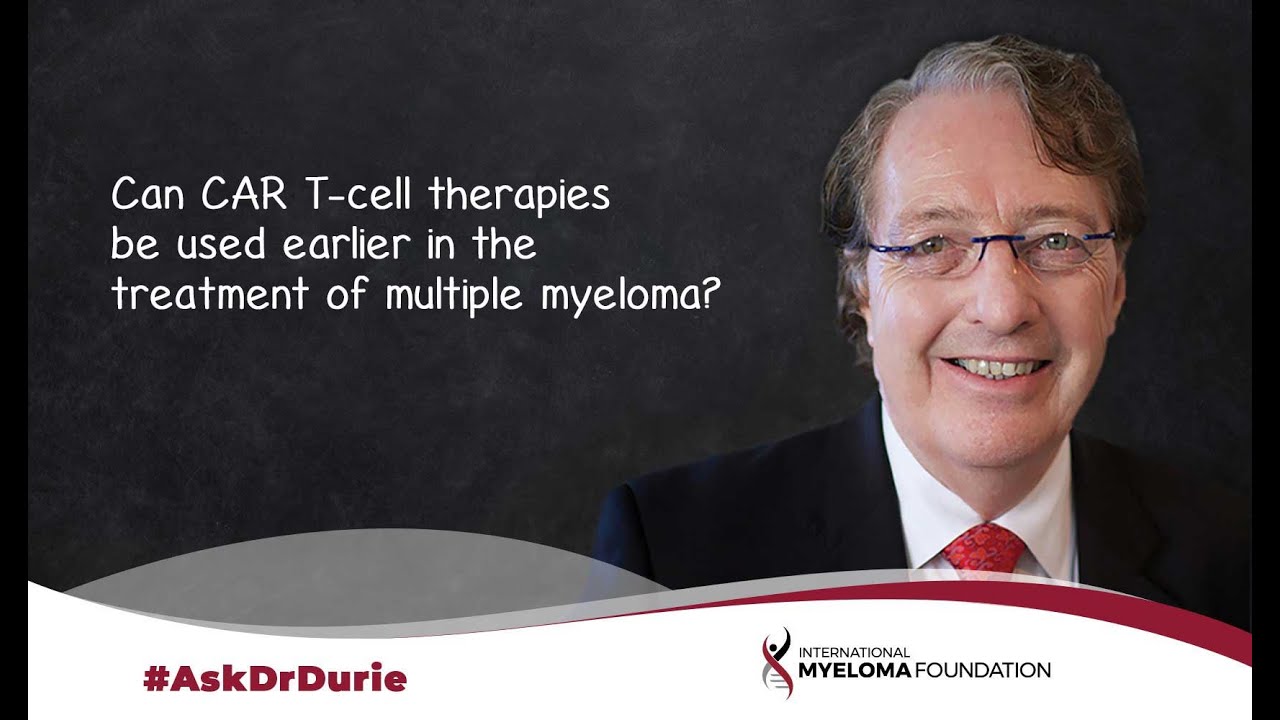 Can CAR T-cell therapies be used earlier in the treatment of multiple myeloma?
In this week's video, Dr. Brian G.M. Durie discusses the current use of CAR T-cell therapies for multiple myeloma, what is on the horizon, and some of the challenges to consider when implementing the therapy earlier in treatment.
BOTTOM LINE:
Yes, there is interest in using CAR T-cell therapies earlier, while retaining good efficacy without significant toxicity.
IMF Chairman Brian G.M. Durie, MD welcomes your questions about the latest myeloma treatments, research, controversies and quality of life issues. If you have a question you think might be of interest to the myeloma community, please send to [email protected]!

For questions of a specific personal nature, please call the IMF InfoLine coordinators at 800.452.2873 or email them at [email protected]. 
Transcript:
This week's "Ask Dr. Durie" comes from a gentleman who wants to know about CAR T-cell therapies. His question is, "Can CAR T-cell therapies be used earlier in the disease?". And the answer to this is yes. This gentleman is obviously very well informed and knows about CAR T-cell therapies, and the fact that currently they are typically used in patients with relapsing myeloma often a very advanced disease.
Now, CAR T-cell therapies are engineered T cells which are taken from the patient and then engineered in the lab to target the myeloma. Right now, the most successful target is BCMA, B-Cell Maturation Antigen. And so, there are several products, several types of CAR T cells that are in trials currently. And as this gentleman points out, mostly in patients with very advanced disease.
The problem with moving those therapies into an earlier disease situation is the possibility of side effects. And the main concern that has emerged is something called Cytokine Release Syndrome, CRS. And this has been a concern particularly with some products and particularly in efforts to use much higher doses of the cells. However, there are now multiple protocols where this has been taken into account using a good dosage of cells, and with some modified products, such that this CRS is much less of a concern. And so, the important thing is that the benefit, the efficacy, has been retained.
And so, I think what caught the attention of this particular gentleman was the fact that in advanced disease settings, with one product from Legend Pharmaceuticals* (Legend Biotech) at the ASH meeting in December, 88 percent of the patients with relapsing disease had an excellent response with many of those patients actually achieving Minimal Residual Disease negative status. And so, one could only imagine what could be the potential advantage of giving this therapy much earlier.
And so, the simple answer to this question is that absolutely there is a strong interest in giving CAR T-cell therapies earlier and paying close attention to the side effects such as CRS such that that is minimized but retaining the high level of efficacy. And in fact, there's a strong interest in using CAR T cell in the Black Swan Research Initiative, where we're focused on eliminating the disease and achieving MRD negativity in a sustained fashion.
And so, BOTTOM LINE, yes, considerable interest in moving CAR T-cell therapies earlier in the disease. However, it does need to be done with some caution, and it's going to be a step-wise process in the coming two-three years to see if this can be a successful strategy with good efficacy and without significant toxicity.
---
Dr. Brian G.M. Durie serves as Chairman of the International Myeloma Foundation and serves on its Scientific Advisory Board. Additionally, he is Chairman of the IMF's International Myeloma Working Group, a consortium of nearly 200 myeloma experts from around the world. Dr. Durie also leads the IMF's Black Swan Research Initiative®.
Previous Post
Living Well with Myeloma: MGUS, Smoldering Myeloma, and Newly Diagnosed
Next Post
Are there medical issues linked to MGUS other than developing multiple myeloma?