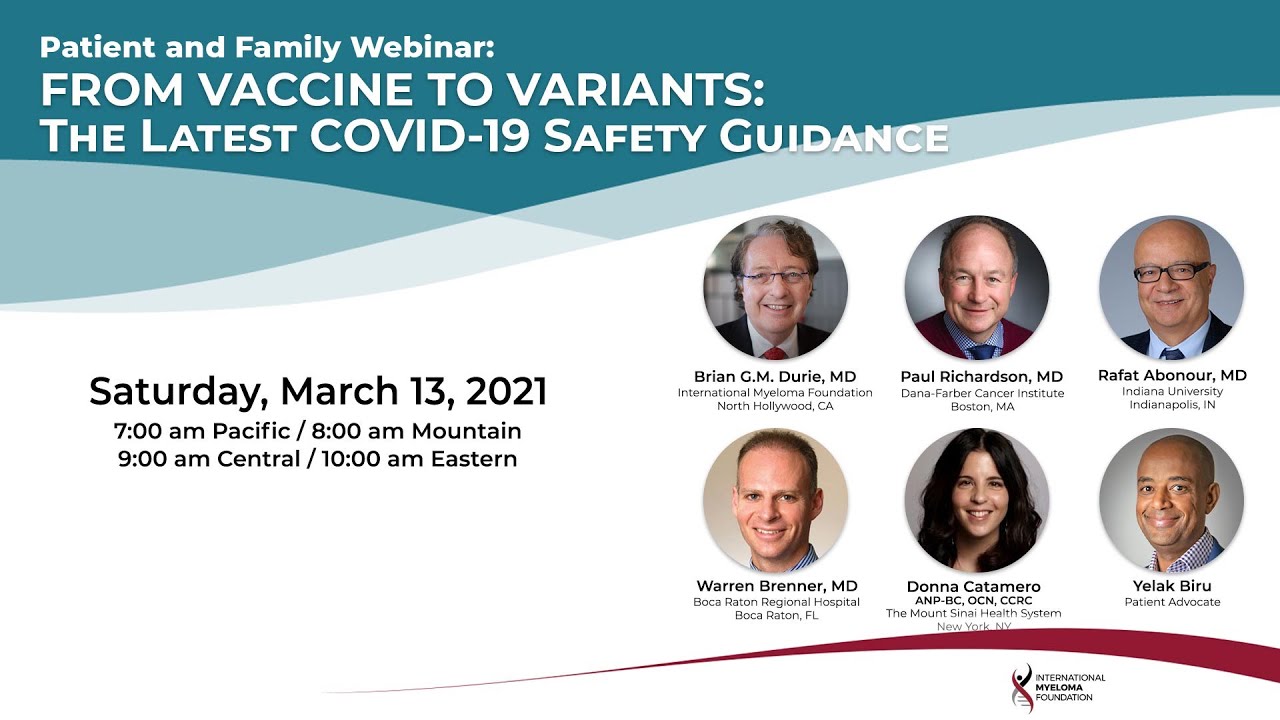 From Vaccine to Variants: The Latest COVID-19 Safety Guidance
(click on the image above to view the video)
Virtual Myeloma Webinar For Patients and Caregivers
Multiple Myeloma Experts Present the Latest Information on Myeloma in 2021, Discuss How Patients Can Stay Safe From the Emerging COVID-19 Variants, and the Importance of the COVID-19 Vaccines.
This IMF Patient Family Webinar offers myeloma patients and caregivers the latest news on multiple myeloma treatment and care in 2021, guidance for staying safe in our COVID-19 world, updates on the emerging COVID-19 variants, the current treatment landscape for relapsed/refractory myeloma patients, and a new patients perspective on myeloma. 
Panelists include Warren Brenner, MD of Boca Raton Regional Hospital, Paul G. Richardson, MD of the Dana-Farber Cancer Institute, Rafat Abonour, MD of Indiana University, Donna Catamero ANP-BC, OCN, CCRC of The Mount Sinai Health System, and Patient Advocate Yelak Biru.
Getting Answers From the Experts
This replay includes a Question and Answer segment where participants from the live webinar asked the myeloma experts pertinent COVID-19 questions including: Should you wear a face shield if you already wear glasses? Are all N95 masks created equal? Is it safe to stay in motels and hotels? And more.
Speakers and Topics:
This Webinar Includes the Following Segments:
What All Myeloma Patients Need to Know in 2021
In this segment, Dr. Brian G.M. Durie reviews the basics of multiple myeloma, discusses smoldering myeloma and the importance of early diagnosis, as well as detailing at what point treatment should be considered. Taking into consideration the current treatment landscape as we move further into 2021, Dr. Durie discusses how four-drug verses three-drug combinations could become a standard of care in the frontline setting.
Dr. Durie addresses concerns about the COVID-19 pandemic including how myeloma patients respond to the COVID-19 vaccinations currently available, the emerging COVID-19 variants, and overcoming pandemic fatigue. 
Supportive Care in a Time of COVID-19
Donna Catamero ANP-BC, OCN, CCRC, discusses your journey to health in the COVID era. In this segment, Catamero provides insight on how to stay connected with your healthcare team through virtual mediums. She outlines how to best prepare for both virtual and in-person appointments, along with best practices to stay safe during these trying times.
The Evolving Role of Immune Therapies: Treatments That Work With Our Own Immune Systems
In this segment, Dr. Paul Richardson details the remarkable progress being made in the treatment of multiple myeloma using immune therapies such as CAR T-cell therapies, bispecific T cell engagers (BiTE) and more. Dr. Richardson also discusses the key targets in myeloma including genomic abnormalities, excess protein production, and immune suppression.
Treatment Landscape in Relapse-When Myeloma Comes Back, What Are My Options?
In his presentation, Dr. Rafat Abonour takes the confusion out of what myeloma patients' next steps are when their myeloma returns. He discusses when patients should treat relapsed disease, the pros and cons of treating a biochemical relapse, and practical approaches to relapse.
A Patient's Perspective: You Have Myeloma! Now What?
Multiple myeloma patient and patient advocate Yelak Biru discusses how patients can maximize their quality of life while living with a myeloma diagnosis. Drawing upon his own experiences as a patient who was diagnosed at the age of 25, Biru outlines steps patients can take to boost their personal resilience and live well with myeloma. 
Webinar Resources:
Download the Webinar Slides Below.
Additional Resources:
Acquaint yourselves with the following resources on the IMF website to better understand the discussions. 
Essential Tests for Diagnosis and Monitoring
Myeloma Acronyms & Abbreviations
Ask Dr. Durie Videos: 
"Myeloma 101: What does a newly diagnosed patient need to know?"
"What imaging studies, or scans, should myeloma patients undergo?"
Download the IMF's Multiple Myeloma Informational Booklets:
If you have any questions, please contact:
The International Myeloma Foundation
1-800-452-CURE (2873)
[email protected]
---
Patient and Family Webinar Sponsors:
with support from:
Binding Site, Bluebird Bio, Bristol Myers Squibb, Genentech, GSK, Janssen, Karyopharm Therapeutics, Oncopeptides, and Sanofi Genzyme
 Please check out these multiple myeloma resources from our sponsors:
(All the sponsor links below are external links and you acknowledge that you are leaving the IMF website)
Virtual Patient Booth

Revlimid Treatment Overview brochure

Pomalyst Transition Treatment brochure

DARZALEX FASPRO™ Patient Brochure

Learn About Our Mechanism of Action

Oncopeptides, Inc. website

Talking to Your Healthcare Team
Previous Post
Virtual Webinar On Building Your Resilience During Challenging Times
Next Post
COVID-19 FAQ #26: Should myeloma patients get vaccinated against COVID-19?