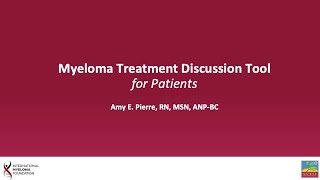 Myeloma Treatment Discussion Tool for Patients
Amy Pierre, Memorial Sloan Kettering Cancer Center, talks about how your healthcare team can help you. She also discusses how to use the Myeloma Treatment Discussion tool developed by the NLB and IMF.
Download the tool here: http://bit.ly/treatment-discussion-tool
Previous Post
COVID-19 FAQ #26: Should myeloma patients get vaccinated against COVID-19?
Next Post
M-Power Charlotte Community Workshop