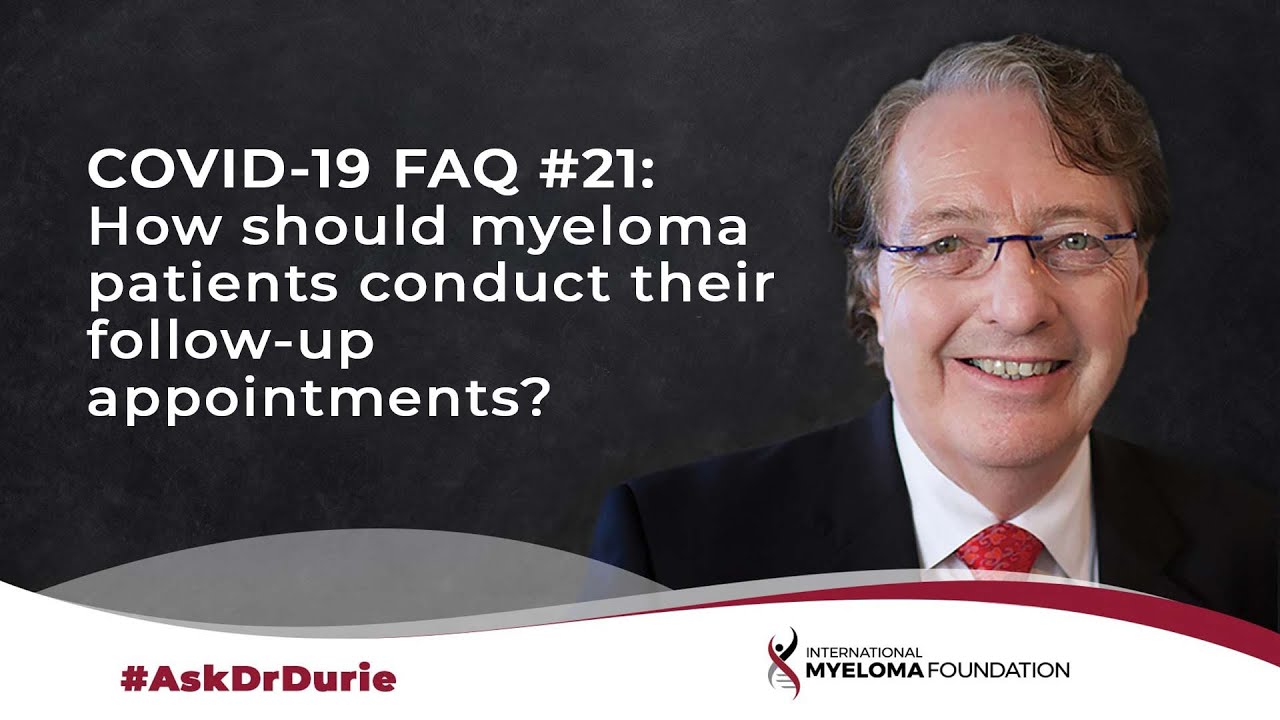 COVID-19 FAQ #21: How should myeloma patients conduct their follow-up appointments?
In this COVID-19 FAQ episode, Dr. Brian G.M. Durie discusses what options multiple myeloma patients have when scheduling follow-up appointments during the ongoing pandemic.
The BOTTOM LINE: 
Use telemedicine for follow-up visits when possible. If an in-person follow-up is necessary, record your doctor's visit or arrange to have your caregiver on the phone during the visit.
If you have a question that you'd like to suggest for a future episode of Ask Dr. Durie, please submit it to [email protected]. 
To reach the IMF InfoLine Coordinators, please call 800.452.2873 or email them at [email protected].  
Videos in the COVID-19 Series
Transcript:
This week's "Ask Dr. Durie" comes from many patients, actually, the majority of patients who really need to know; "what is the best way to have their follow-up appointments with their doctor?"   

And so, having a plan for this is essential actually. And so, how should you work out your plan? Well, the first new thing, which has become quite popular and quite common, is to use what we call telemedicine, where you can have a Skype or a Zoom conference with your doctor who can see you and you can communicate with your doctor without having to take the risk of traveling into the doctor's office.  
Now, this is a relatively new thing. And so, many doctors may not be fully versed in how to do this, but you do need to know that it is now covered by insurance, and so, it is something that is feasible. And so, talk to your doctor's office and see if this can be set up.  
But, no matter what, you should be in touch with your doctor's office to discuss different details before you go on in there. So, if you can't do telemedicine, and you are going to go in. Many times, they will not want your caregiver to go with you. And so, to get that information for the caregiver, you wither need to take your cell phone with you, and turn it on so that you can record what happens during the doctor's visit, or you can call ahead with the doctor and the doctor may be willing or able to use his or her cell phone to call. And basically, you're hearing everything that's happening in the doctor's office. And so, plan ahead and be ready for this new type of remote information sharing.  
 
But you should also be aware that in general the doctor's office is very safe. They have strict precautions in place. And so, if you do go in, wear your mask and everyone there will be wearing masks, and personal protective equipment. And so, you should be safe in the office. 
One unexpected advantage of the current situation with the COVID-19 crisis is that, using the telemedicine approach, expert opinions are available. And so, you can request directly, or you can actually call the IMF, or contact us at, you know, myeloma.org, you can be in touch with the IMF hotline, and ask us for advice about maybe setting up a telemedicine consult. And, many doctors' groups across the country are willing to give an expert opinion without you having to travel to get that advice. And so, as they say, every cloud has a silver lining and this is one that is actually quite helpful for patients who have new issues, want to find out about a new drug, or new therapy that might be necessary in their case.  
And so, BOTTOM LINE here is be aware of your different options. Use telemedicine or use your cell phone in the doctor's office. And, just be ready to have the best approaches in place because it is tremendously important to keep up with your myeloma care. The most important thing right now is to keep your myeloma in remission, to keep up with your care one way or another, but in the process also stay safe.  
---
Dr. Brian G.M. Durie serves as Chairman of the International Myeloma Foundation and serves on its Scientific Advisory Board. Additionally, he is Chairman of the IMF's International Myeloma Working Group, a consortium of nearly 200 myeloma experts from around the world. Dr. Durie also leads the IMF's Black Swan Research Initiative®.
Next Post
New Strategies for Multiple Myeloma Care: Newly Diagnosed Multiple Myeloma