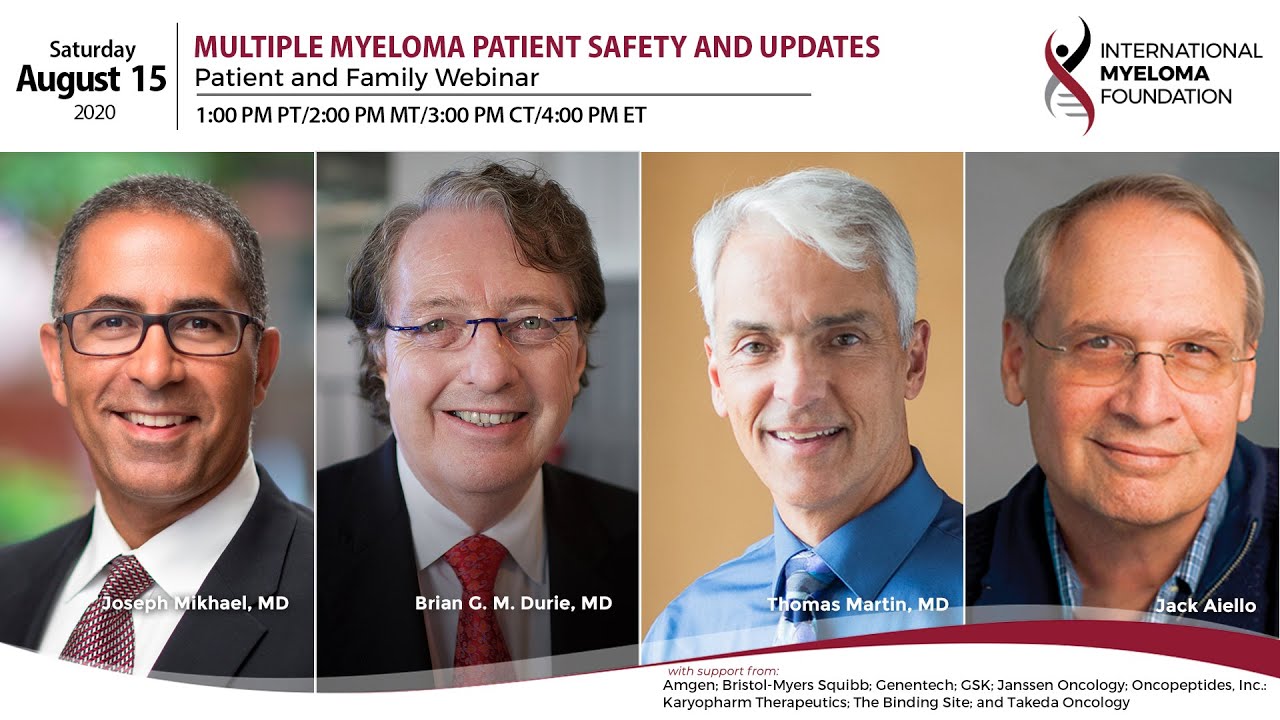 Los Angeles 2020 Patient & Family Webinar
click on the image above to view the replay
This FREE two-hour webinar features a panel discussion about the latest treatments for and management of myeloma led by IMF Chairman Dr. Brian G.M. Durie.
Panelists include Dr. Joseph Mikhael of Translational Genomics Research Institute (TGen), Dr. Thomas Martin of the University of California San Francisco (UCSF) Health, and Jack Aiello a patient advocate.
We suggest you acquaint yourselves with the following resources on the IMF website in order to play a more active role in discussions with the faculty panel of myeloma experts.
---
with support from:
Amgen; Bristol-Myers Squibb; Genentech; GSK; Janssen Oncology; Karyopharm Therapeutics; Oncopeptides, Inc.; The Binding Site; and Takeda Oncology
Please check out these multiple myeloma resources from our sponsors:
 

Revlimid Treatment Overview brochure

Pomalyst Transition Treatment brochure

 
Multiple Myeloma and You website

Darzalex FASPRO Patient brochure

Oncopeptides, Inc. website
Understanding Ninlaro booklet
Virtual Patient Booth
Download Understanding Series booklets:
Previous Post
COVID-19 FAQ #20: What is a bubble? And should myeloma patients exercise this practice?
Next Post
COVID-19 FAQ #21: How should myeloma patients conduct their follow-up appointments?