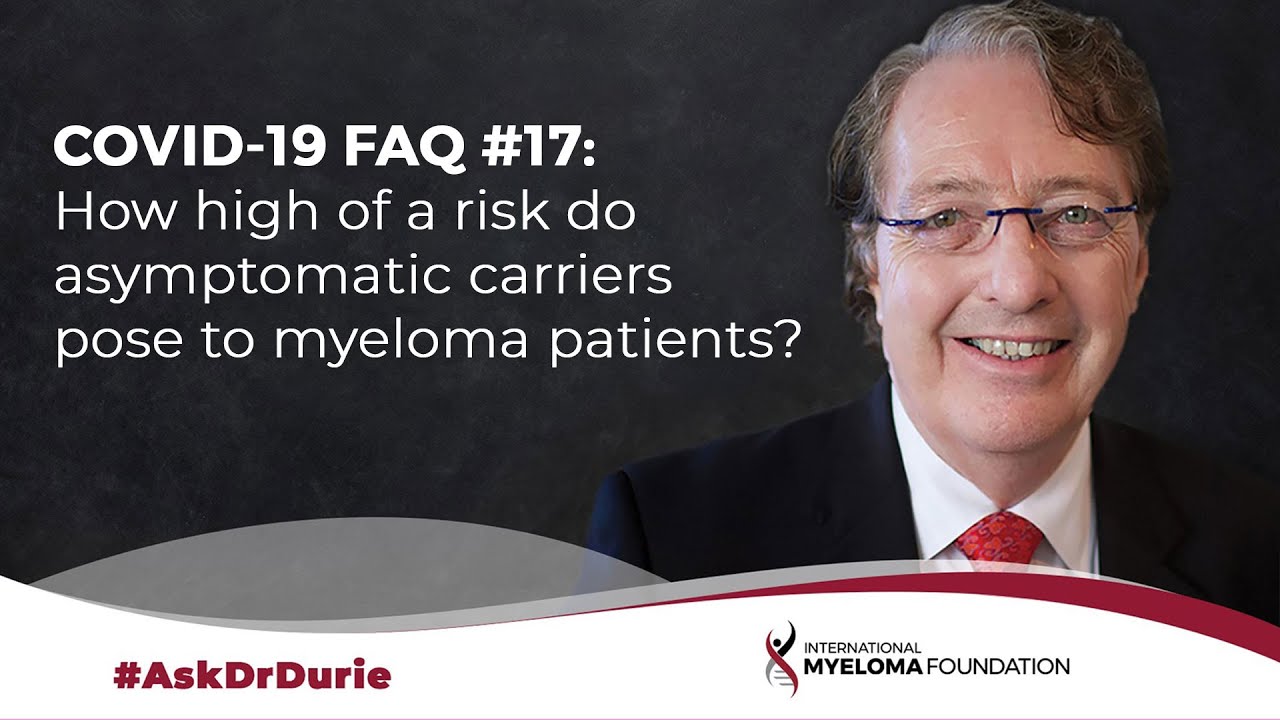 COVID-19 FAQ #17: How high of a risk do asymptomatic carriers pose to myeloma patients?
Continuing his COVID-19 FAQ series, Dr. Brian G.M. Durie discusses the risk asymptomatic carriers pose to myeloma patients and what patients can do to minimize the risk of infection. 
BOTTOM LINE:
Asymptomatic carriers present a high risk. Continue to practice physical distancing, disinfect shared spaces, and always wear a mask in public. Practice caution with family and friends who frequent public spaces    
If you have a question that you'd like to suggest for a future episode of Ask Dr. Durie, please submit it to [email protected]. 
To reach the IMF InfoLine Coordinators, please call 800.452.2873 or email them at [email protected].  
Videos in the COVID-19 Series
Transcript:
This week's "Ask Dr. Durie" comes from a patient who wants to know: "How big of a risk is it to potentially catch the COVID-19 infection from an asymptomatic carrier?" In other words, someone who has the COVID-19 infection but is not showing any symptoms.   
 
And, this has been somewhat controversial, however, a recent rather detailed study was published in the well-respected journal, Nature Medicine. And, in this journal, they studied what really is the status of patients who have COVID-19 infection but are not showing any symptoms.   
Rather surprisingly, they found that such patients do shed a significant amount of virus and this, on an average for this study, was for nineteen days. So, for close to three weeks, these individuals are actually shedding virus into the environment. And so, this is really quite troubling.     
This does also seem to link to a more delayed onset of an antibody reaction to the virus. And so, they just have a different pattern of disease. And, even though they don't have symptoms, if studies of the lung are done, it was discovered that sixty-seven percent of the patients actually had abnormal lung findings on CT study of the lung. And so, these are individuals who do have significant infection, it's just that they're not showing outward symptoms. 
So, the important aspect for myeloma patients is that you have to assume that people that you don't know could potentially be asymptomatic carriers of the COVID-19 infection. And so, you do need to be very, very careful when you go out into the public, into the community.  
And so, I strongly recommend that masks be worn at all times when you go out into public, and you do practice physical distancing, and that you do carry out normal hygiene, careful hygiene of surfaces and the like.  
One important aspect within your circle of family and friends is that within that group, there can be individuals who are going out and working in the community and could be one of those asymptomatic carriers. And so, even within the circle of your family and friends, do be cautious. And so, if there is someone who is working in an environment where they could be at risk, be cautious, perhaps encourage that person to be tested, but you may need to wear masks and social distance even within your close circle of family and friends.  
And so, the BOTTOM LINE is that asymptomatic carriers are a concern and we need to be very alert in these coming months through the summer and into the fall and winter season, and just be very, very, cautious entering into the community, but even in the circle of your family and friends. 
---
Dr. Brian G.M. Durie serves as Chairman of the International Myeloma Foundation and serves on its Scientific Advisory Board. Additionally, he is Chairman of the IMF's International Myeloma Working Group, a consortium of nearly 200 myeloma experts from around the world. Dr. Durie also leads the IMF's Black Swan Research Initiative®.
Previous Post
COVID-19 FAQ #16: Is it safe for myeloma patients to travel by airplane?
Next Post
COVID-19 FAQ #18: Is Ninlaro a safe treatment alternative for myeloma patients during the pandemic?