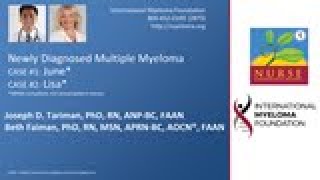 New Strategies for Multiple Myeloma Care: Newly Diagnosed Multiple Myeloma
This activity on newly diagnosed multiple myeloma will include an overview of the disease, as well as current treatment workup and testing recommendations for multiple myeloma. Through the cases of June and Lisa, our faculty will explore transplant eligibility, induction, and maintenance therapy.
Beth Faiman, PhD, RN, MSN, APRN-BC, AOCN®, FAAN; and Joseph D. Tariman, PhD, RN, ANP-BC, FAAN
Previous Post
COVID-19 FAQ #21: How should myeloma patients conduct their follow-up appointments?
Next Post
COVID-19 FAQ #22: Have the safety recommendations changed for myeloma patients?