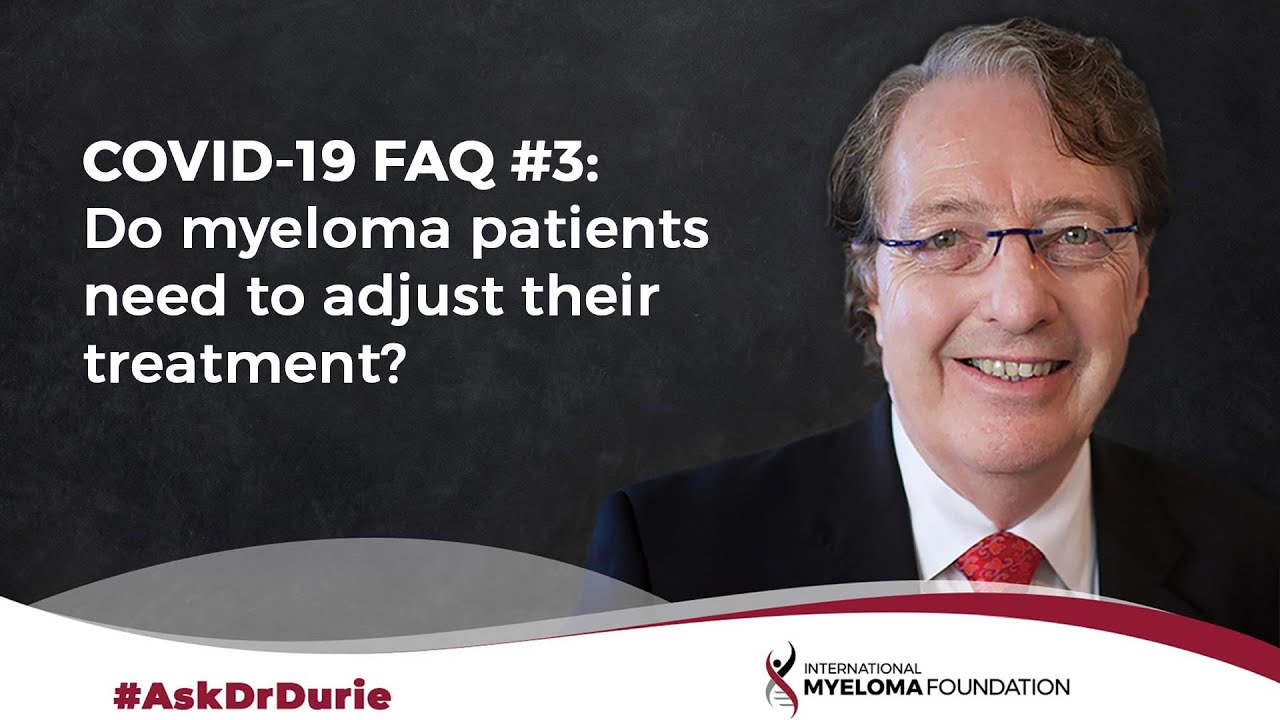 COVID-19 FAQ #3: Do myeloma patients need to adjust their treatment?
In the third episode of his ten-episode COVID-19 FAQ series, Dr. Brian G.M. Durie discusses if myeloma patients should consider adjusting their treatment. 
BOTTOM LINE:
To minimize the risk of infection, myeloma patients may need to adjust their treatment or treatment schedule. Discuss your options with your doctor and make a plan of action for the next couple of months. 
If you have a question that you'd like to suggest for a future episode of Ask Dr. Durie, please submit it to [email protected]. 
To reach the IMF InfoLine Coordinators, please call 800.452.2873 or email them at [email protected].  
Videos in the COVID-19 Series
Transcript:
This "Ask Dr. Durie" is one of the frequently asked questions related to the COVID-19 infection. This is frequently asked question number three. The question is, "because of the distribution of the COVID-19 virus infection, do I need to make changes to my myeloma treatment?"  
 
And the answer to this is possibly yes.  This is something that you should carefully discuss with your doctor. The recommendation is that you follow up with your doctor using telemedicine or certainly, just using a telephone or email for communication rather than going into the clinic. We're very concerned that myeloma patients going into the clinic, or more particularly, going into the hospital, could have an increased risk of exposure to the COVID-19 virus infection.  
 
And so, because there is a risk of possible infection, we need to adjust such that myeloma patients are being managed in the safest possible way. And so, one aspect to reduce clinic visits, is to reduce the number of needed intravenous infusions. And so, one safe thing that you can do is to defer or delay intravenous zometa bone treatment medicine. This can easily be skipped for two or three months safely.  
 
As far as IV medications, such as daratumumab, this has to be discussed with your doctor. However, it could be that in the maintenance setting, the number of intravenous infusions can be reduced.   
 
If you have recently had autologous stem cell transplant, the follow-up needs to be managed as carefully as possible, watching out for possible infectious complications. 
In a study out of Iceland, screening the population, they noted that approximately half of the individuals tested positive had no symptoms. And so, if there is any contact with other individuals, just be aware that you should consider that that individual could possibly have infection, and use physical distancing, and be cautious related to use of masks if they are available, I recommend using masks.  
And so, the BOTTOM LINE is that there are a number of modifications to your treatment that can be helpful to improve your safety and it is crucially important for you to talk to your doctor and have a plan of action for the next month or two so that you really are both clear how things are going to be managed, and possibly allowing you time to stock up on medicines that you need for those couple of months. So, very, very important to contact by telemedicine, by telephone, by email, and have a plan of action with your doctor. 
---
Dr. Brian G.M. Durie serves as Chairman of the International Myeloma Foundation and serves on its Scientific Advisory Board. Additionally, he is Chairman of the IMF's International Myeloma Working Group, a consortium of nearly 200 myeloma experts from around the world. Dr. Durie also leads the IMF's Black Swan Research Initiative®.
Previous Post
COVID-19 FAQ #2: What do myeloma patients need to know about COVID-19?
Next Post
Multiple Myeloma Patient Safety and the Coronavirus