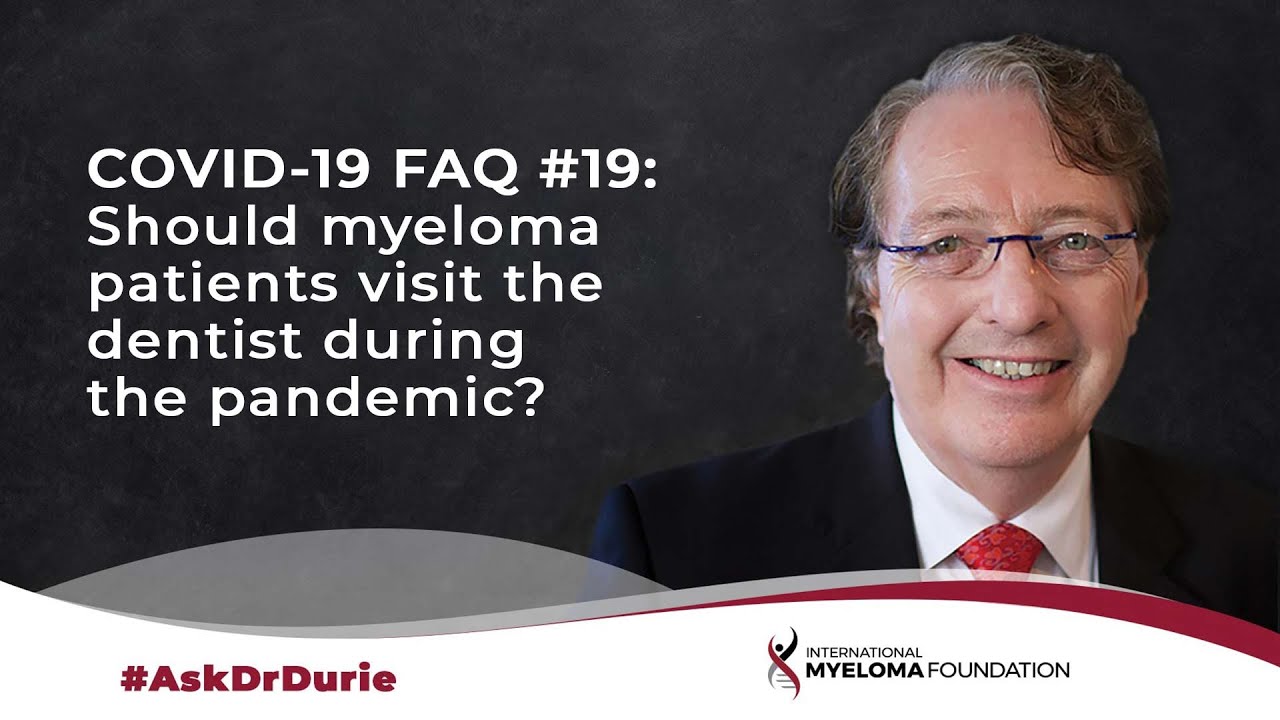 COVID-19 FAQ #19: Should myeloma patients visit the dentist during the pandemic?
Continuing his COVID-19 FAQ series, Dr. Brian G.M. Durie discusses if it is safe for myeloma patients to go in to the dentist for any routine dental care while the coronavirus pandemic remains a concern.
BOTTOM LINE:
It is safe for myeloma patients to visit the dentist. Continue to practice caution while in transit.
If you have a question that you'd like to suggest for a future episode of Ask Dr. Durie, please submit it to [email protected]. 
To reach the IMF InfoLine Coordinators, please call 800.452.2873 or email them at [email protected].  
Videos in the COVID-19 Series
Transcript:
This week's "Ask Dr. Durie" is actually from several patients who have the exact same question. Many patients really want to know right now, "during the COVID-19 crisis, is it safe to go to the dentist to get some routine work done?"
And so, this is a very legitimate concern. However, the answer, fortunately, is that it does appear to be okay and safe to go to the dentist. The American Dental Association has put very strict procedures in place. And, it turns out that the dentist office is, in fact, one of the safest places that patients can go, where there are masks for everyone, very, very, careful cleaning procedures. 
And so, it is one of those things where you have that natural concern. But it is a safe place to go. And, for routine work, this is mostly something very safe for a myeloma patient to plan and to go through with. 
And so, the BOTTOM LINE that I can offer is that it is safe to go but do be safe in your travels. With all these things right now, it's important to travel safely, in your personal car, go with someone who would go to and from the dentist with you, perhaps. But, with that caveat, bottom line, it is safe to go to the dentist. And, it is, as you know, good to keep on top of any little issues with your teeth and make sure everything is in good shape, so, good news on this.   
---
Dr. Brian G.M. Durie serves as Chairman of the International Myeloma Foundation and serves on its Scientific Advisory Board. Additionally, he is Chairman of the IMF's International Myeloma Working Group, a consortium of nearly 200 myeloma experts from around the world. Dr. Durie also leads the IMF's Black Swan Research Initiative®.
Previous Post
COVID-19 FAQ #18: Is Ninlaro a safe treatment alternative for myeloma patients during the pandemic?
Next Post
COVID-19 FAQ #20: What is a bubble? And should myeloma patients exercise this practice?