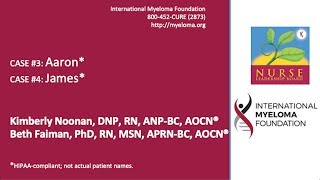 Relapsed Myeloma, Treatment for Relapsed Myeloma, Drugs in Development, Knowledge Post-Test
(click on the image above to view the video)
This video was recorded at the IMF Satellite Symposium that took place at the April 2019 Oncology Nursing Society's annual meeting. It is the third in a three-part series on myeloma nursing. In this segment, Beth Faiman, PhD, RN, MSN, APRN-BC, AOCN (Taussig Cancer Insitute, Cleveland Clinic - Cleveland) and Kimberly Noonan, DNP, RN, ANP-BC, AOCN discuss relapsed myeloma, treatment for relapsed myeloma, and drugs in development. The segment ends with a knowledge post-test.
---
Topics Covered:
---
This activity is supported by educational grants provided by Takeda Oncology, Celgene Corporation, Karyopharm Therapeutics Inc., and Janssen Biotech, Inc., administered by Janssen Scientific Affairs, LLC.
Previous Post
Newly Diagnosed Multiple Myeloma, Response, Bone Health, Renal Health, MRD, Survivorship Care
Next Post
Is it safe to stop Xgeva (denosumab)?