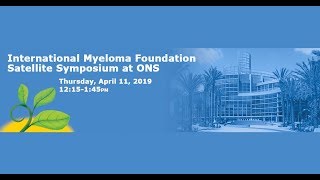 (click on the image above to view the video)
This presentation was recorded at the IMF Satellite Symposium held at the 2019 Oncology Nursing Society's annual meeting. In this video Beth Faiman, PhD, RN, MSN, APRN-BC, AOCN (Taussig Cancer Institute, Cleveland Clinic - Cleveland), Joseph D. Tariman, PhD, RN, ANP-BC, FAAN (De Paul University - Chicago), Sandra Rome RN, MN, AOCN, CNS (Cedars-Sinai Medical Center - Los Angeles), and Kimberly Noonan, DNP, RN, ANP-BC, AOCN (Dana-Farber Cancer Institute - Boston), address key issues in multiple myeloma nursing.
This Nurse Leadership Board presentation covers the following topics: Updates in smoldering multiple myeloma research, bone health, renal health, minimal residual disease, survivorship care, relapse, and drugs currently in development. 
---
Topics Covered:
---
This activity is supported by educational grants provided by Takeda Oncology, Celgene Corporation, Karyopharm Therapeutics Inc., and Janssen Biotech, Inc., administered by Janssen Scientific Affairs, LLC.
Next Post
What factors indicate smoldering multiple myeloma (SMM) will progress to active myeloma?