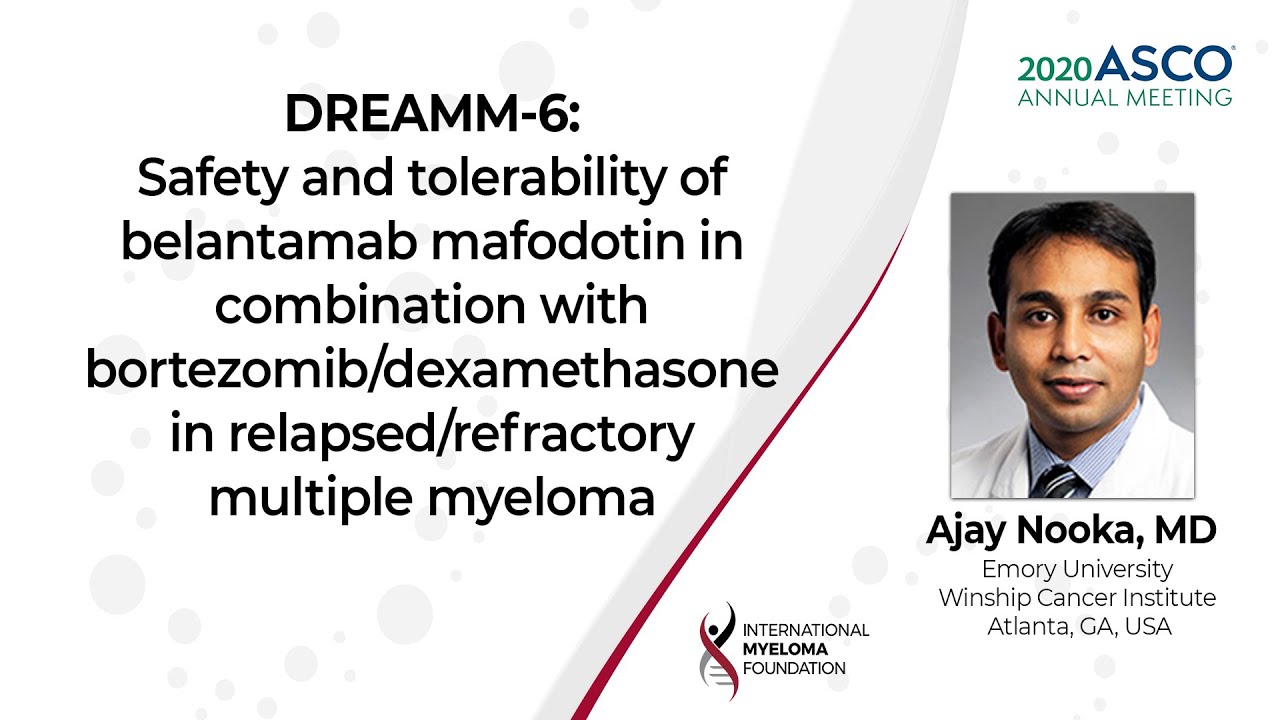 DREAMM-6: Safety and tolerability of belantamab mafodotin in combination with bortezomib and dexamethasone in relapsed refractory multiple myeloma
Dr. Ajay Nooka on the DREAMM-6 Trial
What is the DREAMM-6 trial?
The DREAMM-6 trial studies belantamab mafodotin (Bela), a B-cell maturation antigen targeting immunoconjugate. Bela has demonstrated clinically meaningful, single-agent activity in patients with heavily pre-treated relapsed refractory multiple myeloma (RRMM) who are refractory to an immunomodulatory agent, a proteasome inhibitor, and for those who are refractory and/or intolerant to an anti-CD38 monoclonal antibody.
In this video:
Dr. Ajay Nooka (Emory University - Atlanta) explains this ongoing, two-part, two-arm, study. DREAMM-6 evaluates the safety, tolerability, and clinical activity of belantamab mafodotin in combination with bortezomib/dexamethasone (BorDex) and lenalidomide/dexamethasone in patients previously treated with one or more prior lines of therapy. 
Results:
Part 1 (dose escalation) and Part 2 (dose expansion) evaluated belantamab mafodotin (2.5 and 3.4 mg/kg) administered as SINGLE (Day 1) or SPLIT dose (divided equally on Days 1 and 8) in combination with BorDex. As of February 6, 2020, 52 patients were enrolled: 6 patients were enrolled at 2.5 mg/kg single dose and 7 at 3.4 mg/kg single dosing in Part 1, and 45 patients in Part 2. No dose-limiting toxicities were observed. Corneal events (including keratopathy, blurred vision, and dry eye) and thrombocytopenia were the most frequently reported adverse events and were clinically manageable.
Conclusions:
The multimodal mechanism of action and manageable safety profile make belantamab mafodotin a promising candidate for use in different RRMM combination regimens. In DREAMM-6, preliminary data demonstrate that the combination of belantamab mafodotin and BorDex has an acceptable safety profile, with no new safety signals identified.
Clinical trial information: NCT03544281
---
AJAY NOOKA, MD
Ajay Kumar Nooka, MD, MPH, FACP, is an Associate Professor of Hematology and Medical Oncology at Emory University School of Medicine and a part of the hematology care team at Winship Cancer Institute of Emory University. Dr. Nooka is board certified in Internal Medicine and specializes in hematology and medical oncology. As a network physician, he started practicing with Emory Healthcare in 2011. He also serves as director of the Winship Research Informatics Shared Resource.
Next Post
COVID-19 FAQ #14: Should myeloma patients undergo ASCT during the pandemic?