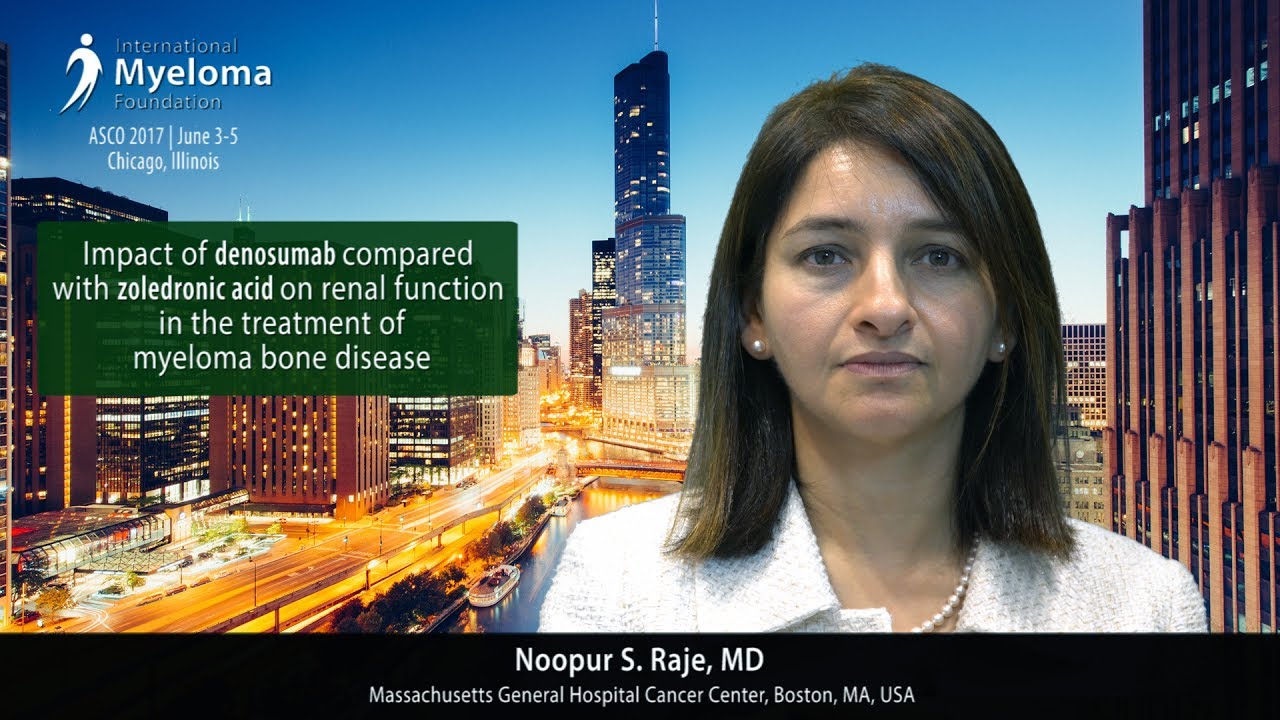 Impact of denosumab compared with zoledronic acid on renal function in the treatment of myeloma bone disease
Dr. Noopur S. Raje Compares Denosumab to Zometa (Zoledronic Acid)
 
Background: Osteolytic bone disease and renal dysfunction are complications of multiple myeloma. Zometa (zoledronic acid), used for the prevention and treatment of bone complications, can be nephrotoxic. Denosumab inhibits RANKL and thereby osteoclast function, and is not renally cleared. This international, phase III, randomized, double blind study evaluates the efficacy and safety of Denosumab compared with zolederonic acid in newly diagnosed myeloma patients (pts).
Author(s): Noopur S. Raje, G. David Roodman, Wolfgang Willenbacher, Kazuyuki Shimizu, Ramon Garcia-Sanz, Brian G. Durie, Li Zhu, Paul C. Cheng, Sumita Bhatta, Evangelos Terpos; Massachusetts General Hospital Cancer Center, Boston, MA; Indiana University, Indianapolis, IN; Medical University of Innsbruck, Innsbruck, Austria; National Hospital Organization Higashi Nagoya National Hospital, Nagoya, Japan; Hospital Universitario de Salamanca, Salamanca, Spain; Cedars-Sinai Comprehensive Cancer Center, Los Angeles, CA; Amgen Inc., Thousand Oaks, CA; National and Kapodistrian University of Athens, Athens, Greece
Clinical trial information: NCT01345019
---
ABOUT NOOPUR S. RAJE, MD
Dr. Noopur S. Raje is an Associate Professor of Medicine at Harvard Medical School and Director of the Multiple Myeloma Center at Massachusetts General Hospital. She spearheads a translational research program evaluating novel therapeutics in myeloma with a special interest in the biology of myeloma bone disease. Dr. Raje is a member of the International Myeloma Working Group and NCCN Clinical Practice Guidelines Committee for Multiple Myeloma. Visit Dr. Raje's full biography.
Previous Post
ASCO 2017: Multiple Myeloma Highlights -- Dr. Joseph Mikhael
Next Post
A phase Ib study of isatuximab in combination with pomalidomide and dexamethasone in RRMM