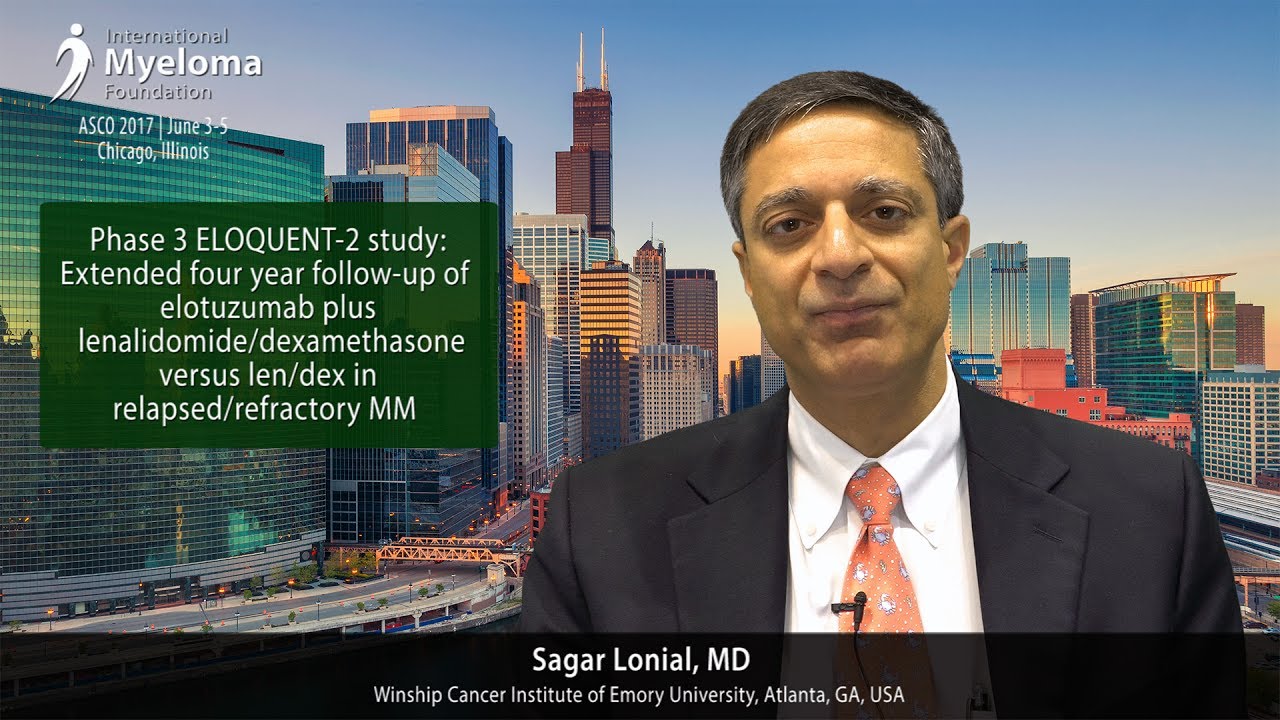 Phase 3 ELOQUENT-2 study: Elotuzumab plus lenalidomide/dexamethasone vs Ld in relapsed/refractory multiple myeloma (RRMM)
Dr. Sagar Lonial Discusses the Phase 3 ELOQUENT-2 Study

Background: Elotuzumab, an immunostimulatory monoclonal antibody, has a dual mechanism of action: directly activating natural killer (NK) cells and tagging myeloma cells for recognition/death via antibody-dependent cell-mediated cytotoxicity. In a 3-y FU, ELOQUENT-2 (NCT01239797) showed a sustained 27% reduction in risk of disease progression/death for ELd vs Ld and overall survival (OS) trend in favor of ELd (Dimopoulos et al, ASH 2015). Here we present extended 4-y FU data (median FU 46 mo).
Author(s): Sagar Lonial, Meletios A. Dimopoulos, Katja C. Weisel, Darrell White, Philippe Moreau, Maria-Victoria Mateos, Jesus San Miguel, Kenneth Carl Anderson, Ofer Shpilberg, Sebastian Grosicki, Ivan Spicka, Adam Walter-Croneck, Hila Magen, Andrew Belch, Donna Ellen Reece, Meral Beksac, Sabeen Mekan, Oumar Sy, Anil K. Singhal, Paul G. Richardson; Winship Cancer Institute, Atlanta, GA; National and Kapodistrian University of Athens School of Medicine, Athens, Greece; University of Tübingen, Tübingen, Germany; Queen Elizabeth II Health Sciences Centre, Halifax, NS, Canada; University Hospital, Nantes, France; University Hospital of Salamanca–Instituto de Investigación Biomédica de Salamanca (IBSAL), Salamanca, Spain; Clínica Universidad de Navarra, Pamplona, Spain; Dana-Farber Cancer Institute, Boston, MA; Institute of Haematology, Assuta Medical Centers, Tel-Aviv, Israel; Medical University of Silesia, Katowice, Poland; Charles University in Prague and General Teaching Hospital, Prague, Czech Republic; Medical University of Lublin, Lublin, Poland; Davidoff Cancer Center, Petah Tikva, Israel; Cross Cancer Institute, Edmonton, AB, Canada; Princess Margaret Hospital, Toronto, ON, Canada; Ankara University, Ankara, Turkey; Bristol-Myers Squibb, Lawrenceville, NJ; AbbVie Inc., Redwood City, CA
Clinical trial information: NCT01239797
---
ABOUT SAGAR LONIAL, MD, FACP
Dr. Sagar Lonial is Chief Medical Officer at the Winship Cancer Institute at Emory University in Atlanta. He is board certified in hematology and medical oncology. His research focus is "with combinations of novel agents as therapy for myeloma and lymphoma, particularly evaluating combinations that may result in synergistic inhibition of the PI3-K/Akt pathway." Visit Dr. Lonial's full biography.
Previous Post
ASCO 2017: What's New and Promising in Multiple Myeloma Research
Next Post
ASCO 2017: Multiple Myeloma Highlights -- Dr. Joseph Mikhael