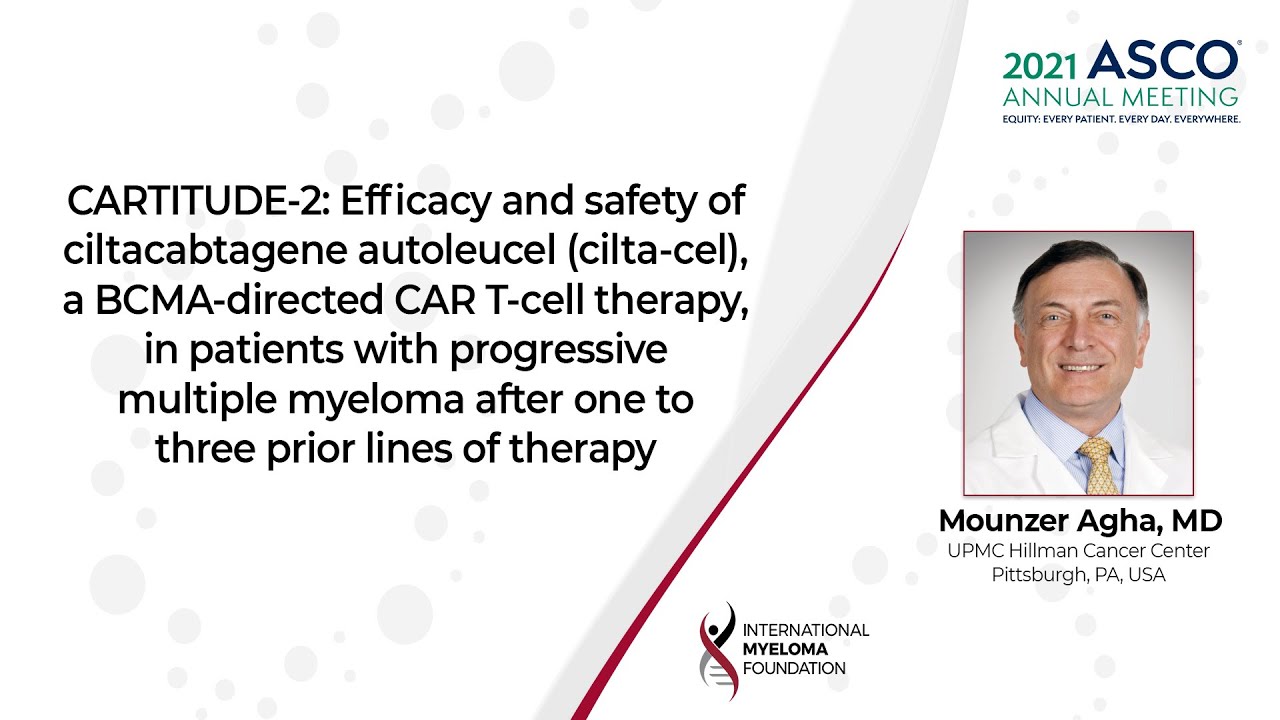 CARTITUDE-2: Efficacy and safety of ciltacabtagene autoleucel (cilta-cel), a BCMA-directed CAR T-cell therapy, in patients with progressive multiple myeloma (MM) after one to three prior lines of therapy
Dr. Mounzer Agha on the Phase II CARTITUDE-2 Study
What is the background of this study?
Cilta-cel is a CAR T-cell therapy expressing two BCMA-targeting, single-domain antibodies designed to confer avidity. The multicohort, phase II CARTITUDE-2 study (NCT04133636) evaluates cilta-cel safety and efficacy in various clinical settings for patients with multiple myeloma and explores suitability of outpatient administration.
In this video:
Dr. Mounzer Agha (UPMC Hillman Cancer Center, Pittsburgh, PA, USA) explains the initial results from this cohort.
Conclusions:
A single cilta-cel infusion at the recommended phase II dose led to early and deep responses with a manageable safety profile in patients with multiple myeloma who had 1–3 prior lines of therapy. Updated efficacy and safety findings will inform suitability of outpatient treatments in this and other cohorts of CARTITUDE-2 as well as the CARTITUDE-4 study.
Clinical trial information: NCT04133636
Previous Post
Depth of response and minimal residual disease status in ultra high-risk multiple myeloma and plasma cell leukemia treated with DARA-CVRd: Results of the UK optimum/MUKnine trial
Next Post
Effects of refractory status to lenalidomide on safety and efficacy of selinexor, bortezomib, and dexamethasone (XVd) versus bortezomib and dexamethasone (Vd) in patients with previously treated multiple myeloma