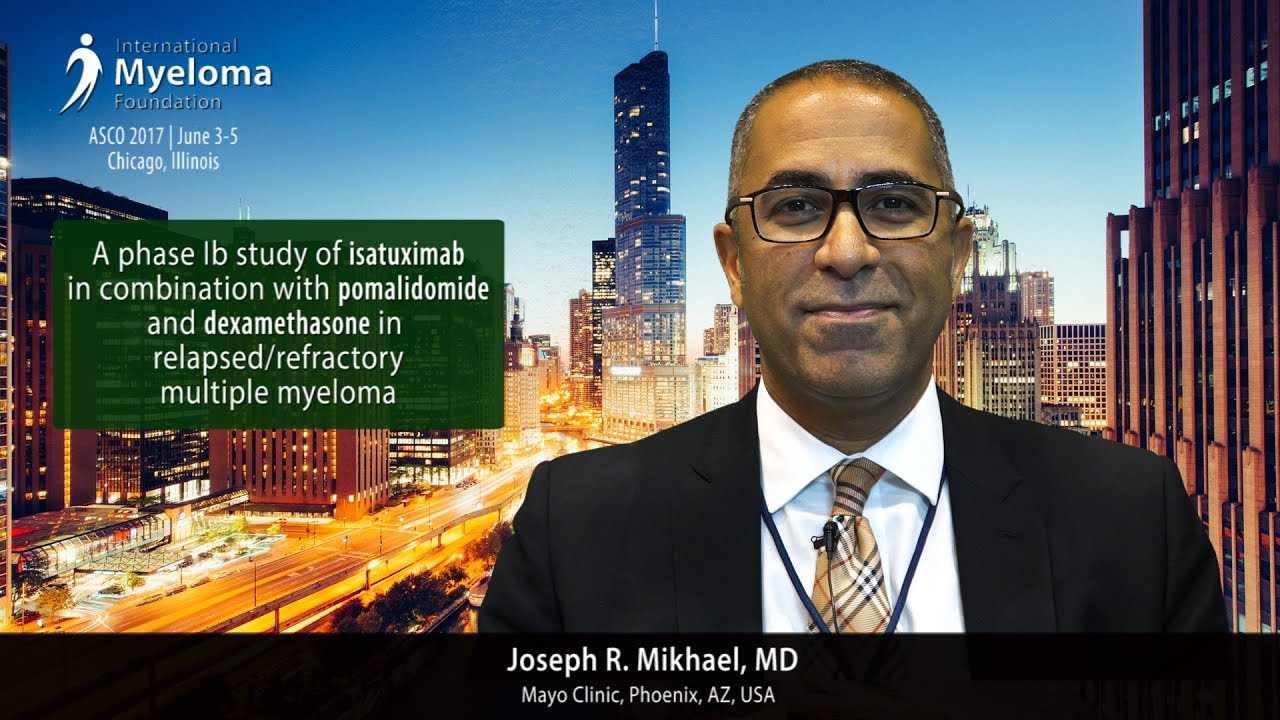 A phase Ib study of isatuximab in combination with pomalidomide and dexamethasone in RRMM
Dr. Joseph Mikhael Discusses a Phase 1B Study of Isatuximab Plus Pomalidomide and Dexamethasone
 
Background: Isatuximab (ISA) is an anti-CD38 monoclonal antibody, which kills tumor cells via multiple mechanisms. Here, we report preliminary data from the dose-escalation cohorts, and the first 3 patients (pts) of the expansion cohort, of a Phase Ib study of ISA plus Pom/Dex in patients with relapsed/refractory multiple myeloma (RRMM) (NCT02283775).
Author(s): Joseph Mikhael, Paul G. Richardson, Saad Zafar Usmani, Noopur Raje, William Bensinger, Dheepak Kanagavel, Lei Gao, Samira Ziti-Ljajic, Kenneth Carl Anderson; Mayo Clinic, Phoenix, AZ; Dana-Farber Cancer Institute, Boston, MA; Levine Cancer Institute, Carolinas HealthCare System, Charlotte, NC; Massachusetts General Hospital, Boston, MA; Swedish Cancer Institute, Seattle, WA; Sanofi R&D, Vitry-Sur-Seine, France; Sanofi Oncology, Cambridge, MA; Sanofi, Vitry-Alfortville, France
Clinical trial information: NCT02283775
---
ABOUT JOSEPH MIKHAEL, MD
Dr. Joseph Mikhael is a world-renowned multiple myeloma expert. In his position with the IMF, he works closely with the Board Chairman, Dr. Brian G.M. Durie, to advance the mission of the organization in research, education, advocacy, and patient care to improve lives of patients with myeloma. Dr. Mikhael has conducted dozens of clinical trials in the field of multiple myeloma and has contributed to the development of many novel drugs. He has served as a Professor of Medicine at the Mayo Clinic, an Associate Dean at the Mayo Clinic School of Graduate Medical Education, and as the Deputy Director of Education at the Mayo Clinic Cancer Center. Dr. Mikhael also serves as a councilor on the American Society of Hematology (ASH) Executive Committee and is involved in mentoring the next generation of hematologists. He did his medical training in Canada, having completed medical school at the University of Ottawa, his hematology training at the University of Toronto, and a Multiple Myeloma Fellowship at Princess Margaret Hospital. He also has a master's degree in education from the University of Toronto. Dr. Mikhael remains in clinical and academic medicine with City of Hope Cancer Center in California. Dr. Mikhael's full biography.
Previous Post
Impact of denosumab compared with zoledronic acid on renal function in the treatment of myeloma bone disease
Next Post
CALGB/ECOG 100104 (Alliance) study: Lenalidomide vs placebo maintenance after stem cell transplant