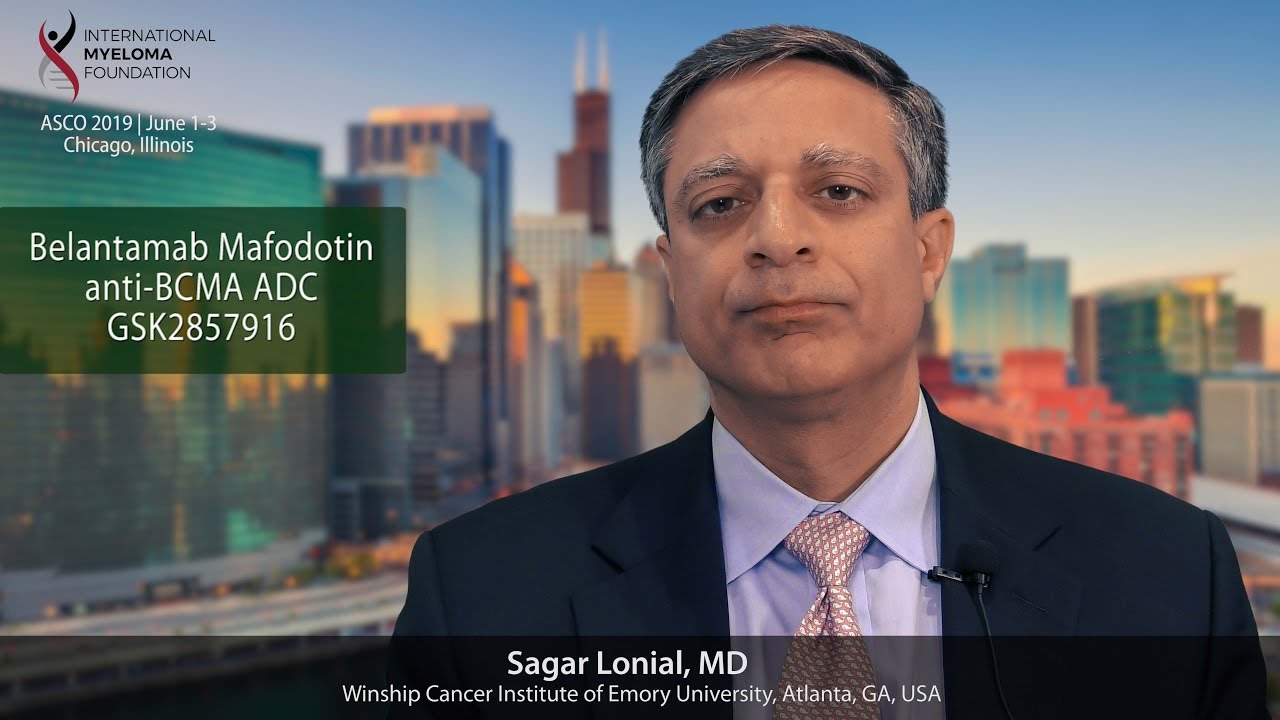 Belantamab mafodotin anti-BCMA ADC
Dr. Sagar Lonial on Belantamab Mafodotin
Dr. Sagar Lonial (Emory University, Winship Cancer Institute  – Atlanta) discusses the BCMA antibody-drug conjugate previously known as GSK 916, now known as belantamab mafodotin. 

TRANSCRIPT:
Belantamab is basically an antibody-drug conjugate, which means it is an antibody targeting BCMA, similar to what we've seen in CAR-T cells as well as in BiTES or bispecifics. But on the back of the anitbody is a piece of chemotherapy – the mafodontin. What this allows us to do is to target the myeloma cells with chemotherapy directly as opposed to giving systemic chemotherapy.
And what we've seen with belantamab in early trials, both phase I and phase II, is about a 60% overall response rate, and that some of those responses can be quite durable, with a recent update demonstrating about a 12-month progression-free survival.
Now the most common side effect we see with belantamab are some suppression of the blood counts as well as corneal or eye toxicities, all of which appear to be reversible but can be somewhat of a nuisance from time-to-time. And there are current strategies to try and address that.
There are current trials ongoing, looking at belantamab either alone or in combinations, changing the dose and the schedule, and we hope that if these demonstrate ongoing safety and efficacy, that we will have a new drug in the next 12 months potentially, that will allow us to treat patients with relapsed and refractory myeloma. 
 
Clinical trial information: NCT03525678 
---
ABOUT SAGAR LONIAL, MD, FACP
Dr. Sagar Lonial is Chief Medical Officer at the Winship Cancer Institute at Emory University in Atlanta. He is board-certified in hematology and medical oncology. His research focus is "with combinations of novel agents as therapy for myeloma and lymphoma, particularly evaluating combinations that may result in synergistic inhibition of the PI3-K/Akt pathway." Visit Dr. Sagar Lonial's full biography. 
Previous Post
Outcomes of patients with t(11;14) multiple myeloma: An international myeloma working group (IMWG) multicenter study