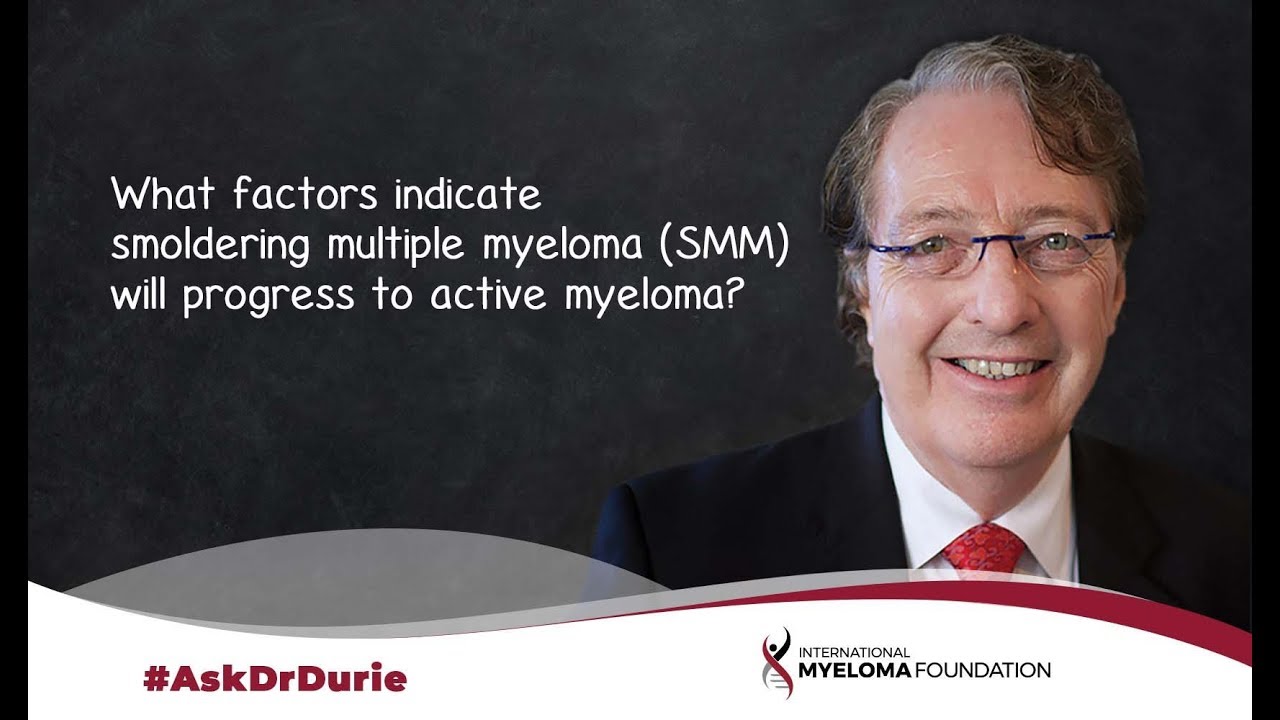 What factors indicate smoldering multiple myeloma (SMM) will progress to active myeloma?
Transcript:
This week's Ask Dr. Durie is an important question that comes from several patients. The question is "If I have smoldering myeloma, what are the factors that indicate that the likelihood that the smoldering myeloma could progress into active myeloma?"
And so clearly, this is something that both patients and doctors need to understand clearly. The International Myeloma Working Group has realized this question and this concern, and we have been working hard to study a new database to come up with a list of the factors that are most important to be considered.
The key factors that have been identified by the IMWG work team comprising María V. Mateos from Spain, and Jesús San Miguel also from Spain, Dr. Shaji Kumar from the Mayo Clinic, and myself is that three factors:
The size of the monoclonal protein in the blood
The percentage of the bone marrow plasma cells
The level of the serum free light ratio (sFLC ratio)
And so, in a preliminary analysis, we were anxious to identify the patients who were at the highest risk for progression. And a simple model for that turned out to be the 2/20/20 model, where the M-spike might be higher than two, the percentage of bone marrow plasma cells greater than 20 percent, and the serum free light ratio greater than 20.

However, this did not identify patients at a more intermediate risk. And so we used some more sophisticated mathematical modeling, and what are called regression equations to come up with a more comprehensive modeling where there is actually a scoring system where a low score indicates a very, very low risk of developing active myeloma within two years. And so this is very important, and this is indicated by low levels by those factors which I have just mentioned.
And then on the other end of the scale, a high score indicates a much higher level, certainly in the 50 to 70, and even 80 percent range of developing myeloma within two years, if these factors are higher. And particularly, in the presence of high-risk chromosome abnormalities, such as t(4;14), 17p-, or 1q+.
And so, the THE BOTTOM LINE is that this is something you should absolutely discuss on an ongoing basis with your doctor, but please refer to these recent details that were presented at the ASCO meeting, held in Chicago, right at the end of May 2019. You'll be able to see the details I've just referenced right here. So, this is very important new guidance that we hope will be helpful to both patients and doctors.
To learn more about the information discussed in this video, download "Updated risk stratification model for smoldering multiple myeloma (SMM) incorporating the revised IMWG diagnostic criteria" as presented at ASCO 2019.
Updated risk stratification model for smoldering multiple myeloma (SMM) incorporating the revised IMWG diagnostic criteria.
Jesús San Miguel, María-Victoria Mateos, Veronica Gonzalez, Meletios A. Dimopoulos, Efstathios Kastritis, Roman Hajek, Carlos Fernández de Larrea Rodríguez, Gareth John Morgan, Giampaolo Merlini, Silvia Mangiacavalli, Hartmut Goldschmidt, Michele Cavo, Charalampia Kyriakou, Ming Qi, Jon Ukropec, Brendan M. Weiss, Chris Cameron, S. Vincent Rajkumar, Brian G. Durie, and Shaji Kumar. Journal of Clinical Oncology 2019 37:15_suppl, 8000-8000   
 
---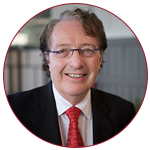 Dr. Brian G.M. Durie serves as Chairman of the International Myeloma Foundation and serves on its Scientific Advisory Board. Additionally, he is Chairman of the IMF's International Myeloma Working Group, a consortium of nearly 200 myeloma experts from around the world. Dr. Durie also leads the IMF's Black Swan Research Initiative®.
Next Post
IMF Co-founders Receive a Joint Honorary Doctorate in Recognition of Scientific Excellence