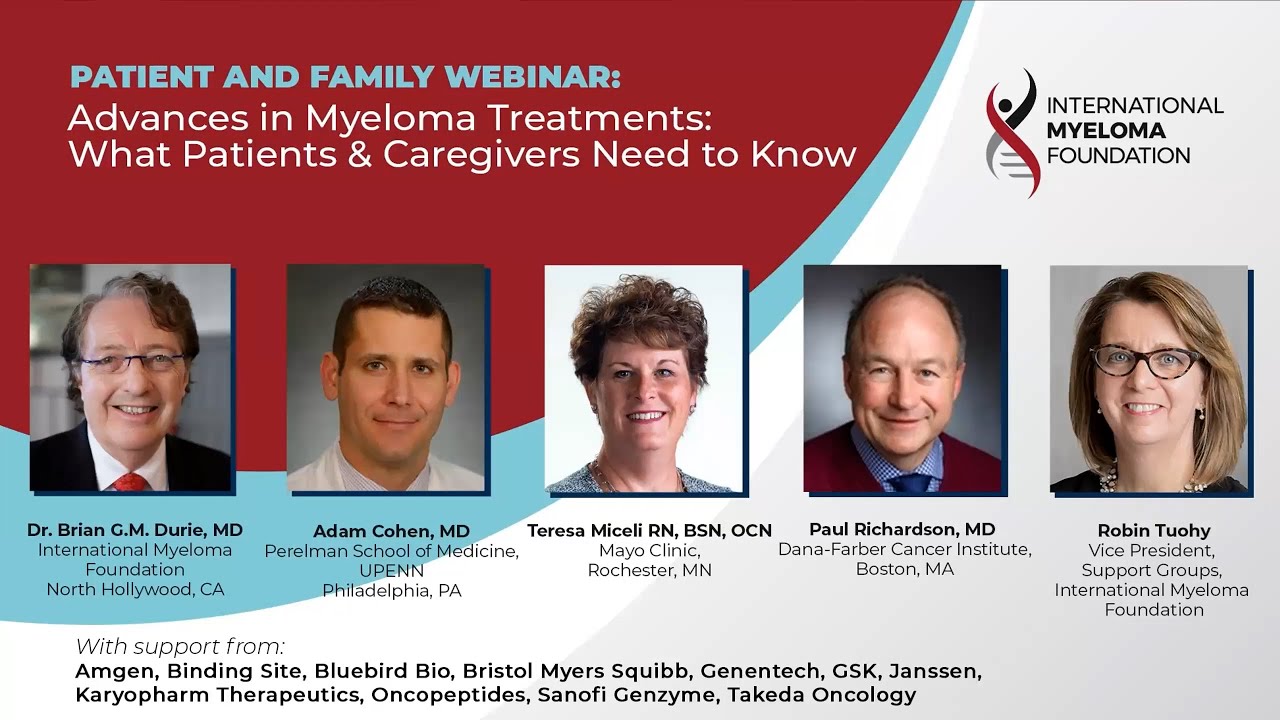 Advances in Myeloma Treatments: What Patients & Caregivers Need to Know
What Patients and Caregivers Need to Know About COVID-19, Vaccines, and Myeloma Treatment Advances
Webinar slides
Webinar topics include:
COVID-19, Vaccinations, Staying Safe
Dr. Brian Durie gives updates on Covid-19, available vaccinations, and recommendations on how to stay safe. He gives updates on current global case numbers reported by the Centers for Disease Control (CDC), and COVID-19 vaccination recommendations for myeloma patients including the need for booster doses. He also answers common questions and addresses important topics including pandemic fatigue, air travel safety, and more.
Life Is a Canvas; You Are the Artist.
IMF Nurse Leadership Board Member Teresa Miceli, RN, BSN, OCN, leads a segment called "Life Is a Canvas; You Are the Artist." This segment offers advice for side effect / symptom management and suggestions for financial support, as well as focuses on the psychological and emotional issues of living with myeloma.
Advances in Myeloma Treatments: Looking Beyond 2021
Dr. Durie shares updates on IMF Research, including the iStopMM trial, which is now in its fifth year. He explains what the research from Iceland means for patients. He also shares topline news from the Black Swan Research Initiative® projects, which are working to attack myeloma on a global front.
Immune Therapies: Treatments That Work With Our Own Immune Systems
Dr. Adam Cohen discusses immune therapies, or immunotherapies, which are types of cancer treatments that help your immune system to fight cancer. He discusses how immunotherapies work in myeloma. He covers CAR T-cell therapies, monoclonal antibodies, antibody-drug conjugates (ADCs), Bispecific T-cell Engagers (BiTEs®), and more.
When Myeloma Comes Back: Approaches to Relapse
Dr. Paul Richardson talks about "When Myeloma Comes Back: Approaches to Relapse." He covers how patients should treat relapsed disease, the pros and cons of treating a biochemical relapse, and practical approaches to relapse.
How to Find What You Need to Know
IMF Vice President of Support Groups Robin Tuohy presents "How to Find What You Need to Know." She provides guidance on the available resources on the International Myeloma Foundation's website, along with tips on how to navigate the site, and more.
Speakers and Topics:
If you missed the webinar, watch a replay now, with participants' questions at the end. Click the play button on the image at the top of this page to watch now!
Video Transcript
Select the section title to view the transcription.
Covid, Vaccinations, Staying Safe
- So good morning, everyone, and welcome to this patient and family webinar, Advances in Myeloma Treatments: What Patients & Caregivers Need to Know. We're very pleased that so many have set aside this morning to join with us.
I'm very pleased to welcome a very distinguished faculty to help present all of the information today. First of all, going from left to right, Dr. Adam Cohen from the Perelman School of Medicine at UPenn and Philadelphia. Welcome Adam. Thank you for joining us.
- Thanks for having me.
- Then Teresa Miceli from the Mayo Clinic, Rochester, Minnesota, and esteem member of our nurse leadership board. So thank you once again, Teresa, for joining us today.
- Thank you. Good morning, everyone.
- Yes, and Paul Richardson from the Dana-Farber Cancer Institute in Boston. Again, Paul, thank you for joining us. Very pleased that you can be with us today. I guess Paul will be joining momentarily, and last but not least Robin Tuohy who's the vice president of support groups for the International Myeloma Foundation. So welcome, Robin.
- Good morning everyone. Thank you, Dr. Durie.
- Okay, so let's get started here. Hold on a second here. Ah, there we go. Minor technical glitch there for a moment. So first of all, just let me go over the sponsors. We're very fortunate to have a number of sponsors for these seminars. Amgen, The Binding Site, bluebird bio, Bristol Myers Squibb, GSK, Genentech, Janssen Oncology, Oncopeptides, Sanofi Genzyme, Karyopharm, and Takeda Oncology. So thanks to all of our sponsors.
So just, first of all, to go over the agenda for the webinar today, the content has evolved a little bit from our in-person seminars to accommodate the virtual format, and also to handle the questions which will be coming in via the chat box. Also, the content of the seminars has evolved a little bit in the last year and a half, two years. And so for example, we start with the 101, which has blended into a focus on the many, many questions about COVID 19. And so I will focus predominantly on COVID 19 in that presentation. And then, obviously, we have continued with the supportive care aspects that Teresa will go over with you. And then in the final session before the first panel discussion, I'll try to gather up things that have emerged as important through this past year with a little bit of a look into next year. And so we'll start with that.
Then we have a short break, and then after the break, I'm very pleased that we have Adam Cohen to review where are we with all of the exciting new immune therapies. And then in the virtual world, it's extremely important to review all of the different information that can be accessed through the IMF. And so I'm very pleased that Robin will have the time to go through all the information and support that is available, and then last but not least, it's really important to review the approaches to relapse and all the different, new, exciting therapies, which are in development. And we will have a panel discussion after that as well.
So without further ado, let me just start with the first presentation, which as I said, we'll focus primarily on COVID 19, because there are so many concerns and questions. And so just some broad information first.
The occurrence of the infections, the COVID 19 pandemic is distributed globally pretty much the same way right now that it has been for the last several months. Fortunately in the United States, the community levels of COVID are finally starting to take a turn downwards. And that's actually true in a number of the countries around the world. Although, some places like Australia have still had major lockdowns for quite a number of months, although some of the larger cities are coming out of lockdown there, but really a substantial number of global cases ongoing. Then if we look, I think it's important just to keep track of where are we with vaccinations, particularly in the United States. And so I've given you the links so that you can go to these links and track the updated information. It's definitely encouraging to see the high level of vaccination here in the United States with significant uptake in the booster shots. And I'll be interested to learn how many myeloma patients have actually gone ahead to get the booster shots, which they're definitely eligible for.
So a key fact in the last several months has been the emergence of the Delta variant, this variant of the COVID 19, which is more infectious than the previous strains and can spread to cause about twice as many infections in the community versus what was happening with the earlier strains. But fortunately, the good news is that the vaccinations are still able to protect against hospitalizations and severe problems from this Delta variant. It's just that there is a higher risk that someone might, in fact, get infected. So vaccination, I think that there's just little doubt that particularly for a myeloma patient getting vaccinated is the way to go.
However, there are many concerns that have been emerging and I'll be happy and it'll be very helpful to have input from the panel about some of the different questions that have been emerging. The main concern is that the antibody levels, which develop in myeloma patients after vaccination are not as high as in a normal person. And depending upon the type of therapy, the antibody levels may be particularly low. And there have been emerging concerns that particularly on full dose daratumumab or rituximab, the anti-CD38 antibodies that this can particularly suppress antibody production. And also, the antibody based anti-BCMA therapies can have an important impact in reducing levels. And so I'll be interested in feedback from Adam Cohen on that actually.
So additional vaccination doses are strongly recommended to try to boost the level of antibodies. And we do know that this can have a positive impact. And so the boosters are very much strongly recommended. And even now there is the idea that potentially a fourth dose, a fourth, an additional booster dose may be helpful in patients where the antibody level and other immune parameters have stayed low. A number of groups have been looking closely at not just the antibody levels, but what we call the cellular immunity against the COVID that may help fight off the infection. So vaccination, yes, a good idea.
Despite the fact that the antibody levels are low, we just keep need to work to try to get those levels boosted to as high as is feasible. As far as the type of vaccine, I think the Pfizer of Moderna are definitely excellent with good benefit and a very good toxicity profile. The J&J, there has been this concern about blood clot risk, but it is a single shot and has been performing quite well. Although, there is recent data that the efficacy is not as strong as with the Pfizer and Moderna, the mRNA vaccines. The AstraZeneca, which is a vaccine that was used widely, particularly in the UK is actually quite efficacious and has been performing quite well, but it's not much available in the US. All of those do substantially reduced hospitalizations and getting really sick.
Increasingly, we do need to have our vaccination cards with us here in California. To get into a restaurant, you need to have your vaccination card with you. Important to be aware that the transmission is mostly through the air. In the early days of the pandemic, a year and a half or so ago, we were worried about surfaces and all kinds of ways in which you could possibly pick up the COVID 19. And certainly, we're not ignoring some of those possible sources of picking up the infection, but clearly now, we're mostly concerned that it's in the air and that this is where the use of masks is so important, particularly with the emergence of the Delta variant and potentially additional variants beyond that. I did in my blog, on Thursday this past week, I did discuss a little bit about the Delta Plus variant, which is another new variant, which has emerged recently in the UK.
The key thing to be aware of is that people who may not have symptoms can still be spreading the disease. And in recent months, since the younger population was less vaccinated, there was a risk that young people would be transmitting the infection to older people. And so it's still important to be cautious about travel and indoor spaces where ventilation could be poor. So I do strongly recommend continued important cautions.
A recent analysis looked at the risks of air travel. It turns out that there are definite risks, what they call significant risks with air travel. They noted that one of the big problems is the food service time. At this moment, at the same time, when food is served on a plane, everybody takes off their mask. And so everyone is unmasked at the same time, so to speak. And so, it may be a good time to actually keep your mask on. At the time of boarding and disembarking, people are close together and maybe some people don't fully have their mask on. So that is a moment when there can be concerned.
And so, there definitely still needs to be caution about travel or although, many people need to and want to travel to see family and friends that they have not seen in a very long time. And so with cautions, it can be done. There are some new masks which are evolving. One, which could be, I'd just like myeloma patients to be aware of it. You can get a type of a KN95 mask that is connected to a little intake fan, so that the air that is going in to the mask is actually air purified. It's going in through HEPA filter so that you are actually breathing purified error. And so it's a little battery operated thing. And so this could give you an extra type of protection, but I'd encourage you to get some type of a very, very good mask, especially if you're traveling or having any activities indoors.
And so there are checklists in terms of things that are safe, things which are better than others. So this is a checklist which was published in the New York Times. Looking at, what are you doing, who will you be with, how many people will be there, things like that. And this is a helpful checklist just to reduce your risk of coming in contact with someone who might, perhaps be asymptomatic and have picked up an infection somehow or somewhere. And so it's important to take a look at this kind of a tool to guide you if you have concerns.
Obviously, outdoors is better than indoors. And here in California, it is fortunate that even heading into the winter months, we can do a lot of stuff outdoors. And I realize that in many parts of the country, in the north, northeast, that's not so easy, but still, whatever can be done, at least in poor outdoors is a better idea. Obviously, going for a walk is good. Other kinds of activities that involve going indoors, besides going to the clinic, to the doctor, to the hospital. Can you go to the dentist? Well, I think dentists have set up with really quite strict precautions. And so, I would say that you can safely go to the dentist and get things done. It's better to stay ahead of that and have issues emerge. And that's true with a lot of your normal, regular medical checkups, it's really important to get back into the idea of not forgetting about those regular checkups, which can turn out to be quite important.
And as you're looking at all of that, it's important to try to work through what is a lot of fatigue and stress that we have been all dealing with for the past year and a half, two years, and not every day do you feel quite as resilient as the next or the one before. And it's hard to adapt to the fact that maybe for some of your appointments, you wouldn't be going in to see the doctor. You might have a telephone call or a Zoom appointment with your doctor, and this may not be as easy for everyone to manage. And so the IMF is here to help and guide people with these kinds of concerns.
One part of the good news is that because of the Zoom world, myeloma patients can often get myeloma consultations, which were not possible in the past. All right. So when we're not going to the doctor, we're trying to make sure that the myeloma is under control. There are things that can be done with family and friends to enjoy and try to stay sane, to try to de-stress and a number of museums and other kinds of facilities have opened back up and many innovative things have been established at different museums that can be very good, have a chance to visit.
And the IMF has been working closely with Dr. Sue Dunnett from the UK, from Scotland, from the University of Arizona, the University of Edinburgh in Scotland. And she has developed a tool to help build your resilience and working with Robin Tuohy, we'll be reaching out to offer the chance to different groups, to evaluate the tool, to use the tool, to work on building up resilience.
I just give this example here, the penguins that the Shedd Aquarium. During the pandemic, the penguins got depressed. And so they let the penguins out to walk around the museum and it turned out to be such great fun, because the penguins are so inquisitive. And so they started making videos of the penguins around the museum, and then they took the penguins on field trips and videotaped them as well. And so there are just those amazing videos that are worth checking out where the penguins are going to an art museum, and they're going to different places. Just an example of fun things that you can check out.
So who is eligible for the COVID 19 vaccine booster shot? Just to, if you're in any doubt, you can go to the, I've given you the connection here. You can go to the CDC website, but basically, myeloma patients are eligible, either related just to age or obviously to an underlying immune compromised situation because of the myeloma or the treatment. And fortunately, all of the boosters have been approved now, the Pfizer, the Moderna and the J&J, and you can also mix and match. The mixing and matching has been approved.
And so if you want to or if you have access to a different vaccine, you can, in fact, mix and match, and we can take questions about that for those who might have particular concerns. And so, there are really a lot of questions about the vaccinations and the boosters and the antibody levels. And I think it might be especially helpful when we have our panel discussion before the break here. If our experts can give their feedback about, for example, getting antibody levels checked to see what has been at the impact of the vaccination thus far, and whether additional boosters could be needed or helpful, and how we can possibly adjust or modify therapies to maybe try to enhance the antibody response. A lot of questions that we, many times, do not have the answers to just yet.
I would draw your attention to a recent, very, very helpful paper. And I've given you the link to this. This is from the European Myeloma Network. And so they have a very nice discussion of COVID 19 vaccinations, specifically in patients with multiple myeloma, discussing all the various aspects about the types of treatment, the types of antibody testing and the types of vaccinations. So this is quite a good resource. This has just been published a couple of days ago. And so the, the future, as I have it here, it's loading.
We don't know what the future holds, but it seems pretty clear that vaccination will be essential. For myeloma patients, extra boosters, or what's called additional doses will almost certainly be important or essential for a majority of patients. That protections including masks will be widely necessary, particularly for indoor activities for some time. And we can talk about specific issues that individual patients might have or questions. Yes, that future is a little bit uncertain. I have done a number of Ask Dr. Durie about specific questions, and I hope that these are helpful. There are so many Zoom meetings that have been happening, and this has been a way for support groups to get together and stay connected. And this is just so important to share questions and concerns and friendships, and to stay connected and move forward together.
Over 90 support groups, possibly more now have been holding go to meetings through the IMF. And this COVID pandemic has been affecting everyone around the world. We have activities in Europe. And so on the left here, you can see an apricot tree growing in Turkey, where we have a base for some of our European activities. And as David Hockney pointed out, even although, we are having a lot of problems, nature continues, and you certainly can't cancel spring, and we will indeed stay connected, help each other, and get through this together.
So I'll stop there. And I can see there are a number of questions coming in through the chat box, and we will deal with those after we have these next couple of presentations.
So thank you for your attention, and I'll turn it over to Teresa Miceli who has a unique title for her talk today, Life Is A Canvas, You Are The artist: Side Effects and Symptom Management. So please welcome Teresa Miceli.
Life Is a Canvas; You Are the Artist.
- All right. Thank you, Dr. Durie. And thank you everyone for letting me be part of this symposium today. I will tell you that the COVID pandemic has been sort of the inspiration for this talk in the last couple of years, as part of my lack of travel, I've spent the time learning how to paint. And so that was the inspiration for this particular presentation that we'll be doing today.
And so if you could advance the next slide, and Dr. Durie, thank you for setting the stage with the information that you've provided. And I want everybody to know that here in Minnesota, it is not snowing yet. We are not confined to the indoors yet, but we do know that that is coming. And so we need to be very aware of the precautions that Dr. Durie has already talked of. And I'm pleased to set the stage today to help with this concept of framing your care and letting you truly be the artist of your myeloma care.
You'll be hearing a lot of information from the physicians on different therapies that are available. And the first part of my talk will be looking at, how can you really be the artist, how can you be the one who helps to frame your care and be a part of that decision making, and then looking at sort of this color wheel concept, how do we mix and match to really get the right, the colors for you to create the best picture to live with myeloma so that we can learn a lot here today, laugh a lot, and really love life.
Next slide, please. So first, we're gonna talk about this concept of framing care. Next slide. And when I think of setting this stage for myeloma care, it really comes down to the sort of collage of your care team. And of course, first and foremost is that you're central to that care team, you and your caregiver, but it may be a matter of trying to decide who is it that you work with for particular questions. If you have a primary care physician, which everybody should still have, even if you're seeing your general hem/onc on a regular basis, it's so important that you have your primary care provider still a part of your team.
Maybe you have a general hematologist that you work with on a routine basis, but then meeting with a myeloma specialist at least once a year, or at pivotal times when myeloma care may need to be changed is truly essential. And then all the rest of the care team involved with medications and care support, and spiritual support, all of these people really need to be part of your collage. Maybe you have diabetes, and on days that you're taking steroids, your blood sugar goes crazy. We know that's a real potential. And so an endocrinologist may be part of your team. Myeloma is well known for causing bone destruction. And so maybe you have an orthopedist that's also part of your care team.
But what I really wanna do is, is talk about this concept of being empowered, to ask questions, to learn about your diagnosis and what your treatment options are. And I do want you to be aware of this very handy tool that the IMF has provided called the Myeloma Manager, a personal care assistant, because for those of you that are relatively new in this journey, you probably have already noticed that the details get fuzzy.
And for those of you that have been doing this for a long time, you also know that the details get fuzzy because there are so many details from years of undergoing therapy and from the time of your diagnosis. So take a look at that Myeloma Manager. That can be a very helpful tool to you. Next slide, please. Next slide. Thank you. All right.
So with this idea of shared decision making, what does that really mean? While you are sharing the decision making process when you are experiencing this diagnosis or a relapse of your myeloma, the idea of being a part of what do we do next? You wanna have reliable sources of information and Robin Tuohy is gonna be sharing with you some really important information on how to find that information on reliable sources, current information. You don't wanna be taking too many of these personal stories that people have. You know, you hear about somebody's best friends, doctors, vet, who had myeloma, and this is what they did.
You wanna really get information that is directed to your care, to your experience so that you can have the best information to make your decisions. And sometimes that means getting a second opinion, meeting with a myeloma specialist, even if you're at Mayo Clinic or Dana-Farber, it may be important that you are to get a second opinion. Maybe there are clinical trials available at different centers that are gonna be more appropriate to your care, but in that decision making, it's always important that you're thinking about your goals, your values, and your preferences, because your myeloma is truly myeloma. It's not gonna affect me. It's going to affect you. And so it's important that you think about your priorities.
What are your goals? You know, obvious goal at the very beginning is I want to live, but as you're moving through this diagnosis, it's even more than just that longevity. It's about living life and living life well. And so it's important that we take all of the information that we have from the most recent data from research, clinical experience and your preference to come to this well-formed picture, this colorful picture of yours to have the best treatment decision for you at the time. Next slide, please. So, previous slide, please. Thank you. Next slide there. All right.
And Robin is gonna go through quite a bit of this with you, but I wanna share with you, in particular, this myeloma treatment discussion tool. This is a relatively new tool provided by the International Myeloma Foundation, created by the Nurse Leadership Board in a way of really helping you to start thinking about those priorities for yourself. Stay informed, ask questions, find reliable sources of information.
And the International Myeloma Foundation has an InfoLine, and they are available Monday through Friday, and they want to help you. They have connections to many providers that can help answer your questions if they don't have the answer immediately available. Next slide. All right.
So now, we're gonna get into a little bit more of the detail of symptom management and supportive CARe. Next slide. With the idea that we want to really create this picture for you. And when we think about the goals of therapy, initially with myeloma treatment, we wanna get rapid and effective disease control. Maybe somebody's being admitted to the hospital because they have high calcium and their kidney function is skyrocketing. And the immediate thing is we need to preserve the kidneys and get that calcium out of the blood, or maybe it's a matter of bone related destruction from the myeloma, and we need to get your pain under control, but ultimately, we wanna get the myeloma cells out of your bloodstream and out of your bone marrow. And the doctors will talk to you about some of the therapies, the many therapies that we now have available.
But in addition to just getting rapid control, we wanna have durable control that will improve the long-term survival, but not just survival, quality of life along with that long-term survival. And so there are many supportive therapies that can go with that to help prevent other treatment and disease-related issues like pain medication, bone strengthening agents. And we want to optimize that symptom management. We'll talk a little bit more in depth about that, but ultimately, it's all about quality of life and talking with your care providers about what your priorities are. Next slide.
So this is preach into the choir. I understand this that you all are quite familiar with what the symptoms are related to myeloma, but I want you to know that there are care providers that are really looking into what you all are saying affects you the most. And breaking it down into three separate realms. We have the physical, the psychological, and, of course, the financial burden that goes with this diagnosis. For many people, some of the key physical symptoms that they experience are fatigue. Okay. Let's be honest. Even without myeloma, I have fatigue, but we know that nearly a hundred percent of people experience fatigue related to their diagnosis of myeloma, even from the beginning, all the way through the trajectory of their treatment. Constipation, sometimes flip flopped with diarrhea, but constipation, especially early on, and pain, as we know that bone involvement is quite common. We know that, even without a world of COVID pandemic, that anxiety and depression is really quite a burden for many people. And then many people are experiencing financial burden even to the point of toxicity that requires them to make a decision of do they afford their myeloma therapy or do they afford their electric bill. And so we'll talk a little bit more about all of these things. Next slide.
I'm not gonna go into great detail about this slide other than letting you know that it's available. But what I really want you to know is there is a full spectrum, a rainbow of color in the way of treatment options. We have our Mibs, MAbs, Mides, and a variety of other therapies for earlier frontline therapy, maintenance relapse, and quite a few that are still pending FDA approval and a couple that may be available by the end of the year. And the doctors will be providing details about this information. Next slide.
But what I do wanna focus on is steroids. Steroids are a key component, a backbone to many myeloma therapies, especially at time of new diagnosis and at a point of relapse. It is very common for people to be on high dose Dex. Now, high dose Dex in our current world is low dose Dex in our previous world where people used to be on 40 milligrams of Dex four days in a row, get four days off and then go back on for four days. For those of you who have been on it one day a week, you know what a burden that can be. Not only to yourself, but to your spouse. And so we know what that steroids cause a lot of side effects for people from head to toe, from irritability to mood swings, eating, it's like a seafood diet. You see food, you wanna eat it, and it can cause weight gain. As I mentioned before, you blood sugars can get elevated on when you're taking steroids. And if you're already diabetic, that can be a greater issue.
What's really important about this is that studies have shown that there is a synergy with steroids and in the rest of your myeloma therapy. And so it's so important that if you're having these side effects, that you don't just stop or adjust your therapy on your own, you really do need to talk to your care providers, because we can do some controlled changes of your medications, or maybe add additional medications over the counter things or prescriptions that can help you with some of the side effects that you may be experiencing. Maybe talk to your care providers about the idea of adjusting the schedule. Many will tell you to take it right away in the morning.
To be quite honest with you, I oftentimes will recommend for people that they take it with food. And, of course, with food right before they go to bed, they fall asleep. They sleep for the first few hours and then they wake up pretty perky. But they may be able to get a reasonable night's sleep at the end of that day and not have as many of those anxious side effects that people experience with steroids. So I want you to talk to your care providers about how you might adjust that schedule to better live with this particular part of your therapy, but please again, do not stop it without talking to your care providers. Next slide.
So we're gonna touch on quite a few of these elements of what I like to think as completing the picture, other medications and supportive therapies and ways to prevent some of the other challenges that go with myeloma and myeloma care. Not only medications, but non-medication related therapies and lifestyle changes. Next slide.
This is something that I hear quite a bit from people. Early diagnosis, that they're experiencing a lot of constipation. This can be from high calcium level. Maybe they are newly starting narcotics because of pain management need. Maybe they're less active because of some bone related issue or just fatigue. And this can all contribute to constipation. Of course, along the way, as people have moved into multiple therapies, maybe they've been on Revlimid for a long time. A lot of people tell me that they have diarrhea, that this becomes a real problem for them.
Some of the things that I wanna just mention and are noted here on the slide is that, one, fiber binding agents can actually help with both aspects of constipation and diarrhea. Fiber binding agents have the ability to pull fluid. And if you are constipated and you're drinking a lot of fluid or you should be drinking a lot of fluid, that that can help pull fluid into the bowel to help you move your bowels more regular. If you're experiencing diarrhea, that means that there's excess fluid in the bowel, and that can also help to absorb it like a sponge. So think about that as a possible option. Make sure that you go through your medications and look to see are any of those contributing to either issue. If you're needing pain medicine, of course, opioids can cause constipation. Then maybe you need to counter that with a stool softener, or maybe you are taking some supplements, milk thistle or cayenne or saw palmetto. All of these can contribute to diarrhea. So take a look at where you're taking for prescribed as well as supplemental medications and see where changes may need to be made. Next slide.
We know that pain really does impact every aspect of day-to-day life. It compromises your quality of life, and it can come from many different areas, obvious things are things like bone disease or bone involvement where you've had a fracture, vertebral compression fracture. This really does contribute to pain. Maybe you're experiencing neuropathy, which we'll talk in more detail in the next slide.
Then there are always those repeated sort of bodily insults for every medical procedure from the simple blood draws that become irritating one after another to the bone marrow biopsies or any other invasive procedure. And so there are ways that we can manage pain, whether it be through prescribed medications, physical therapy can be really helpful, especially for people of vertebral compression involvement to really strengthen the surrounding muscles, to help provide that additional support. For some people, they may need to have surgical intervention or even radiation therapy to help with their pain management. In all of that, there is no harm in including this idea of mind-body connection where you can take some deep breaths, help your body relax. Meditation is only one letter off from medication. And so I strongly encourage you to look into these other additional complimentary therapies. And we'll talk more about that when we look into the aspects of depression, anxiety. Next slide.
Peripheral neuropathy is a very common side effect for people in the world of myeloma, because there are a number of therapies that are really associated with neuropathy. Some people can have it from baseline even before they're diagnosed. Maybe it's related to having diabetes or other conditions, meaning other medical issues, but it can also be a part of the diagnosis of myeloma.
More commonly though, we know that that therapies like bortezomib, also known as Velcade, can contribute to neuropathy. Now, everybody experiences neuropathy a little bit differently. They can have numbness or absolutely no pain involved. They just can't feel their feet, or maybe they do have pain, prickly hypersensitivity in their limbs. Now, some people have this experience of having a sense of burning along with the same sense of cold sensation in the same tissue. It's very interesting and kind of weird for them. Some people will have muscle weakness, low blood pressure, and a bit of coordination or balance issue. This is not so much peripheral, but more autonomic neuropathy. And again, can be associated with some of your medications.
We don't wanna have to stop the therapy if it's working for you. So it's always important that you talk to your providers about how you might be experiencing sensation of neuropathy so that we can adjust doses without having to stop therapy. We may even wanna check things like B complex vitamins levels and folic acid levels to see do you need some supplement, is there something that's deficient within your diet that may be contributing to neuropathy? If you're not having sensation in your feet, you're having the numbness related to peripheral neuropathy.
I want you to think about your environment and how you can make it safer so that there isn't then the added risk of falling or foot injury. I want you to observe your feet every day to make sure that there isn't anything in the way of an open wound that you don't even know about that is now becoming infected. Essentially, I want you to talk to your care providers about any symptoms that you're having related to neuropathy. Next slide.
Fatigue, anxiety, and depression. This is a topic that not everybody wants to talk about. Maybe fatigue, we all have some sense of fatigue and you bring it up maybe once or twice. And then you say, wow, they're not gonna do anything about it anyhow. So I'm not gonna talk about it anymore. There are some things that can be done about fatigue, anxiety, and depression. Many people will have these sensations and they're not sharing it with their healthcare providers. And without our knowledge of what you're experiencing, it's really hard for us to help you with that.
One of the things that can be really key for all of these aspects is activity. Activity really helps people improve their energy level. It can help with anxiety. It can help with depression. Maybe there are medications that are needed to help with some of these things as well. Maybe a red cell transfusion is needed. You're quite anemic, and that's causing some of your fatigue. So these are things that I want you to talk with your healthcare provider about. It's our want to help you through this journey. And we can only help you if we know that there is an issue. Next slide.
One of the things that's also very helpful in this entire process that can help with depression, that can help with anxiety, that can help with fatigue is good sleep and good rest. We live in a society where for the majority of us that we are sleep deprived. And so we know that sleep deprivation contributes to things such as anxiety, weakened immune system. And when you're tired, everything feels worse. So think about strategies that can help you improve your sleep. There's a lot of information out there now that talk about ways to improve your sleep hygiene, establishing a bedtime routine, letting your body know that it's time to go to bed. I used to raise puppies and I left my litter of puppies with a friend for an overnight because I had to be away. And 10 o'clock, she's saying these puppies just won't go to sleep. I said, "Hey, did you turn down the lights? I had gotten them into the routine of nine o'clock, the lights start to go down and they fall asleep."
Sure enough. She turned off the lights, and the puppies were all ready to go to bed. Get your body ready for sleep. Try to avoid things before you're going to bed, like too much screen time, alcohol. Some people think, well, if I have a drink, it'll help get me to sleep. It sure does get you to sleep, but it doesn't let you stay asleep. It doesn't give you that restful time that you really need. Caffeine, nicotine, sugar, all these things can also contribute to poor sleep. So avoiding these things before bedtime. Next slide.
Some other things that you can do to promote healthful living. Dr. Durie's already talked about stress management and the idea of needing to help with your stress levels, getting out and walking, good rest, maintaining a good nutrition, too much sugar brings you up into the highs and then drops you to the low. It's kind of like a modified version of steroids. Make sure that you're doing good health maintenance. For many people, their bone or renal issues related to their myeloma. So you really want to be taking care of your body for the long haul here. Myeloma management is important for renal health, but hydration, you can do this every day. Get good fluid intake. Calcium replacement, good nutrition, weight-bearing activity is good for your bones. As Benjamin Franklin said, "An ounce of prevention is worth a pound of cure." Next slide.
So a touch on this concept of financial burden. There is nothing cheap about having myeloma and that cost or financial burden can come from many different places, whether it be just the obvious medical costs from medications to travel to supplies that may be needed, but also, loss of income. For some people that are maybe the self-employed. And I've seen this all too often, where somebody is self-employed and their spouse works for their company. Both of them lose an income if they're not able to work. And so there are assistance programs out there, federal programs. There are a lot of patient assistance programs through the pharmaceutical companies, and then even some nonprofit organizations that allow for funding. And we've got a list of some of those agencies here. Please, make sure that you are looking into these things, talk to your social service or social work department at your clinic or your hospital to learn about what assistance options are available to you. Next slide.
So I want you to know that you are not alone. We are here as a program to help advance your knowledge. The International Myeloma Foundation is always available to you. I want you to know about your care teams at your clinics. Please reach out to us, get involved with the support group. As Dr. Durie said, "We have Zoom support groups now," and so you can join many different support groups. So I encourage you to be a part of that. And I understand, we'll save questions until the panel discussion. So thank you so much.
- Thank you so much, Teresa, for that wonderful overview, explaining all of the variety of issues and concerns and the help that is available. So thank you for that.
And as you say, we'll take questions before the break here in a minute. And so I've been tracking the chat box and a lot of questions have been coming in about COVID, about boosters, about antibody levels and things like that. And so we'll definitely handle those, plus a variety of questions related to your presentation, Teresa.
Advances in Myeloma Treatments: Looking Beyond 2021
So I'll go ahead now with the final presentation in this segment, which is designed to look back at the past year, because we've had a lot of Zooms and webinars because we've not been meeting in person. And so to try to capture some of the themes that have come up in those various virtual meetings, but also to look at some of the advances in myeloma treatments that have been occurring, despite the COVID pandemic.
We've been focused on COVID, COVID, COVID, but actually in the background, a lot of advances have been occurring in the field of myeloma. And I'd like just to kind of summarize those and lead in to the very exciting discussions that we're gonna be having after the break about the new immune therapies and the other novel therapies, which are important and moving forward in trials. So this is the road ahead, and this is not the Los Angeles freeway, but there are a lot of things that have been happening in this road forward.
And I'd like just to touch on these half a dozen different areas related to the diagnosis of myeloma, the management of early disease, frontline therapy, the role of consolidation and maintenance, early relapse and later relapse. Not going into any detail, but just to emphasize that each of those areas are very important in the assessment of myeloma. And so as far as early detection, I'm gonna go into this a little bit based on a study that we are fortunate to be collaborating with the team in Iceland.
And I'll touch on that a little bit, where individuals are being screened to see if they have early disease, particularly if they have MGUS. And so by studying early disease, there are a lot of advantages in that. It can reveal possible causes or triggers of very early disease. And it's becoming clear that having an early awareness of an MGUS or smoldering myeloma can help improve all outcomes for individuals. So identified.
And obviously, if you're aware of early disease, you do have the opportunity to intervene early, to consider both prevention of progression or other issues, and also to intervene early with therapy. And so just to give you a very brief overview of what has been happening in Iceland, the whole population of Iceland over the age of 40 has been screened. This consists of over 80,000 individuals. And so thus far, over 3,600 new individuals with MGUS have been identified. And those are part of a randomized study where we're looking at not doing anything, looking at IMWG recommendations, and then, looking at in bit of ways to study and intervene early.
And so there's a lot of information available for those individuals, which can help us to study what's going on. But one of the things is that we are using mass spectrometry to measure the monoclonal protein in the patients with MGUS. And this allows you to pick up the monoclonal protein just so much earlier. And this is an example of where mass spectrometry, this method for measuring the level of the monoclonal protein in the serum was used in a patient of Dr. Kyle's, the Mayo Clinic, Teresa. And this is a patient who was diagnosed with MGUS in 2006, but then looking back using mass spectrometry, it was discovered that actually the MGUS was there back in 1997. And so it's possible to kind of track back to the early evolution of the disease, and using biobanking, and this is just to give you an idea of what this kinda looks like in Iceland.
And this is being done at many centers who are working closely with myeloma patients, studying bone marrow, blood and urine samples collected into all these different tubes and slides and different samples, where this is available to try to understand a lot more information about the disease and can be used for predicting in the future. And so when you start early, there are just so many different things that can be evaluated. Things that Teresa was touching on. There can be issues with pain.
There can be issues with mental health, neuropathy, psychological impact of being diagnosed. Some patients can develop amyloidosis, cardiac amyloidosis. And so there's so much that can be learned by evaluating early disease closely. What about the next stage along from MGUS, which is smoldering myeloma, where the levels of the protein and the bone marrow plasma cells have increased a little bit. And so trying to have a good risk scoring system is essential for patients with smoldering disease.
And I'm gonna show you that in just a moment. I'm hopeful that better predictors are going to be coming where we will have one or two tests that will really predict if a myeloma patient has this smoldering level of disease, if they're likely to progress or to not. And we're obviously looking at what is the best way to manage smoldering myeloma patients. And so this just shows you an analysis that was done through the International Myeloma Working Group focused on smoldering myeloma, where we try to come up with a risk score for smoldering myeloma patients to see who was the most likely to progress.
And the key factors are what's called the 2/20/20 system. So it's the level of the myeloma protein in the blood, which could be two grams or higher. The percentage of plasma cells in the bone marrow, which can be 20% or higher, and the free light ratio, which could be 20 or higher. The higher levels of those indicate a risk of progressive disease. But we've come up with this risk score where we take all of the levels for the free light ratio, the M protein, and the bone marrow plasma cells. And then also add in whether or not there are abnormal, FISH chromosome abnormalities, and come up with a risk score where you add up the number of points. And if you get to a level of 12, this is what is called ultra high risk, where there's more than a 70% chance. And you can see that top curve where there's a more than a 70% chance that over the first year, 18 months, 24 months, that myeloma will develop.
And if you look at the green boxes over on the bottom left, you'll see that one of the main ways that that score can get to be 12 is related to the percentage of plasma cells in the bone marrow. If the percentage is going up in the bone marrow, the score is increased by three points or five points or six points. And then if you have those abnormal FISH chromosomes, then you can get an extra two points. And so that's some of the main factors that will end up giving you that score of a 12. And so we're getting more sophisticated in our ability to know what's gonna happen with a patient who has smoldering disease. Although, it's definitely a work in progress. So it's really encouraging to see.
And in this past year, we've had follow on results from the GEM-CESAR trial, which is a trial to try to cure patients with smoldering myeloma that was conducted in Spain using a combination of Kyprolis, Revlimid, and Dex and autologous stem cell transplant. And this is the therapy that went out over basically a two year period with the induction, the transplant, the consolidation, and then a year of maintenance. And what you can see on this one slide here, slide number seven, is that over that time, ultimately, 81% of the patients had a complete remission or better and 62% had an absence of residual disease as measured by an MRD test, minimal residual disease test, at 10 to the minus 6.
So zero out of a million looking for myeloma, and so very, very excellent clearing of the disease, not in every patient, but for 62%, for example. And if you look at the outcomes of the smoldering myeloma study, you can see that the PFS, the length of the remission is very good, out to four and five years, 92%. And the overall survival is obviously incredibly good, 96% out to that four, five year level. And so we are now waiting for the results of the US trial, which is called the ASCENT trial, very similar, except the patients receive daratumumab plus the KRd and the first patient in this trial is at three years out right now, and is in a MRD negative, one year of treatment. And this individual is doing extremely well.
And so the results are being updated in this study, which is just fully accrued. And it'll be very important to see what will happen with the addition of daratumumab since already the results are quite good just with the KRd. Another goal moving forward is if we can come to rely on precise blood testing to track the disease, and we've been making some headway with that mass spectrometry, this very precise serum test, which is currently available at the Mayo Clinic, and hopefully will become more broadly available in the next year. We'll make this technology available to many more patients.
It's also possible to track the level of the myeloma cells in the blood and monitor the immune status in the blood. For example, you can track if a patient has received CAR T cell or the CAR T cells actually in the blood, and you can also look for myeloma cells in the blood, and it can be used as an interim way to test for the minimal residual disease in the blood, reducing the need to be constantly doing bone marrow testing. This is just to show you that there have been a number of recent publications looking at this ability to track the myeloma in the blood.
And so this can become more of a routine technology, but we're particularly interested in this idea of tracking minimal residual disease. And this is just to show you that there have been so many publications, 93 publications involving over 8,000 patients where patients have had a study done to see did the treatment eliminate the myeloma to the level of this MRD, where with the MRD test, with the top curves there, the patients who have evidence that the MRD test is negative, that's a group of patients who do much, much better than the patients where there is residual disease and the MRD test is positive. So those are two different populations of patients, and we're starting to look more and more at myeloma from the perspective of those populations of patients.
And so what is the next step? Well, as part of the Black Swan Initiative, which is focused on trying to come up with curative therapy, as I just showed you using our best early therapies, 62% of the patients achieved MRD negative. And so that means that the remainder of the patients, 30, 40% of the patients for sure are MRD positive and have the residual disease. So we need to come up with better therapies for those individuals. And what we're going to be seeing in the coming year is that using some of these exciting new immune therapy cocktails that might become feasible. And so I'm excited to hear what Adam has to say about these new therapies.
And so there are new trials that are being planned in this setting to achieve MRD negative and using cutting edge disease monitoring to assess the status as these patients move forward. But just to summarize where we are at the traditional level of therapy, and we'll be touching on this after the break. The big dilemma right now is whether patients, when they're diagnosed should have three drugs, what are called triplets, Velcade, Revlimid, Dex, VTd, or KRd versus adding in daratumumab or isatuximab to that.
But there's a big issue related to the, obviously, the efficacy, which is somewhat better, but the costs and the access and the toxicities. The daratumumab triplet, Dara plus Rev/Dex and the MAIA trial shows that, that this triplet can be an excellent therapy. So this is something to be keenly aware of, particularly in the non transplant setting. In the transplant setting, the quadruplets have shown a great benefit, particularly using this Dara-VTd versus VTd or big European trial, where they use Velcade thalidomide index rather than Velcade Revlimid index. We do have similar data emerging for with Velcade Revlimid index in US trials. And so quadruplets maybe the way forward. We'll have to see.
What about upfront astologous stem cell transplant. I'll be interested in discussion about that, but increasingly, it's becoming something which is definitely important if a patient remains MRD positive, but it also may be that we can use some alternative to traditional autologous stem cell transplant, even to consider things like CAR T therapy in that setting. Whatever that type of therapy is, it's more like a consolidation where you're trying to get to that MRD level to try to eradicate the disease if you can, with either a couple of cycles of additional therapy or some other therapy to knock the myeloma down as far as you can.
And then for maintenance, to continue with maintenance and looking at different options for that, Revlimid, Velcade or an oral proteasome inhibitor like ixazomib, Ninlaro, and adding in daratumumab or isatuximab and anti CD38 with a target to have a maintenance for perhaps a two year duration. For relapse, we're gonna be hearing all about this, so I won't get into it, but some basic principles aiming to use a triplet incorporating Dara or Isa, consider Kyprolis for high risk. And obviously, looking at some of these new immune therapies, you're gonna be hearing all about that.
And then, of course, we're going to be hearing about all of these novel therapies. The main thing I would like to emphasize is that, and I think this is an issue for patients, is that many patients with advanced disease may have trouble meeting the entry criteria to get into these studies, which they really need access to. And so I think that we're all pushing to see if maybe there are some trials that could come along where more relaxed entry criteria could be utilized. And I'll be interested in thoughts from Adam and Paul about this.
And so despite this COVID pandemic, lots of things are happening in the field of myeloma therapy and to keep patients safe, we do need to continue with the vaccinations, boosters, and masks and all kinds of other protections just to manage the COVID as well as best trying to manage the myeloma and get it into a remission status where they will be as safe as they can be. And so, despite this COVID, I do think the future is bright with likely many improved outcomes across the board. So with that, I'll stop so that we can have time for some questions.
So we'll go to our panel discussion. So thank you. Okay. So maybe we can go to some of the COVID questions first so that I can get input from, well, all of the panel, but maybe I can start with Adam and Paul. So maybe Adam.
What is your take on the recent data, the concern that antibody levels are not so high in a significant fraction of myeloma patients and maybe very low in a subset of patients and the role of the boosters, how do you handle this situation?
- Thanks, Brian. It's a great question. And a really big challenge, I think, for all of us practicing in myeloma and for our patients. So as you mentioned, and as a lot of the people asking questions mentioned, the percentage of patients with myeloma who are generating strong antibody responses to these vaccines is definitely lower than the general population, but it's not zero. And you think it's important to stress that. In all of these studies, anywhere from half to two thirds may generate some antibody response, even if it's not as robust. And so there is some efficacy of these vaccines.
- Absolutely.
- And so I wanna stress that point, and there is differences amongst the different treatments. And as you alluded to patients getting a CD38 antibody like daratumumab or isatuximab, or a BCMA-directed treatment may have a lower chance of response. But again, even in those patients, it's not zero. So I just stress that.
I feel all patients should be vaccinated. And I think because of the fact that the chance of an antibody response is lower, I do encourage booster vaccines for all our patients as well, since they do seem to boost responses in the general population. And I think the studies will come out soon that they're gonna boost responses in our patients as well. So that's my take on antibodies. And then T cells are a different question and maybe we can come back to that, but there are other arms of the immune system that we can stimulate with these vaccines as well.
- Exactly, exactly. So Paul, I maybe turn to you next, do you want to comment on this? I know that you have a lot of interest.
- Yes. Thank you so much, Brian. And thanks, Adam. I think specifically the question, I think, was around that complete, if you don't mind, Adam, just remind me this 'cause, I apologize, I was just responding to a patient regarding of antibiotics. Well, the question, again, I'm so sorry.
- Well, the question is the concern about lower than average antibody levels in myeloma patients-
- Sure.
- and the role of the boosters.
- And one question-
- Absolutely.
- that's been very topical and with the passing of Colin Powell, this made a lot of patients anxious, because he was fully vaccinated, obviously.
- Yes.
- Although-
- Right.
- he had not had a booster.
- Yeah.
- And so this did alarm a lot of patients, but I just want to emphasize that that doesn't mean the vaccinations don't work, but you know.
- Oh, absolutely, absolutely not. And I so agree. The point was that secretary Powell had the two initials, but as you point out so wisely, Brian, he had, unfortunately, not had the booster and obviously apart, his myeloma was in remission and he had had RVd-based therapy and was on RV maintenance, as I understand it. And the issue was, unfortunately, he had other medical issues, including Parkinson's, which obviously didn't make it easy. But having said that, I fully agree with Adam that the boosters are essential in my view. And I was really, I think to reassure patients about these antibody levels, because I think, Adam, it's fair to say, we don't know exactly how to interpret them. I was very struck by a very nice paper and I kept it actually to one side on, from Dr. Parikh and colleagues at Mount Sinai.
- Yes.
- I think you probably saw that. It was an excellent paper, and it was published in cancer cell, but they obviously found that in healthy folks in this cohort who did not have myeloma, I think the median antibody levels around 300 and then for those myeloma patients around half that at 150.
- Right.
- And I wonder if it's analogous a little bit, Brian, to how we think about flu vaccination, to not to no way to downplay the seriousness of COVID, but for our patients not necessarily become absolutely focused on the antibody level per se, but just to recognize that frequent boosters may be very important for myeloma patients-
- Absolutely.
- in particular. And I thought you covered it very nicely earlier, Brian, about how continued precautions whilst restoring quality of life really make sense. And I think the good news is as you know, Brian, there are lots of therapeutics now that are making such a difference so that if COVID does occur, the armamentarium is so much better than it was. And I think that's an incredibly important message for our patients in this context.
- Right, right. Absolutely. Maybe you could comment on one other question. So I fully agree with your comments, Paul and Adam. For the patients that are taking let's say Dara, just as an example, do you have any thought that maybe if you go to like once a month and maybe to reduce the frequency at the moment of a booster shot, that maybe could be a helpful thing to do, something like that, do you do things like that?
- So we had a lot of debate about this when the vaccines first came out within our group about whether we should try to modify therapy-
- Right.
- augment the chance of a response. And I think in the end, we opted not to do that only because an absence of data and we didn't really wanna compromise-
- Right. Okay.
- the myeloma response for a theoretical benefit. So I don't think it's wrong to do that. If you're individual doctor feels that you can do that and you have a chance, I wouldn't say don't, but we ended up in the end saying, let's just treat our patients as we wanna treat their myeloma and then, we'll vaccinate them as best we can. So I have not been sort of modifying therapy around the vaccines personally.
- Okay. Helpful.
- And that has been the situation here also in Rochester.
- [Brian] Thanks, Teresa. Yes.
- The most important thing is to get the vaccine.
- And with that-
- Right.
- and Dr. Richardson has already alluded to, we need to remind people to get the flu vaccine and COVID is not the only virus out there. And I've been seeing people already being diagnosed with RSV. And if you're COVID negative, but you are having symptoms, respiratory symptoms, please don't disregard those because you're COVID negative. There are many other viruses that you really need to be aware of. And taking the same precautions, hand washing, mask wearing, and all of that.
- Right, right. Absolutely. So Robin, from feedback that you have from patients, obviously, there are a lot of questions in the chat box, along these lines, anything you'd like to emphasize?
- Well, I think, Dr. Durie, it is encouraging for myeloma patients. What I'm hearing from the support group members is that vaccines are something we're very used to, right? So after you've had your stem cell transplant, you need to get revaccinated. We understand with a lowered immune system, whether it's from the myeloma or from the treatments you're on, we need to protect our immune system every way we can, and getting these vaccines and especially for COVID and the boosters, it really is important. If we don't have all the data in, it's still highly, highly recommended. And I think in the myeloma community, the majority of patients and their caregivers are getting these.
- Right, right. You just touched at the end they're on an important point, which is that caregivers, family, friends, I think that kind of put a blanket of security around patients having these family and friends also vaccinated is something that can be helpful, right?
- Absolutely.
- Yeah. Okay. I think that we've covered a number of issues there.
- There are quite a few questions regarding post transplant COVID vaccination.
- That's right. I see that. Yes. So would someone like to comment on that? I saw a couple of those related to the timing of the vaccination if a patient's being transplanted.
- Where?
- Yeah. Adam or Paul, any, Adam, you wanna go first on that one?
- Yeah. So I can comment. I think if it works out that the timing is such that they can get a vaccine, at least one dose or two even before the transplant sort of during stem cell collection or in that realm, we are encouraging that. And then we are encouraging another shot, three months sort of post transplant. And that three months is a little bit arbitrary, but it's based on some older studies looking at vaccination and when patients may start to be able to mount a response. And so we tend to try to wait to that point and then encourage them to get vaccinated whether that's that first shot or booster.
- Right, right. Paul, similar, I would imagine.
- Very much so, Brian, and thank you, Adam. I think the important point is that rather than waiting too long to get that perfect interval, I encouraging my patients to go sooner rather than later.
- Go ahead and get the vaccination.
- Yes. Right. And I'm very encouraged that on combinations, like an IMiD and a proteasome inhibitor, we're not seeing problems.
- Right.
- Steroids, unfortunately, it is true around Dara. There's no question about that. I think good news is IVIG, very nice to have on board if you need it. And that doesn't influence the impact of vaccination at all. In fact, there may be the opposite effect. So I think there are lots of strategies, but the good news is there should be windows of opportunity. And I think, one thing I am counseling my patients is to expect that we're gonna need boosters going along.
This is a very natural aspect of coronavirus pathobiology that you need to vaccinate repeatedly to protect. So it's not unusual to imagine that we will be looking at boosters for our patients. Potentially for certain patients every four to six months, perhaps, at least that for, maybe, I would love your thoughts, Adam. I think we'll probably be looking to boost patients probably in the median, probably, every six months. What do you think?
- Yeah.
- Yeah. I guess, I don't know yet. I'm sort of, I wouldn't be surprised. I guess we have to-
- Right, yeah. On my slide, I had that future box loading still. We don't know.
- [Paul] Yeah.
- At Mayo, I guess you have a similar pattern. Maybe vaccinating at three months or maybe sooner possibly.
- It really is. At that three month timeframe or if they're coming back a little sooner than that day 100.
- Yeah, the day 100. Yeah, of course. Yeah.
- them on board. Just getting the vaccinations on board and we are checking the spike titers for people and it sort of is measured as greater than 250 being the result. And so we're pleased when we see that greater than 250 result.
- Absolutely. Absolutely. And so for those of you are interested, that paper that Paul mentioned, I referenced it in a blog just on Thursday. So for those of you who want to get it, it's actually an attachment to that blog. So you can take a good look at that paper, which I think Paul is a very helpful paper, okay.
- It is. And it's got a very positive message. Hasn't it, Brian? The bottom line is 84% of patients had a measurable antibody, right? So the good news is that, that the vast majority benefited and I was gonna touch with Teresa and Robin and Adam that to date, my patients who've had boosters, I mean, having had a booster myself now, you get a few side effects, but it is manageable. I've certainly experienced a lot of fatigue about 24 hours later. And I think patients report that too, but so far touch wood so good. I've not seen any of my patients get into trouble from a booster.
- Right, right. Okay. Well maybe with that positive note, we're actually a couple of minutes past where we're supposed to take a short break here. So let's break there for around 10 minutes or so. And then we'll come back and start with Adam talking about all these exciting new immune therapies. So thanks to everyone for your attention. While I was short, bio or other type of break-
- Yes.
- and come back soon, okay? Thank you. So welcome back, everyone, to our second session. And you can see the schedule here, the agenda, with Adam Cohen followed by Robin Tuohy, followed by Paul Richardson and the overall discussion panel at the end. So there we go. Yeah. So I'd like to welcome. This is a mistake on this slide. I don't know what's on with this particular slide here. All right.
Anyway, this is Adam Cohen and there we go. Adam is from Abramson Cancer Center, the University of Pennsylvania in Philadelphia, and really, Adam, your center has been at the forefront of this whole revolution in immune therapies, particularly on the cellular side, but across the board.
And so thank you for setting aside time to be with us and present today. So please welcome Adam.
Immune Therapies: Treatments That Work With Our Own Immune Systems
- All right. Thank you, Brian. And thank you to the IMF for inviting me to speak with you here today. It's really always wonderful to participate in these patient-family webinars. So I'm really happy to be here. And I'm gonna talk about my favorite topic, which is new immune therapies for myeloma. These are treatments that are designed to sort of wake up the patient's own immune system to try to attack the cancer. And I'll be focusing on two particular types of immune therapies called CAR T cells and bispecific antibodies, which I think are some of the most exciting new therapies coming out for myeloma. Next slide, please.
And these are my disclosures in terms of some consulting and advisory board work, research support, and intellectual property licensed by my institution. Next slide, please.
Okay. So when you think about immune therapy, there are actually a number of different types of immune therapies, and many of you may actually already be receiving therapies that work through the immune system, such as the IMiDs, lenalidomide, pomalidomide or monoclonal antibodies like daratumumab or isatuximab or elotuzumab. What I'm gonna be focusing on our, the one in the left corner, the CAR T cells, which are ways to try to boost myeloma fighting T cells and a novel type of antibody called bispecific antibodies that both target the myeloma and try to boost the myeloma fighting T cells. And we'll hear a little bit more about some of these other types, namely IMiDs and CELMoDs, I think, in Dr. Richardson's lecture coming up a little bit later. Next slide, please.
So what are T cells? T cells are an arm of our immune system. They're a white blood cell, and they're particularly good at trying to recognize and kill cells that have become abnormal in some way. Initially, virally infected cells. But we also know they can recognize cancer cells as well. And these are actual electron micrographs of T cell trying to attack cancer cells. Next slide, please.
However, unfortunately, over time, the cancer cells learn to evade the T cells or the T cells lose their activity. They become what we call exhausted. And so they're no longer able to functionally attack and kill the cancer cells. And so how can we overcome this? In solid tumors like lung cancer or kidney cancer or melanoma, there's a group of therapies called checkpoint inhibitors that serve to sort of wake up the exhausted T cells and reinvigorate them. These have not been as good in the patients with blood and bone marrow cancers, but what have been really effective are the so-called cellular therapies and bispecific antibodies or T cell engager, what we sometimes call BiTEs, and that's what I'll focus on. Next slide, please. Sorry, one more.
So first off, what is a CAR, chimeric antigen receptor? You may remember the Chimera from Greek mythology, an animal with the head of a lion, the body of a goat, and the tail of a serpent. And so a chimeric antigen receptor is somewhat similar. Theoretically, it has the head of an antibody. So the portion that sticks off the T cell has an antibody like structured, allowing it to recognize any target that you wanna program it to. That could be on a cancer cell, whereas the body and tail of it that goes inside the cell works like a T cell signaling molecule. And so it's able to have very broad recognition of whatever you wanna program it to recognize, but then can still serve to activate and wake up T cells.
Next slide, please. And the way this actually works is you have to take the patient's T cells out of the body, and then they actually get infected with a vector. This is actually a virus called lentivirus in the HIV like family, but all the guts of the virus have been taken out. So it can no longer cause disease and instead you put in DNA that encodes for the CAR, the new receptor. So if you could advance the slide, please. So the T cells are infected outside the body. Next slide, please.
The DNA that encodes the CAR is made, and you get this new receptor on the surface called a CAR, and then the CAR is now, the T cell is now able to recognize a tumor cell that has that target, and advance the slide, please. And then it can find the tumor cell and lead to a dead tumor cell. And Next slide, please.
- Right.
- I know, wonderful if it was quite this simple, but it actually does work somewhat in this way. It's amazing. And so in addition to cytotoxicity, which is killing, these cells can now produce cytokines that can wake up other arms of the immune system. And amazingly, since these are the patient's own cells, they can persist in the body and stay there. In some cases, they can be found in patients for many years, perhaps providing surveillance against the cancer. Next slide, please.
And so how this actually works in practice is patients undergo what's called leukapheresis. It's similar to the way, many of you may have had your stem cells collected. You sit on the machine for about three hours, but in this case, we're collecting T cells out of the blood and only a small amount are taken. And the rest of the blood is put back in. Those T cells are then activated outside of the body and transduced to express the CAR. They're then grown up in large numbers outside in the laboratory. And this process can take anywhere from three to four weeks. And then once they're ready, the cells are reinfused into the patient typically after a few days of what's called lymphodepleting chemotherapy. Some low doses of chemo that temporarily lowers the white cells in the patient to make room for the CAR T cells to go in and start to expand and grow. And so this process takes about a month going through, and this is the process of generating the CARs. Next slide, please.
And what's amazing is that this actually can work. And now there are multiple CAR T cells that are available for treating cancers, that the concept of CARs has been around since the late '80s, early '90s, but really the first success stories were in trials all reported around the same time in the early 2010s, from four different groups here from Sloan Kettering, from Penn, NIH, and Fred Hutch, and showed that CAR specific for a marker called CD19 could be effective at eradicating several B cell cancers, acute lymphoblastic leukemia, chronic lymphocytic leukemia, and B cell non-Hodgkin lymphomas. Some of these responses could be durable, and we still have patients now 10 years out that were treated on some of these original trials where their cancers have not come back. Next slide, please. And this is now led to four FDA approved CD19 CAR products for these B cell cancers that are listed here as well. And as I mentioned, many of these patients are still in remission going on 9, 10 years and beyond. Next slide, please.
And this is just a patient named Emily Whitehead, who was the first child treated at a pediatric CAR T cell trial at the University of Pennsylvania children's hospital. And her story is told in this video link that I've listed here. We don't have time to show it, but it's a three to four minute video. That's really amazing. She had refractory acute lymphoblastic leukemia, had failed two stem cell transplants that really no other options, got the CAR T cells on the clinical trial, got very sick, but then amazingly recovered and her leukemia completely melted away. And as you can see here, she and her family have started a foundation now, raising money for cancer research, and she's going on nine years cancer freight. So I encourage you to take a look at this video, you should be able to see it in the slide decks that you can get after the conference. Next slide, please.
Now, unfortunately, as with all therapies, there are toxicities or risks that come with CAR T cells, you have to be aware of these as well. And the two main ones are called cytokine release syndrome, CRS, and neurotoxicity. So CRS occurs actually in the majority of patients who get these, and it basically is a manifestation of the CARs doing their job. They're getting activated as they're seeing the cancer cells, they're starting to grow and proliferate, and they produce these molecules called cytokines that start to try to wake up the immune system, but sometimes, they can get overactivated or overexcited, and this can lead to high fevers and flu-like symptoms. People can feel chills, malaise, headaches, and most of the time, this is actually mild and patients can be treated with fluids and Tylenol and rest.
But in some cases, you can see less than 10% of patients can get what's called grade three or higher, more severe cytokine release syndrome, which can lead to low blood pressure, trouble breathing, and even ICU related CARe. Now, luckily there has been a sort of antidote to this CRS that's been developed called tocilizumab. It's a drug that calms down this cytokine release syndrome, but fortunately, doesn't seem to affect the efficacy of the CAR T cells or kill them off. And so using tocilizumab, we're able now to manage the CRS in the vast majority of patients.
This does, however, require that most patients are hospitalized at either time of initial CAR T cell infusion, or if they develop these fevers, which usually occurs within the first several days up to a week after infusion. The other side effect we watch out for is called neurologic toxicity or neurotoxicity. This is seen in fewer than 30% of patients generally occurs around the same time as the CRS, or sometimes a bit later. And this, again, is mild, in most patients can be some mild confusion, sometimes trouble finding words, severe fatigue, but again, in rare cases can become more serious, develop seizures, stroke-like symptoms and rarely brain swelling.
And so these are things that we are aware of, but we do have to discuss with patients. This Neurotox seems to be very responsive to steroids like dexamethasone. And fortunately, the incidence of severe neurotoxicity seems to be going down with these trials. Other later side effects of CAR T cells are low blood counts, which can persist for a month or two, which we monitor and then infections as with many of our therapies. And many patients are on preventive medicines during the CAR T cell infusions and many get what's called IVIG afterwards. Next slide.
So we've heard about these CAR T cells working in B cell cancers, but obviously, we're all here to hear about myeloma. And so what do we use these for in myeloma? And fortunately, we have a very good target in myeloma called BCMA or B-cell maturation antigen. This is highly expressed on normal plasma cells, as well as on myeloma cells and almost all patients. There's also a soluble form of BCMA that can go through and circulate in the serum. And importantly, BCMAs promotes myeloma cell survival and growth. And so if you target BCMA, you not only kill the cells, but those that may be remaining maybe less able to proliferate or grow. And that's why there are so many different approaches targeting BCMA, including antibody-drug conjugates, like belantamab, which we'll probably hear about next with Dr. Richardson in bispecifics in CARs. Next slide.
So the first studies that really showed proof of principle that this could work in myeloma were all started around late 2015, early 2016. The first was from the National Cancer Institute. You had our study at Penn, a study from a company called Bluebird, which was a multicenter study with a CAR called bb2121 in the US. And then Legend Biotech started a trial in China. And all of these were BCMA-directed CAR products. They all used slightly different CARs and had different inclusion criteria. The US trials had more heavily treated patients. If you could advanced the slide, please.
But the key takeaway was that this was working in these early patients in very large numbers. You can see at optimal doses, anywhere from 64% to 90% of patients were responding. And these were highly refractory patients with really limited options, including a large proportion with very good partial or even complete remissions, really unprecedented activity. Next slide, please.
And so two of these products have now gone forward. The Bluebird product bb2121 was acquired by Celgene, which was acquired by BMS and is now called Idecabtagene vicleucel or ide-cel, And this became Abecma, the first FDA-approved CAR product. The Legend product was now partnered with Janssen is called ciltacabtagene autoleucel or cilta-cel. And this is currently under FDA review. And I'm gonna go through the data now. Next, sort of that's leading to these products getting onto the market. And so the, the ide-cel or Abecma was approved based on this study called the KarMMa-1 study. This was for patients who had relapsed and refractory myeloma. They had at least three prior types of treatment that had to include an immunomodulatory drug, a proteasome inhibitor, and a CD38 antibody like daratumumab. They all got their cells collected by leukapheresis and the manufacturing success rate was 99% in this study. Then they could get additional therapy called bridging therapy at their doctor's discretion in order to keep their myeloma in check.
During the four weeks it took to manufacture the CARs, and then they got some three days of chemo called fludarabine and Cytoxan followed by a single infusion of CAR T cells. And you can see on the right, 158 patients were screened, 140 were eligible for the trial and got their cells collected, and 128 got actually treated. And this gets to one of the issues with CAR T cells is that for patients whose myeloma is really aggressive in moving fast, sometimes their disease just takes off during this manufacturing and they're not able to get the CARs. And this is one reason why we're looking at other immune approaches as well as I'll come to next, but 128 patients were treated in this trial. If you go to the next slide, please.
And this is the overall findings for ide-cels. So it was a very heavily treated group of patients, six prior lines of therapy, 84%, what we call triple class refractory, meaning their disease had already grown through an proteasome inhibitor, an IMiD, and a CD38 antibody. The overall response rate was 73%. So about three outta four patients responded. One third got into a complete remission. If you look at the top right, you can see that at the different dose levels of the CAR T cells, there were somewhat different responses. So at the highest dose, 450 million CAR T cells, which is the FDA recommended dose, 82% responded, 40% got into a complete response.
And on the left, you can see what's called the progression free survival curves. This is the percentage of patients who got each dose, whose disease was still in remission at the time the study was reported. And at that top dark green curve are the patients who got the highest 450 million dose. And the median progression free survival or time intermission was about 12 months. For the whole study, for all the patients, it was around nine months. And so when I see patients that I'm talking about Abecma, I tell 'em about a 75, 80% chance of response, about a 30 to 40% chance of complete remission, and about 9 to 12 median progression free survival. That would be sort of what we would expect from these studies.
You can see, however, there are a subset of patients on that progression-free survival curve. That's getting out to 20 months or 22 months that the disease still has not progressed. And so there is a potential for long-term durable remissions. And we still have a couple patients from our original trial at Penn that we started, as I said in late 2015, that are still in remission going on four, five years later. But that seems to be the minority of patients, unfortunately treated in this heavily treated population. Also, you can see the, sorry, go back one more. And the bottom right, the cytokine release syndrome was seen in 84% of patients, the neurotoxicity in 18%, but only 3 and 5% respectively were what so called severe or grade three or higher. So most of these were fairly mild. Next slide.
And as mentioned, this trial led to the first FDA-approved cell-based therapy from multiple myeloma. That's called Abecma. Patients, in this trial, have, to get this, you have to have at least four different lines of therapy. The FDA mandated that. Because most of the patients in the trial had at least four different types of therapy. But once they have had that, then they become eligible for the Abecma. And this is available now at multiple centers around the country. Next slide.
The other one that's getting close to approval is called cilta-cel. Remember, this was originally studied in China from the Legend study, and now is being tested in the US. This one's a little different than ide-cel. It has two different domains that bind BCMA. It was a similar trial design. Patients had to have at least three prior lines of therapy. They got leukapheresis, bridging therapy, the same chemotherapy before the CARs, and then a single infusion of the CAR T cells. In this trial, however, everybody got the same dose of CAR T cells. They weren't looking at different doses. Next slide, please.
And at the top left, you can see, again, a very heavily pretreated group of patients meeting six prior therapies. The overall response rate in this trial was 98%. There were 97 patients, so a little bit smaller trial, but 98% responded, 80% got into a stringent complete remission, which was really quite remarkable. And the progression-free survival curves, at least at the time these data were presented in mid-June this year showed that at 18 months, about 66% or two thirds were still in remission, and 81% of patients were still alive. And we'll see an update of these data at ASH, at our upcoming ASH conference later this year with longer follow up. Cytokine release syndrome seen in 95% of patients here. Again, the majority were grade one and grade two, perhaps a little bit more incidence of neurologic toxicity with this product, 20% got any type of neurologic toxicity, 10% had grade three or higher, including a small subset of patients who had some unusual later neurotoxicities, not within the first few days as we typically expect, but occurring later with some Parkinsonian like features. And that's something that's still being explored about why this was more frequent in this particular CAR. Next slide, please.
And so this study has been submitted to the FDA for review, and the latest I've heard is that there's a sort of a deadline for their review and decision by the end of November. And so we're hoping anytime in the next month, we may get worried about whether this product is gonna get approved and potentially available on the market early in January, 2022. And so this would be the second CAR T cell product available. And we can just maybe talk in the discussion about the pros and cons of each of these. I think they're both very effective therapies. It'll be nice to have more than one available. Next slide, please.
So where are we going with these? So as I mentioned, both of these are gonna be approved just for heavily pretreated patients who have had four or more different myeloma treatments and their disease has come back. But we think, perhaps, if we use these earlier, they may be more effective or perhaps the remissions could be even more durable. You'd have perhaps healthier T cells. When you collect them, you'd actually perhaps have less aggressive or resistant disease.
And so both of these trials, excuse me, both of these products are undergoing trials now in less heavily pretreated populations, including even some studies in high-risk myeloma patients where we're giving the CAR T cells right after induction therapy instead of a stem cell transplant. And these are relatively small studies right now, but they're open in multiple centers around the country. And so if you have an interest in these or think you may qualify, certainly ask your doctor about them, or could be referred to a treatment center. And there are also a randomized phase three trials comparing these to standard of care regimens, to relapsed/refractory myeloma, trying to confirm these single phase two studies that I showed you before. So stay tuned. We'll have a lot more info about these products in various types of myeloma patients, I hope, in the next year. Next slide, please.
But really that's just the beginning and the tip of the iceberg. I think these really have shown proof of principle these initial products that they can work. But now, our job is to figure out a way to make them work better, make them less toxic, and potentially avoid this waiting period where you have to manufacture the cells. And so on the left, you see a number of other what I call autologous CAR products that are in development, meaning that they get the cells from the patient. There also are now CAR products that are hitting two different targets, not just BCMA, but BCMA and something else, which perhaps could avoid the tumor cell becoming resistant by downregulating or losing BCMA.
And then a lot of interest in what are called off the shelf CAR products, where the CAR T cells are made from healthy donor T cell so that they're available ahead of time, frozen down, ready to go more like any other drug. And there are a lot of logistical issues to work around for this. The cells have to be modified so that that patients don't reject them, 'cause they're from an unrelated donor and also so that they don't attack the normal tissue of the patient, but there's already one of these called ALLO-715 that's gone into patients and we've seen some preliminary data last year, showing that these can be given safely and could have activity. And there's a lot of other ones as you can see here in development.
There's also CAR products that don't use T cells, but use another type of immune cell called a natural killer cell that also is looking exciting in preclinical data, perhaps with less toxicity than the T cell. So again, stay tuned. I think we're really just in the very beginning of this era, and we're gonna keep getting better and better products I hope that are gonna be more effective. Next slide, please.
Now, I'm gonna finish up with a little bit about antibodies, and there's different types of antibodies. So called naked antibodies, which are already familiar with like daratumumab, isatuximab and Elo, the antibody drug conjugates, and which basically attach a chemotherapy drug or a toxin on the back end of the antibody. So it can deliver that toxin to the cell. And we'll hear a little bit about belantamab or Blenrep. And then what I'll talk about are the bispecific antibodies or BiTEs. Next slide, please.
And so bispecific antibodies or T cell engagers, what they try to do is actually activate the T cell in the patient. So you don't have to take the T cells out and give them a new CAR and put them back in like we're doing for CAR T cell. So it's actually a drug where one end of the antibody attaches to the tumor cell. In this case, myeloma using BCMA in this example here. The other end attaches to the T cells that are already in the bone marrow. It activates and wakes up those T cell, brings them to the myeloma cells and lets them kill. And there are two sort of flavors of these. On the left, there are so-called BiTE molecules, these short halflife that have to be given as a continuous infusion through a pump that are effective, but very inconvenient. Please, if you can advance the slide.
And AMG420 was the first one that showed proof of principle, and then advance the slide, and then on the right are so called the bispecific antibodies that are longer halflife. They have better pharmacokinetic properties. They can be given once a week or even every two or three weeks IV, or even under the skin subcutaneously, so much more convenient for patients. And you can see a whole bunch of these on the right are now in development. Everything in red is already actually reported. Some activity in a public presentation. And so we know that a lot of these work. Most of these target BCMA, a fewer targeting other targets called FcRH5 and GPRC5D. And I'll give you a few examples of the activity. We can see if you go to the next slide.
So this is one called teclistamab, that's sort of furthest along. It hits BCMA as well as CD3, which is the T cell target. In this presentation earlier this year and 40 patients who got the recommended phase two dose, which was a dose once a week given subcutaneously. Anywhere from 60 to 65% of patients had a response. And these were very heavily pretreated patients similar to the population in the CAR studies. These can also cause cytokine release syndrome and neurotoxicity, but the incidence appears less, and it does appear less severe. You can see nobody had that high grade or severe CRS or neurotox. And on the right, you can see what's called a swimmer's plot. Each line represents a patient, and it shows you how long they've been on the trial and whether they're still ongoing in remission. If there's a black arrow at the end of the line, that means that they're still on the study doing well at the time of this data cut. And the follow up is relatively short, but you can see anywhere from 4 months out to 13 months, the majority of patients who had responded were still in ongoing remission at the time. So we'll, again, hope to get updated data at ASH here to see how durable these are gonna be. Next slide, please.
This is a different one called elranatamab, same concept, the bispecific antibody that hits BCMA. These were even more heavily treated patients. And some of them had already had a BCMA-directed treatment like a CAR T cell or belantamab. And again, in 20 patients who got active doses, 70% responded, 30% got a complete response. A little bit more neurotoxicity in this trial, 20%, but again, no high grade, all reversible. And you can see most of these on the right are still ongoing, including many patients who became MRD negative, including three outta four patients who had a prior BCMA treatment that responded to this BCMA treatment, showing you can use these serially. Next slide.
And finally, there are other targets besides BCMA. These are two other bispecifics in development, talquetamab on the left, hits a target called GPRC5D. Cevostamab on the right hits FcRH5. These are both on myeloma cells and few other cells in the body. And you can see, again, small numbers of patients so far, but anywhere from response rates of 53 to 73% of patients responding, including people who have already progressed after a BCMA CAR T cell. So these may be further options for our patients. And again, these were data presented last year's ASH. We'll have updates at this year's ASH with hopefully longer follow up. Next slide, please.
And so I think there's some advantages and disadvantages between CARs and bispecifics. And there's a lot of questions about which ones we're gonna use. I think the advantage of the CARs are that it's really a one time treatment. And that's really nice, I think, for patients who have been getting treated consistently without a break for many years. You get your CARs and if it works and you go in remission, you can get a long time off treatment. The disadvantages really are these manufacturing headaches. You have to wait for a slot to open up, apheresis the patient, sometimes the disease progresses during manufacturing. Also the need for that lymphodepleting chemo can be a pain. It can lead to prolonged low blood counts, higher frequency of the cytokine release and neurologic toxicity. And unfortunately, for most patients, it doesn't appear to be a cure, at least in the heavily refractory setting. Next slide, please.
The bispecifics, there are big advantages. They're off the shelf. They're like any other drug. You can order them and start them as soon as you want. And so patients who are progressing rapidly, this may be a better option. They seem to have lower frequency of cytokine release and neurotox, no lymphodepletion needed. I think the disadvantage is response rates may be a little bit lower. It's hard to know these are small studies, but most of these are being given repeatedly. So they're more like other drugs where you have to continue to administer them. And these do require still a short hospitalization in the beginning for what's called step up dosing.
We started a low dose and then step up to the full dose to try to minimize that risk of CRS. And we do monitor patients in the hospital for this. Next slide. And finally, I think, I just wanna say there's a lot of discussion that we're gonna use one or the other of these. I do think there's a way perhaps to use these together, maybe eradicate myeloma. And you can imagine, perhaps, if you're going to CAR T cells, but you need something to give the patient during that bridging period, while they're manufacturing, you could give a bispecific antibody against the same target or different target. Next slide.
Or even perhaps activate the T cells before you collect them and then collect them, give them another bispecific and give the CARs. Next slide. Or perhaps for a patient who's already getting CAR T cells. If they don't go into a complete remission, you could use these antigen, these antibodies to sort of mop up the minimal residual disease.
So a lot of options, I think we're gonna be doing a lot of these studies over the next several years and learning the best way to use these. So next slide. I think it's my last one, 'cause I know I'm running late. So the main take-home points. BCMA CAR T cells can get really amazing deep responses in relapsed/refractory patients. We've already completed registration studies for ide-cel or Abecma, which is on the market and cilta-cel, which may be on the market soon.
And there's ongoing studies going on. The durability of response looks good, but I think we can still do better. And that's why their next generation products as well as products with off the shelf capability that are now going on in trials. The bispecific antibodies can also target BCMA as well as other non-BCMA targets. They also can get deep responses in heavily refractory patients. The response durability looks promising, but the follow up is still short, and we need longer follow up to see if it's gonna arrival the CARs.
And I think we're still figuring out the optimal dose and schedule. And I think our challenges are gonna be how do we choose between different products if multiple ones on the market, how do we sequence them, and how do we combine them with our standard myeloma drugs.
But I think this is really a good problem to have and if you can advance one more. And so I really do think, as Brian said in the beginning, there's a very bright future ahead for myeloma therapy with all these new immune therapies, hopefully coming on the market soon. And it's gonna be really great to try to figure out how to use these best and hopefully, start curing a larger proportion of our patients. And with that, I think I'll stop, and thanks very much for your attention.
- Well, thank you so much, Adam, for that wonderful overview and giving a lot of details about the CAR T products, the bispecifics, and so already a number of questions coming in, actually, related to the challenges that you mentioned on this last slide.
So we'll deal with those in the panel discussion at the end, but thank you so much. So we'll move ahead with Robin Tuohy, who will lead us through how to find out what you need to know. So welcome, Robin.
How to Find What You Need to Know
- Well, thank you Dr. Durie. I am just going to share my slides now, and Dr. Cohen, that was a wonderful, hopeful, informative presentation. And we're also thankful to hear this good information so far today.
So what I'd like to do right now, you are looking at my desktop. This is myeloma.org. It is the International Myeloma Foundation's website. And no matter where you are in your treatment, if you're newly diagnosed or a long-term survivor or somewhere in between, this is a page for you to help you find out what you need to know now, and then also to plan for your future. So I'm just gonna scroll down here and also remind you that this website address is myeloma.org. Now, this is the front page, and the IMF is here for you. And you could see in the center of the front page, we have these areas of focus. So no matter who you are, we can direct you immediately to those things that you need right away if you are a patient, caregiver, healthcare professional, or researcher.
We did a lot of discussion today on COVID 19. And this block is all about vaccinations. Dr. Durie has for almost two years now been writing every week, quite often about not only myeloma, but vaccinations and why it's so important to a myeloma patient and their friends and family. And as I scroll down, this really is like your front page of the newspaper. You're gonna see all the most recent news. And here we have Dr. Durie's blog from just on Thursday, the new COVID 19 guidance and options.
So if you wanna read more and I believe there's also a few links in there for you to continue to read about. And upcoming programs. I just wanna point you here to this M-Power Atlanta. This is coming up on Saturday, November 13th. So not too far from now, and it's gonna be a free workshop called M-Power Atlanta to emphasize the empowering of patients and families, which is often vital to help improve the outcomes of the disease. I'm not gonna go through the whole front page. That's for you to do as your homework.
I have a little background in teaching, so I always give a little bit of hallmark to our support group leaders. They'll often tell you Robin's always giving us homework. So I wanna direct your attention now to the top of the page, and right across from the IMF logo in the top left, you'll see what's called an eyebrow navigation bar. And it says About Us, News, and Events, IMF Videos, Blogs, and Fundraise. You can click on all of those to find out more. Today, it's a quick overview, and I wanna focus on certain things. I am gonna click on IMF Videos right now. This to me is so very, very important.
So for example, today's seminar is also being recorded and you'll be able to find that reply here, under IMF Videos, just like all of these other excellent resources. Right now, we're looking at all content, but if you really want to check on certain topics, you can click and again, focus in, we'll zone you in on what you need to know. Ask Dr. Durie is an excellent place to come to, to learn not just about myeloma, but again, all of these short five minute videos on COVID 19.
And the nice thing is here. There's a search bar if you wanted to just type in something specific. I heard a lot of people talking about side effect management. Let's type in, for example, peripheral neuropathy here, and you can find an Ask Dr. Durie video on peripheral neuropathy. I also wanna point you to this tab here that says Living Well with Myeloma. I saw in the chat box, there were a lot of questions about different types of things. And I wanna take a quick scroll down here to show you Living Well with Myeloma series is really focused in on not just myeloma, but all of the things that impact myeloma.
So we just had an excellent program last week with Dr. Durie about the global research and collaborations that the IMF does. I highly recommend if you didn't get a chance to hear that live, please click on that one. We also have things like financial help for myeloma patients. This was done by one of our nurse leadership board members and two social workers that really understand what are those financial programs available out there. And I also wanna show you over here, I saw some questions in the chat box about how do I use my immune system. We're talking a lot. We heard Dr. Cohen talking about all these new immunotherapies, but how do we use our immune system to help us nutritionally stay healthy? And this was done by a nutritionist, as well as a member of the IMF's Nurse Leadership Board. There's also something in here.
If you keep scrolling, if I had time, there's something called understanding your labs and tests. I know that that's something really important to a lot of you out there. And the more we know, the better conversations we can have with our healthcare team. So please learn where all of these resources are, and take the time to click on them. Here, Black Swan Research Initiative, this is more about the IMF's research programs, International Myeloma Working Group. This is such an important section. There are videos in here from the conference series. There are papers in here. After the major medical meetings that are ASCO, EHA and ASH, after each one of those, the International Myeloma Working Group does have a conference series. And what that means for patients is they consolidate that information. That's really very complex for us as patients to understand from these major medical meetings.
So take a look at the conference series. It breaks it all down for you. And again, we found all of these things up at the top of this navigation bar under IMF Videos. So click there often and read more and learn more. I'm now gonna go to the next navigation bar, and I'm gonna click on What Is Myeloma? So under What Is Myeloma?, if you're newly diagnosed, here's where you're gonna wanna come to learn more about what are the types of myeloma, those urgent issues that may be happening at the beginning. Do you have kidney involvement? Do you have bone lesions or spinal compression? All of these things you need to know when you're newly diagnosed.
You don't need to know everything in the beginning. I feel like your mind would explode, but as the time is right for you, click where you need to learn. So here, again, our tests and staging, these are all really important types of information about what you need to know. Over on the right hand side under Treatment, I am gonna click here for a couple of minutes because there are some important things in here that we wanna talk about. First-line treatment. If you're newly diagnosed, that's an important area to click. If you've had myeloma for a while and you need to know, Hmm, what are those options at relapse? What do I need to know about side effects of all these different drugs? That's where you would click.
Right now, I'm gonna click on this FDA-Approved Drugs for Myeloma. To me, this is a consolidated page. I call it one stop shopping or one stop resources. But as I scroll through here, I want you to see this box on the left hand side, this lists all of the currently approved FDA drugs in an alphabetical order. So that helps you. And it gives you both the brand name, for example, Abecma, which is that new CAR T that's been approved, Blenrep, and then as you go on, it's all alphabetical. And also, if I direct your attention over to the middle of the page again here, this is a listing of the drugs by their class of drug or their mechanism of action, how they work.
So here, you'll see all the proteasome inhibitors, the immune modulators, the IMiDs, the monoclonal antibodies, just look how much I have to scroll. Back when my husband Michael was diagnosed in 2000, 21 years ago, boy, this was a short page compared to what it is now. So be happy with all the scrolling and treatment options available.
But I wanna really take you all the way down this page to show you something that I think, and I'm very grateful to the InfoLine for creating this. This is a chart. And if I click on DOWNLOAD CHART OF APPROVED MULTIPLE MYELOMA DRUGS, I am a big fan of one stop shopping, because we don't always have time to look for all this information in different places. So this chart, it may be small for you to see right now. And I apologize for that, but it has everything you need to know in one place. It's got the drug type and again, it lists it by the generic and the brand name. Indication. So when would this drug be something that your doctor and you would discuss using. The route. Is it oral, IV, Sub-Q? The side effects. This is so important for patients and caregivers to read about what are the side effects of these certain drugs. And then the additional remarks area, that has some notes in there. It could also have links to the pharmaceutical companies, that have additional information and resources for you.
So this is only one page, right? We have lots of drugs. So when you're online and you wanna turn the page to keep reading, look over here on the right hand side, there's this little white arrow. If you click on that little white arrow, there you go. You turn the page. And now we have the IMiDs and the proteasome inhibitors, and I'm not gonna go through all of the pages, but I think you get the gist. This is a great document and a resource for you to use. So I'm gonna go back to the top of the page again so you could see where we found that we clicked on What Is Myeloma? We came over here to Treatment and we clicked on FDA-Approved Drugs for Myeloma. So that's how you find it.
Side effect management. Now, that's obviously such an important thing. I saw a question in the chat box about leg cramps. I've seen other questions over there. If you click on this side effects area, you'll find a lot of those questions answered, and I wanna quickly direct your attention. And I am watching the time here. It goes by so quickly. Immune therapy. We just heard Dr. Cohen giving a really well understood program of what are these new immunotherapies. If you wanna learn more about these immunotherapies, Dr. Joe Mikhael created these videos. Again, they're very short, maybe five minutes. What is the BCMA? What are the anti-drug conjugates? CAR T therapy, bispecific therapies. So again, that's another good resource for you to find.
I'm gonna now go over to Publications and Videos, and quickly just bring your attention to all of these really important IMF publications. And you can either call the IMF to order them, or you could read them online. If I click on Publications and we look at the handbook. If you have not read the handbook, look how easy it is to scroll through.
And again, you click that little arrow and you could read that publication. I also wanna make sure that you know that on this sidebar here, we have the Understanding Series and in the Understanding Series, I always tell people, click here, look at all of them and you'll see Blenrep. You'll see the clinical trials. You'll see all of these new drugs that are approved, but you're also gonna see drugs like steroids, the good, the bad, and the ugly. You know, there are things about steroids we need to know. You could also search for peripheral neuropathy and that would come up.
And I also wanna click on this Tip Cards. Tip Cards are great. They're short. They can be understood really well, and you can even print them out and bring them in to talk to your doctor. There's a tip card here called Ask Your Doctor These Important Questions. That's really important.
There's another one Teresa Miceli mentioned to you that the IMF Nurse Leadership Board members developed something called a discussion tool. If I type that in right in the chat box, here you'll find that tip card and a discussion tool. This is very newly done just in the spring of this year. So use these resources again to have these good questions with your doctors. So if we go back up to publications and videos, you'll see the videos that we already talked about in here. But also, if you wanna know more about the IMWG or the Nurse Leadership Board, these are great places to come for publications and guidance.
Now, I'm gonna click on Resources and Support. I cannot talk enough about the importance, the value of attending your local support group. I'm gonna click on this, find a support group right here and scroll down quickly. And one, I think all of the leaders that have been so resilient in leading these support groups, the majority are still meeting virtually using Zoom licenses. And we also now have these special interest groups that will always meet virtually.
For example, we have this new group for patients and caregivers who have young families, because they do have different challenges and that's good for them to have the opportunity to discuss. And we also have a Spanish speaking support group here that you can click on. Now, if you wanted to know where is my local group, there's a great map. If you typed in, let's just say Ohio and you search. Here you go. You can click on all of these different groups that maybe if you live in Ohio, you wanna learn more about those groups and you wanna go to those groups.
And right now, going to those groups means Zoom and still learning, being safe and getting together. If I click, quickly, 'cause I think my time is already up. I have to talk to you about research. Research is our future, and I am so grateful for all the research that is going on. And if you wanna know more about research, here is where you click for IMF research. And again, you can find out what the nurses are doing and then all of the different research grants and awards that the IMF has been getting out for so many years. I wish I had more time.
There's so much more I would love to click on, but now, that's up to you. So again, myeloma.org. There's your homework, and I hope this was helpful to you.
- Thank you so much, Robin. That was a wonderful review leading people through the webpages. And it is just phenomenal. All the diversity of information and resources that can be gained just accessing that, and in the virtual world right now, it is just so important to be able to access that and then connect to a Zoom support group or get all different kinds of information. So thank you. And we'll take questions in the panel at the end. So let's move forward to our final presentation, which is, if we can click forward. Yes. When myeloma comes back, the evolving role of novel therapy in the treatment paradigm of relapsed and refractory multiple myeloma.
So please welcome Paul Richardson, a frequent participant in our different seminars and webinars from the Dana-Farber in Boston. So thank you, Paul, for joining us.

When Myeloma Comes Back: Approaches to Relapse
- It's a pleasure, Brian, as always. And thank you very much for the very kind invitation, and especially, grateful to you and your team and Amira for putting together such a nice session for our patients, which is just wonderful.
It's great to see almost 600 participants and particularly, lovely to follow such nice presentations and particularly, appreciate Robin's shout out for research because obviously, that is our way forward. And Brian, as you wanted me today to do, just to really give our patients and families insights into how, whilst obviously we're so excited with the advances in the newly diagnosed setting.
Unfortunately at the moment, we have to face the challenge of relapse and what do we do? And obviously, we heard beautifully from Adam about cellular therapies. I'm gonna pivot back a little bit to those, to contextualize them, but I do want to emphasize the host of other options that we have. So with that, Amira, next slide, please. These are just my relevant disclosures. Next slide, please.
Now, I think what's so exciting is that right now in 2021, despite the enormous challenge of COVID, we're sitting at 15 approved novel agents. Now, we've recently had one change of position on one of them, melflufen, which I wanna explain, because like all things in myeloma, we never give up, and we're coming back with something hopefully new and better, because, obviously, melflufen's accelerated approval for us was exciting, but I'll explain why it had to be pulled back. And then we're gonna come back to the , God willing, with something even much better. With that in mind though, nonetheless, you can see we've got a host of options for our patients, and this is critical. And you've heard earlier about how do we best sequence and strategize therapies to ensure best outcome. Next slide, please.
Now, I do wanna make this point. I think we all know as patients and families and caregivers alike, that this is a long journey, and thank goodness it's getting longer. So I always emphasize to my patients that treating myeloma is a marathon and not a sprint. And in that context, it's terribly important to think strategically. And that matters as you think about how one wants to get the maximum benefit out of each approach for as long as possible. Recognizing obviously that for our patients, it's the wonderful thing to reach for what we call functional cure. And I think for the first time in many years, that's really now attainable potentially in the future. But I think we have to be realistic that in the meantime, to be very practical in our considerations and above all, and Robin touched on this as well as Teresa earlier, toxicities really matter. And it's important to remember that efficacy, which is how we define a therapy is defined both by activity and tolerability. So tolerability is of vital importance. Next slide, please.
So I summarize key targets here and we've heard so nicely about this already, but essentially what we have to understand is that myeloma is a highly mutagenic disease. It's governed by thousands of mutations, not just a few, but thousands. And so we have to think about that very creatively. Combination therapy and continuous therapies and appropriate way to take on that challenge. And obviously, we're very excited by the evolving position and timing of transplant. Recognizing that high dose melphalan of old was an absolutely vital tool 20 years ago, 10 years ago, and so forth. Going forward, I would propose that that position is changing somewhat as we have arguably other tools to deploy so that we can tailor our therapy for patients accordingly.
One critical pillar of targeting therapy in myeloma is targeting what I call excess protein production. What I mean by that is, obviously, myeloma produces tons of protein, but is protein machineries uniquely vulnerable? And in that context, targeting protein degradation and targeting those key pieces of the machinery within the myeloma cell can lead to remarkable results. And we'll spend a bit of time on that. Now, we've heard beautifully from Adam about targeting immunity or the immune system in myeloma. I'm gonna build on that a little bit as well, but also, focus on areas that he didn't have time to touch on. Next slide, please.
So what's relapsed/refractory myeloma all about? Well, this is very quick, but on the left is relapse and on the right is relapse and refractory and they are different. Once you've relapsed, you can go after your disease and get it back under control. And the really good news is that we're able to control disease for longer than we have been. Having said that, once you get into the relapsed/refractory space, that's particularly challenging, because that means you're growing on, not you, but the disease is growing on your current treatment. And we have to therefore be very thoughtful about what we do in trying to bring that rapidly under control. Next slide, please.
So confronting relapse, what do we think of? Well, this is a very interesting slide on the left here because it tells you what about 16 years, 17 years ago we faced, which was that with each successive line of therapy, duration of remissions tended to be shorter. Back then, of course, we didn't have anything like the options that we have now. The good news is we have many more options and the intervals and the treatment regimens are that much better and that much longer.
What's also very important to understand is we've come to understand the pathobiology that underpins this unique behavior of myeloma, generally speaking in the relapse setting and we call this clonal heterogeneity, clonal tiding, and a very important construct around clonal resistance. 'Cause myeloma is not just one cell, it's multiple cells as the name implies. And unlike, say for example, leukaemias and so on, which have a relatively linear biology, myeloma is quite different, and it's a true chess game. So I show this to just understand the complexity of what we're dealing with, but the good news is we have the tools to meet it. Next slide, please.
And here, we share some slides that actually illustrate the point I'm trying to make. You can see here that if you look at overall efficacy of treatments, we're still seeing the same pattern, but with improvements. What's really exciting is that the newer treatments are making a bigger difference. Those are the ones in orange, and as you can see that they're making an impact compared to the older treatments that are leading to improved outcome. And just to show that this isn't just the purview of research. In real world data, we're seeing exactly the same thing illustrated below. Next slide, please.
And in terms of drug refractoriness, not so long ago, about a decade ago, we were dealing with what we call double refractory disease. In other words, disease that had become resistant to an immunomodulator and resistant to a proteasome inhibitor. And that was our biggest challenge. Now, of course, with new drugs, we are facing what we call triple, quad, and Penta refractory disease. Now, again, a continuous challenge, but I want the emphasis of my point here is to illustrate that as we continue to make progress, we face new challenges, but the very good news is we have new tools to meet that challenge. Next slide, please.
So when we think about relapse, when should we start treatment? Well, as you heard very nicely from Brian, in early disease, we're looking at precursor states to head off at the past the progression of myeloma from smoldering high risk states to newly diagnosed. However, one critical thing is the patients at that time are asymptomatic and it's sometimes very difficult to sort out who's gonna do poorly and who's gonna do well. And especially, if they're asymptomatic. And in that context, sometimes one has to be very thoughtful about first do no harm, because in that context, of course, if side effects are engendered, that's a huge challenge for a patient who's otherwise asymptomatic. So different judgment or different junction point of decision making in the newly diagnosed setting.
What I can tell you, however, is that in the context of relapse disease, it's a very different setting. Relapse disease is more guilty until proven innocent in my view. So this has to be born in mind. Having said that there are those patients with biochemical progression only who may not need immediate therapy and can actually be nicely added to in terms of their treatment. Sometimes an increase in dose, sometimes just dropping in a well-tolerated antibody. These are strategies that can bring disease under control. However, otherwise, there may be signs that point to a more aggressive relapse and in that setting, really a reboot and a rethink, a next line of therapy needs to be engaged.
So if we look at the next slide, these are how the new drug glasses affecting treatment landscape and relapsed/refractory myeloma. This is from what we presented at the recent International Myeloma Workshop in Vienna. And what you can see here is we think about triple class, quadruple class and penta refractory disease, renal dysfunction, bone marrow reserve, immune deficiency, the elderly and frail, and neuropathy. These are all important considerations. Next slide, please. Sorry, it's a dynamic one. It'll bring in. Thank you. Oh, we lost something there. Dunno quite what happened. Doesn't matter.
Anyway, suffice to say, when we've got new treatment options, they're all listed here, and they're very exciting and very promising. And again, in the interest of time, and please know you'll have full access to these after our presentations today. I just wanna share with you that in the United States at least, we're very fortunate and having multiple treatment options for our patients. And we tend to think of it in the following way. Treatment at first relapse. Has the patient received lenalidomide or not, and is the patient actually progressing on lenalidomide? And this governs some of our thoughts about what we may use, and what you can see is there are multiple options. And then there's treatment after multiple relapses. What do we do when we're in that relapsed/refractory state? And as you can see, we're very fortunate that we have multiple options recognizing, of course, a slight change of position around melflufen, which I touched upon earlier. Next slide, please. Thank you. Excuse me for a second. I'm sorry. I'll have to just call you back if that's all right.
So in terms of this next slide, I just want to illustrate here, improving outcomes for patients with relapsed/refractory disease, the patient perspective, which is absolutely critical, because here, I think, this is a vital part of the discussion this morning. There are multiple factors of importance to myeloma patients regarding their treatment that can have an impact on the effectiveness of what we consider treatment in the real world setting. And I've summarized on the right of the slide here some of the factors that are very relevant and the considerations for optimal treatment. Next slide, please.
Now, traditional factors that impact in relapsed/refractory disease are summarized here. And this is actually very interesting and important, because what it illustrates to you is that whilst many of us would think that carfilzomib, lenalidomide, and dexamethasone is a very powerful platform. It most certainly is. In a frailer patient, you can see here, if it's used in that frailer person, the outcome is actually worse. And so that points to the value of what I discussed earlier, which is this concept of efficacy, this balance behind activity and tolerability. And as you see in this analysis, less intensive or less aggressive combinations, such as ixazomib, lenalidomide, and dexamethasone perform somewhat better in this particular analysis in the frailer patient. Next slide, please.
And at the same time, there are other features of the treatment choice in relapsed/refractory myeloma that are very important, and this includes extramedullary disease. Now, in that context, here you can see that there are a number of options that we have. Extramedullary disease is an increasing challenge for us in the relapsed/refractory space, particularly after daratumumab or antibody treatment has, perhaps, run out of benefit when extramedullary disease appears. But the good news is that we have CAR T therapy on the right, illustrated here, which may be affected in this setting. And we have other drugs that are effective.
Now, melflufen previously was affected in this subgroup. And again, we're putting to one side, the recent change in the approval status of that drug. The principal is the same, that newer drugs are meeting this challenge. These include for example, selinexor and isatuximab. And in that context, we're in a position to potentially deploy this in this particular setting. Next slide, please.
Now, I'm gonna now talk more broadly about agents in relapsed myeloma and move through this data fairly quickly because it's all published and it's all in those wonderful information booklets that Robin touched on before, but just to give you broad principles. And as you can see previously, we were focused on using daratumumab, carfilzomib, elotuzumab and ixazomib with lenalidomide backbones. And clearly this was a very effective approach. Obviously, now with lenalidomide being used upfront, by having to think somewhat differently. Next slide, please.
Now, some of the studies that help us in this regard have summarized here where we've combined these same agents with a bortezomib backbone in this particular case. And as you can see established the efficacy of certain approaches in the setting, not least of which the efficacy of carfilzomib in the appropriate patient being really an excellent, outstanding proteasome inhibitor in this setting, already touched on ixazomib being particularly useful as an oral agent and particularly, potentially for the frailer patient. And then, of course, on the right side of this slide, you can see the role of pomalidomide emerging.
Now, one particular class of drug that perhaps is underappreciated is panobinostat. Now, this is an HDAC drug. And I'll come to the mechanism in a moment, but you can see here that the hazard ratio for its benefit is really quite respectable when ranked against these other studies. And this perhaps is of importance, as we think about the variety of drugs that we need to meet the challenge of relapse. Next slide, please. Now, with this in mind, let's think about optimism, which is the pomalidomide based trial that we performed to confirm its efficacy. Next slide, please.
We are able to show here that if you used pomalidomide in relapse early, the outcomes were excellent. And if patients have had just one prior line of therapy, if you used a pomalidomide-based approach, over 21 or approximately 21 months of benefit could be achieved on average with this approach. Next slide, please.
Responses reflected this. Next slide, please. Now in summary then, pomalidomide in this particular triplet showed benefit in combination, and we'll come to in a moment to discuss multiple other combinations where pomalidomide has been a viable backbone after lenalidomide failure and met that challenge effectively with various partner drugs. Next slide, please.
Now, I just mentioned before, panobinostat, I do wanna touch on it very briefly, because I think it's sometimes an underappreciated option for patients in the relapsed/refractory setting. Entirely novel mechanism action, the so-called histone deacetylase pathway, and by so doing it has influenced not least of which on high risk disease and interesting enough also in the context of extramedullary disease. Next slide, please.
This is very interesting data from my colleague, Dr. Jacob Laubach, published at the end of last year. I just wanna bring to your attention that when we first developed panobinostat, it was challenging to give, especially with intravenous bortezomib. However, we've learned with subcutaneous bortezomib and with changes in the schedule and adjustments in dose, it can be much better tolerated for the individual patient. And what I want to bring to your attention is the top line here. You can see here with using panobinostat 20 milligrams three times a week with bortezomib dexamethasone in the relapsed/refractory setting. In the modern era, we are able to achieve 22 months on average of disease control, which I think is somewhat underappreciated and certainly important for those patients who, for example, an immunomodulatory drug may have run out of benefit, or for example, are in a bridge between treatments looking next, perhaps to an antibody or before or after this approach. Next slide, please. So in that spirit, what about the antibodies? Well, I wanna touch very quickly on CD38, which has been an absolute game changer. And also talk a little bit about a elotuzumab. Next slide, please.
Now, in that context, the first thing I wanted to share with you is some of the excitement about combining carfilzomib with daratumumab and just show here that we've seen dramatic results from this approach with really excellent response rates compared to carfilzomib and dexamethasone alone. And what we've also seen is MRD negativity, that's been quite striking and really impressive disease control over time in the relapse setting. Next slide, please. In the same context, the use of carfilzomib, dexamethasone, and daratumumab has been very active across various subgroups of risk. Next slide, please.
Finally, if you combine daratumumab with pomalidomide, as I mentioned before, a new backbone, and results have been excellent. And the first clue to this came from, were from Dr. Ajai Chari in the so-called EQUULEUS trial, where he showed impressive activity and this led to an approval. Next slide, please.
And this was then confirmed by other studies in the same setting. Next slide, please. And then an important phase three study of daratumumab subcutaneously with pomalidomide, dexamethasone, and the so APOLLO trial really nailed this down and showed that the three-drug platform was clearly better the two, which pivots back to a point that Brian made earlier that in relapse setting, three drugs versus two is very important. Next slide, please.
Now, what about isatuximab? Well, isatuximab also targets CD38, but it's important to note and it's a little bit like when you think about ide-cel and cilta-cel that you heard so nicely from Adam before late, earlier. Whilst these are in the same broad class, there may be functional differences that are relevant, and isatuximab in this context, whilst it's certainly, I would argue, closer in similarity than say cilta-cel and ide-cel are to each other. They're nonetheless distinct. And in this context, we've seen some promising activity from isatuximab in particular patients subgroups.
For example, those patients with renal injury and in patients with extra disease. That being said, the results from isatuximab, pomalidomide, and dexamethasone are very similar to that which we see with Dara, Pom, Dex and very favorable. And the ICARIA study was the one that actually led the approval of isatuximab by doubling progression for survival compared to the standard at that time of pomalidomide and dexamethasone alone. Next slide, please.
Now, when you combine isatuximab with carfilzomib, the results are really impressive, and you can see that here. Very similar to the CANDOR trial. But if you look at the hazard ratios, which is sometimes a nice way of comparing trials, it really brings home the point that isatuximab is an important addition in this space and is a very effective way of targeting CD38. Next slide, please. Now, this just illustrates the responses and the MRD rates. Next slide, please.
Now, changing gears. What about elotuzumab? Elotuzumab target something quite different. So-called SLAMF7, and please, it's not, I won't worry about the acronyms and the interest of time, but just know it's quite different to CD38. But what does SLAMF7 do? That's very important in natural killer cells. And Adam mentioned before how important natural killer cells are in the immunotherapy of myeloma. So if you activate natural killer cells and you combine this with lenalidomide, you can actually see benefit as illustrated in this study. Next slide, please. But then if you go one step further and use pomalidomide, which is a more potent activator of natural killer cells than lenalidomide, elotuzumab does even better. And this particular trial led to the FDA approval of elotuzumab with pomalidomide and dexamethasone. Next slide, please.
So in the last few minutes, I wanna finish up by going into novel targeted agents, and I've seen from the chat box that there've been some questions about a variety of these, and we'll hopefully be able to cover some of the key points. And then we can talk about them more in the Q and A. Next slide, please.
So this is how the new drug classes look in the current treatment landscape of myeloma. And I'm sorry that behind this is a figure of a person just to illustrate. I'm not quite sure why it's disappeared from the screen, but my apologies for that. But I think that summarizes broadly what you've heard about already to some extent from Adam, but what I'm adding to this is the other drug classes that we mentioned. Next slide, please.
Now, let's start a first of all with a selected inhibitors of nuclear export, so-called SINEs. Very simply put, this is an entirely novel mechanism action that blocks the way the cancer cell is able to actually export key tumor suppressor proteins that stop it from behaving malignantly. So it's almost as if it stops the social media that a cancer cell is using to its ill-gotten gain to grow, resist, and survive. Now, selinexor was the first in class here, and we conducted the BOSTON trial to illustrate that when you combined it with proteasome inhibitors and reduced the dose in frequency, which made it much more durable. This was an effective and active approach. Next slide, please.
Prior to that, we'd done a very challenging study. The so-called STORM2 study, which was performed in a relapsed/refractory disease at higher doses. And whilst this was a much more challenging from a tolerability point of view, in about a third of patients, some really meaningful benefit was seen despite the fact that they were highly refractory, but the key point was, and if you look to the left of this slide, when you looked at the combination of selinexor with bortezomib in this case at lower dose and less frequently, outcomes were very impressive across high risk groups. So an important addition to armamentarium. Next slide, please.
And what's exciting is that if you combine it with other drugs like pomalidomide, daratumumab, and carfilzomib, the benefits are very clear. A critical thing though, is the management of side effects for this particular agent. So when you receive selinexor, if it's appropriate for you, I'd encourage you very strongly to work very closely with your care team and be proactive about side effect management. And in my experience with selinexor for my patients, less is more, once a week lower dose and being very proactive about anti medics and supportive care makes all the difference. And specifically for patients with high-risk disease, this particular approach can be quite useful in my experience, particularly in the relapsed/refractory setting. Next slide, please.
Now, what about other mechanism action? Now, I saw in the chat box that there was some inquiries about venetoclax, coming to that in a minute. I'm gonna talk very briefly about the drug conjugates and in particular, the monoclonal antibody drug conjugates, touch very briefly on an explanation for what's happened around the peptide drug conjugates, and then finish by touching on what I think is a very exciting area, the CELMoDs. Next slide, please. So what about venetoclax? Well, this was informed by the basic construct of using a very, very powerful oral agent that specifically targets the BCL-2 mechanism in myeloma. Next slide, please.
Now, what was learned in this particular study was that if you looked at it overall and you had translocation 11, 14, which corresponded to this abnormality within the pathobiology of your myeloma, you got tremendous benefit, and indeed, for progression free survival across this study, benefit was seen. And you can see it at the top in green that in fact, if you got venetoclax and dexamethasone with bortezomib, you did twice as well as if you didn't. The snag was the survival flipped, and we needed to understand why. This is very important lesson. Next slide, please.
What we learned very quickly was that if you have translocation 11, 14, that's where the benefit lies, but if you don't, it could actually make things worse. So this was a critical observation as a powerful lesson in myeloma research and development where a targeted approach and actionable mutation is present, but we critically have to use the drug for that particular mutation and not use it elsewhere. Otherwise, problems can arise. Next slide, please.
Now, in the same spirit with peptide drug conjugates, we were excited by the promise of this highly targeted delivery system for a calculator warhead might work for patients, and we were very pleased to see that in the horizon study, hence the accelerated approval. Next slide, please. What we, however, also saw was if you combined it, the results were even better.
However, when in the ocean study, which was the study that led to the decision to pull the drug back from accelerated approval, not dissimilar to what was seen in the BELLINI trial. If there were certain specific patient subgroups, actually the outcomes were inferior. And in particular for those patients who had recently had a transplant. So for that reason, the melflufen accelerated approval was taken back and we are repurposing to try and go forward with newer approaches in different populations. We're very hopeful that the outcomes will be that much better. Next slide, please.
So finally, I want to finish with two conversations around, first of all, the monoclonal antibody drug conjugate, GSK, nine, well, 2857916 as it used to be called belantamab Blenrep or belamaf for short, and then very quickly touch on the emerging role of CELMoDs. Next slide, please.
Very briefly in terms of the antibody drug conjugates, the mechanism is fascinating. It's the delivery to that BCMA target of a cytotoxic warhead. Similar in perhaps in principle to the peptide drug conjugate, but very profoundly immunotherapeutic. Next slide, please.
In that regard, this has, of course, now approved the use of belantamab mafodotin. It specifically optimizes this off-the-shelf approach, there's no hospitalization needed, and the activity is clear. However, the challenge is the keratopathy, the effects on the eye. Next slide, please.
And here, we can see that when you combine belantamab with pomalidomide, the response rates are dramatic. Again, the keratopathy remains a challenge. Next slide, please. But other combination trials are also showing benefit. So belantamab can be very beneficial to certain patients in particular, but we do have to work hard on the ocular toxicity and really some progress is being made in that regard. Next slide, please.
Now, I want to finally conclude in the last minute or two by focusing on what I think is one of the most exciting new areas. As we thought about the promise of the immunomodulatory drugs, we now have the cereblon E3 ligase inhibitors, and next in line, the so-called degraders. And these are agents that can really dramatically target the cereblon E3 ligase complex and do so in a highly sophisticated and targeted way and bring myeloma pathobiology rapidly under control. And again, I don't want you to be confused by all the science in this slide, but simply to appreciate that, whereas obviously lenalidomide and pomalidomide might have been effective on this target, the CELMoDs in particular, iberdomide in this particular example of that much more powerful. Next slide, please. And in that spirit, the iberdomide studies have clearly shown this benefit as illustrated in combination with bortezomib and dexamethasone and with daratumumab and dexamethasone as well. Next slide, please.
And in that same context, if you just use iberdomide alone, about a third of patients respond when they are so-called triple class refractory, which is an important signal. And the very exciting news about iberdomide is it is very well tolerated, and just a pill, three weeks on, one week off. Next slide, please. Now, a step up from iberdomide is so-called 92480 or 480 for short right now. This is even more powerful than iberdomide, and in the same model systems is dramatic in its effects. Next slide, please. Clinically, we've seen corresponding benefit in terms of relapsed/refractory patients really benefiting. As you can see on the right here, about a 55% response rate in patients with triple-class refractory disease. Next slide, please.
And just to show why this really matters is illustrated in this next slide. These are patients with extramedullary disease from their myeloma, which is a big challenge. And again, just with oral therapy illustrated on the right is a patient who's had a complete response from his liver disease by virtue of simply oral therapy in the form of 480. Next slide, please.
Now, I wanna just finish up with my final key points, basically illustrating where I think was so exciting in the relapsed/refractory space. Whilst relapsed/refractory disease, here, the two has been so challenging. We're now in an entirely new space where we have multiple new therapies that are available for our patients, and they really offer the promise of doing that much better for that much longer in each case, and with multiple new targets and multiple new drugs and all hands on deck as it were to the pumps for the point of a better metaphor. And we're seeing some really good progress. Next slide, please.
Now, because this is a patient symposium, I really wanna just finish with this last case, 'cause I think it's just, a picture or a story tells a thousand words. I show this with Deb's express permission, but essentially, she's one of my wonderful patients who's had a long journey with her myeloma and presented with high risk disease in 2009. And at that time she had classical treatment at that time with lenalidomide index medicine to start with, we added bortezomib to improve the efficacy. And then she went to stem cell transplant in 2010, and she had high-risk disease. So unfortunately, her disease control from the transplant was short lived, only about a year. Thereafter, she benefited from pomalidomide and thereafter that, unfortunately, pomalidomide-based therapy failed her and she developed extramedullary disease in a very aggressive relapse.
Fortunately, we had daratumumab, and she started daratumumab in 2013 as part of a phase one trial, the so called 501 study illustrated on the right. And she's been on daratumumab monotherapy ever since with an eight year disease remission. She's in complete remission and MRD negative and illustrative of the point for quality of life and how much that matters. These are pictures, again, with Deb's express permission, showing her quality of life in the context of her journey with her disease in the relapsed/refractory setting. And as she said to me a few months ago, "The best I've ever felt since diagnosis, despite dealing with COVID." And with that, I'll just say thank you very much for your attention and look forward to the next part of our session today.
- Well, thank you so much, Paul, for that very comprehensive review of relapse management and all of the exciting new agents that are moving forward. A lot of information, and many questions that have been coming in through the chat box. And so there's no way that we'll be able to cover all of these questions, but let's try to cover a few, maybe, of the hotter topics let's say. So if you don't mind, maybe we'll just go back and start off with Adam's presentation.
One of the key things, as I mentioned, Adam, on your last slide was the challenges that we face related to, and the questions have been coming in about, well, which product to use and particularly related to the sequencing, we have these different BCMA targets, different agents, and then the possibility of combining some of these agents with standard therapy. So maybe the sequencing and then what kind of combinations are you looking at or thinking about?
- Sure, and I think these are great questions, and I'll admit we don't have a lot of data yet to guide us, but that data's coming. I think what we have learned is that certainly patients can get more than one BCMA targeted therapy and we can see responses if you have had belantamab and that has not worked. Sometimes you can respond to a CAR T cell and vice versa. We don't quite know what those response rates are. These are mostly anecdotes or small trials so far, but I think just 'cause you've had one BCMA therapy, that doesn't mean you should never try another one. And there are now studies ongoing that are specifically looking at somewhat sequencing, if you've had a bispecific, what's the response rate to a CAR. So I think that's one question that I hope will be answered soon. We don't have all the data yet. In terms of combinations, that's another great question. I think these studies are ongoing. There certainly is data that you can use IMiDs, like the lenalidomide and pomalidomide after CAR T cell. We've had a study like that at Penn showing it can be done safely and in some patients may transiently at least re-expand the CARs. And so I think that is a promising combination. I think antibodies being used as well is another interesting one. And then the bispecific antibodies and the CARs together, we don't have any data on those yet, but to me, that's one of the more interesting ones learning to sequence them. So I think the answer is really stay tuned. I think we don't have all the data yet, but it's gonna be coming.
- Absolutely, and through our IMWG working group, we've actually with Tom Martin and Yi Lin at Mayo established the, I think you're aware of the immune therapy registry where we're gonna be tracking that from centers like yourself and try to gather real data, real world data on what is happening when different sequences are used in the real world. So one question here, Paul, I see is someone mentions that you say that there are improvements in dealing with the Blenrep, eye toxicity, the ocular toxicity. Obviously, we're getting more familiar with how to use Blenrep. You want to talk about that a little bit?
- Sure, absolutely, can do it very, and thank you to Jack for asking the question. I think the important point here is that belantamab mafodotin works. And the important thing to do is like everything that we deal with in cancer medicine, if we can figure out the toxicity and improve efficacy so much the better. So less frequent dosing is critical. Right now, the label is for every three weeks. We will often extend that to every six weeks. We also think the infusion time matters. 30 minute infusions is what the label says. We actually give it over 60 minutes, and my nursing team and I always believe in hydration. We think that makes a difference pretty much with every myeloma drug we give. So we do that to improve volume of distribution as it's described and also reduce what we call Cmax. The other piece of it is occasionally the appropriate use of anti medics and steroids with it matters. I know it's a quote, unquote, steroid free approach, but nonetheless, we found that helpful. And finally, it's really key to have a great ophthalmology partnership going, because if you do that, you're able to succeed in really managing it proactively. And so at the heading off at the past issues that can emerge. My final point would be the real value of belantamab mafodotin has been in combination. And we've got lovely data from Suzanne Trudel in combination with pomalidomide and other drugs. And I think that's the future for it.
- Yeah, yeah. That last point, the data in the refractory patients with the pomalidomide combination really quite strikingly good, I must say. Yeah. So quite promising there. I was wondering, Teresa, what's the feeling on the nurse leadership side with regard to Blenrep, the ocular care, how do you see that's coming?
- I think Dr. Richardson is really outlined it nicely. It's really about first awareness and then trying to prevent as much of it as possible. We do see that this drug is a very effective therapy, especially in people that have become refractory, their myeloma's become refractory to so many of these therapies. But I will tell you, it is a very real world experience. And I hear this a lot within my support group. People who are functionally blind, they are not able to enjoy quality of life doing the things that they normally would like to do, because of the ocular side effects. Thankfully, they are not persistent if therapy is withheld, but again, it's that balance of how do you stay on very effective therapies and still being able to maintain that quality of life. I still think there's room for improvement, for sure.
- Yeah. Yeah. So Robin, yeah, you wanna comment?
- Yeah, Dr. Durie, I think this is one of the important things, and when Dr. Richardson goes over this so well, thank you very much, but this is where that conversation with your doctor is important. And I worry about if a patient doesn't have a caregiver and they are having some vision issues, then even the transportation to get into the treatment. So that discussion about do you have a caregiver could be really important.
- Right. Absolutely, absolutely. Another question that's come up several times is, what is really happening with venetoclax? You know, we've been so excited about venetoclax and it works so well in the 11, 14 population, but we've kind of lost track of where are we with the forward movement with the trials and the like with venetoclax? What's the status really, Paul?
- Well, we're waiting on the approval, Brian, obviously, if it'll come through based on current data, but I think there's a lot more studies underway to actually establish that. I personally think it's a remarkable drug in 11, 14 disease, but unfortunately, there was this big problem with BELLINI, and I think from a regulatory point of view, that's a challenge.
- Right. Right.
- And to that, a comment would be interested. And I know that there are a couple of people that have asked questions about amyloid and for me-
- Right, yes.
- Amyloid they're 11,14, and where we're at with that potential.
- Right. Absolutely. So Adam, do you use venetoclax? Obviously, it is available.
- Yeah, absolutely. I agree with Paul and Teresa. It's really an active drug. I use it pretty exclusively in the 11, 14 patients, and in some patients, venetoclax alone or in combination with Dex. If I can use it in combination with a proteasome inhibitor, I think there's more activity, but you have to watch out for infectious complications and hypogammaglobulinemia as we saw in the BELLINI trial. So I'm very aggressive at trying to give prophylaxis and prevent infections in that population when I use it in combo, but it works dramatically well. Also in amyloid patients who have progressed on daratumumab and proteasome inhibitors, I think with the 11, 14, venetoclax is another great option for them as well.
- Yeah. Very good, yeah. And so, Teresa, as you noticed, I think that a couple of patients were asking about protocols specifically for amyloid patients. And so I know at Mayo, you obviously have a particular interest in amyloid, and so maybe you can give some guidance on that, right? Different trials.
- Well, as we know, amyloid is a similar, yet completely different experience. And whether we're talking Al amyloid or TTR, again, another nuance to it.
- Right.
- And that's definitely where you want to speak with somebody who is an amyloid specialist. You get some great amyloid specialist on the east coast here at Mayo Clinic.
- Yes.
- But you absolutely need to be talking to an amyloid specialist.
- Right, absolutely. Yeah. So I think that we are glad to help facilitate that. And as I was saying in the virtual world, it is easier for us to direct, to try to get a Zoom consult with one of you guys or someone who is running one of the amyloid trials. Okay, I'm trying to see if there's any other important question.
- There was sort of a general theme question that was being asked regarding clinical trials. And as Robin and Paul have said, that is our future. And one of the challenges I think that we're faced within clinical trials is the real world experience.
- Right.
- We have these sort of conglomerations of people that are similar type within these trials, and we understand why that's the case, but then there are people who really want to participate, but yet they're excluded based on certain criteria. And that really is a challenge, I think, within our community.
- Right, right.
- Yes, and I-
- I touched on that, and I think that there is a sense that we do need to have conversations with the FDA about that, Paul, to have some trials-
- Yes.
- which would allow that. We obviously want to be able to assess toxicities accurately, but on the other hand, we do need to have that access.
- I think it's a superb question, Teresa, and I thank you, Brian, for bringing it out, because I apologize, I just had to jump and deal with a couple of things there. So sorry for being in and out for a second, but in any event, the important point is with the real world data, how much that matters? Because I think Adam touched on it beautifully with the CAR T experience. It's so promising, but I can tell you at Dana-Farber, we had one slot for ide-cel in September, and we've got two slots in October. That's three slots. In real world practice, we need the other agents there for sure. And our real world trials need to reflect that. And I think that one incredibly important lesson from my view, Brian, is from the OCEAN trial, for example, where clearly a subgroup of patients did not benefit and another group did, but actually that led to an accelerated approval being pulled. That's really important for us as researchers to learn from and avoid that kind of challenge again, because in the sense, I noticed one of the question's about venetoclax. That's the other reason why venetoclax has not come through, because in fairness to the FDA, they're dealing with a real conundrum. They've got a positive signal in 11, 14 disease, but they've got a real problem in the non 11, 14 disease. It seems to do harm. Why? So I think, Teresa, you touched on incredibly important point, which is real world studies, and we need to be very thoughtful about how patients participate in trials, because speaking simply, Brian, for the OCEAN studies you may know, one of the reasons that ran into trouble was because in Europe, it was used as a mechanism to access pomalidomide index in healthcare systems that didn't have access to Pom-Dex. And that led to selection biases and populations that actually did affect the trial. So Teresa, you raised an incredibly important point about how we think about designs.
- Right, right. Yeah. That's complicated, but kind of important point that we're gonna be talking about in the coming year, I think. Some important learnings there, for sure. Well, I think that we have run out of time, but I think that we probably picked some of the most major topics that we should touch on. Robin, did you pick up on anything else that you think would be worth commenting on before we come to a close here?
- I think the questions have been excellent. And I remind people that the InfoLine is also available. So we could always refer people to the 1-800-452-2873 CURE InfoLine number, and Paul and Debbie and Missy can help people with additional questions.
- Right, right. So I'm gonna go ahead here. There is a feedback survey. And so we are very interested to hear your feedback. And so please click on that and let us know. And then finally, just to thank our sponsors one more time, whom I mentioned individually at the beginning, we couldn't do it without their support. So thank you to that. But I think the meeting would be nothing without our guest experts and speakers. So thanks to Paul, to Theresa, to Adam, and to Robin for wonderful presentations today that touched on a lot of key information, key discussion points. So thanks to you all. And I hope that this was a great learning experience for all of the patients and others who may have been listening on the webinar today. So have a good rest of your Saturday, and enjoy the weekend. And thank you all once again.
- Thank you.
- [Paul] It was absolute pleasure. Thank you.
- Bye, everybody.
- Thank you.
- Bye, everyone.
- Bye, everyone.
- Bye-bye.
- Thank you.
- Bye-bye.
Patient and Family Webinar Sponsors:
with support from:
Amgen, Binding Site, Bluebird Bio, Bristol Myers Squibb, Genentech, GSK, Janssen, Karyopharm Therapeutics, Oncopeptides, Sanofi Genzyme, and Takeda Oncology
Please check out these multiple myeloma resources from our sponsors:
(All the sponsor links below are external links and you acknowledge that you are leaving the IMF website. The IMF is not responsible for content provided by the links below and you may be subject to the Privacy Policy and Terms & Conditions of the destination site(s).)
Even The Odds
Virtual Patient Booth

Bluebirdbio website

Revlimid Treatment Overview brochure

Pomalyst Transition Treatment brochure

DARZALEX FASPRO™ Patient Brochure

Learn About Our Mechanism of Action

Oncopeptides, Inc. website

Talking to Your Healthcare Team
Previous Post
IMF Global Research Collaborations Bring Us Closer to a Cure
Next Post
IMF Virtual Regional Community Workshop (RCW) - California Greater Bay and Surrounding Area