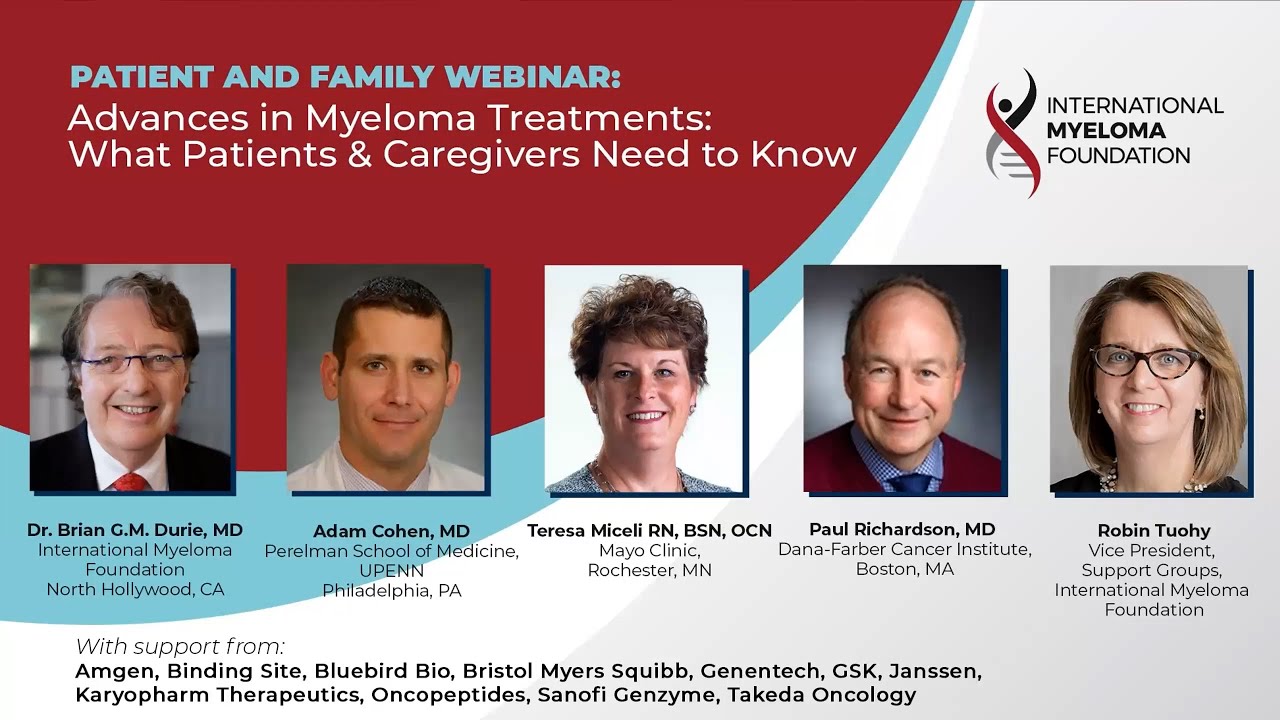 Advances in Myeloma Treatments: What Patients & Caregivers Need to Know
What Patients and Caregivers Need to Know About COVID-19, Vaccines, and Myeloma Treatment Advances
Webinar slides
Webinar topics include:
COVID-19, Vaccinations, Staying Safe
Dr. Brian Durie gives updates on Covid-19, available vaccinations, and recommendations on how to stay safe. He gives updates on current global case numbers reported by the Centers for Disease Control (CDC), and COVID-19 vaccination recommendations for myeloma patients including the need for booster doses. He also answers common questions and addresses important topics including pandemic fatigue, air travel safety, and more. 
Life Is a Canvas; You Are the Artist.
IMF Nurse Leadership Board Member Teresa Miceli, RN, BSN, OCN, leads a segment called "Life Is a Canvas; You Are the Artist." This segment offers advice for side effect / symptom management and suggestions for financial support, as well as focuses on the psychological and emotional issues of living with myeloma.
Advances in Myeloma Treatments: Looking Beyond 2021
Dr. Durie shares updates on IMF Research, including the iStopMM trial, which is now in its fifth year. He explains what the research from Iceland means for patients. He also shares topline news from the Black Swan Research Initiative® projects, which are working to attack myeloma on a global front.
Immune Therapies: Treatments That Work With Our Own Immune Systems
Dr. Adam Cohen discusses immune therapies, or immunotherapies, which are types of cancer treatments that help your immune system to fight cancer. He discusses how immunotherapies work in myeloma. He covers CAR T-cell therapies, monoclonal antibodies, antibody-drug conjugates (ADCs), Bispecific T-cell Engagers (BiTEs®), and more.
When Myeloma Comes Back: Approaches to Relapse
Dr. Paul Richardson talks about "When Myeloma Comes Back: Approaches to Relapse." He covers how patients should treat relapsed disease, the pros and cons of treating a biochemical relapse, and practical approaches to relapse.
How to Find What You Need to Know
IMF Vice President of Support Groups Robin Tuohy presented "How to Find What You Need to Know." She provides guidance on the available resources on the International Myeloma Foundation's website, along with tips on how to navigate the site, and more.
Speakers and Topics:
If you missed the webinar, watch a replay now, with participants' questions at the end. Click the play button on the image at the top of this page to watch now!
Additional Resources:
Acquaint yourselves with the following resources on the IMF website to better understand the discussions.
Essential Tests for Diagnosis and Monitoring
*Of note, Venetoclax has already been approved to treat acute myeloid leukemia, chronic lymphocytic leukemia (CLL) or small lymphocytic lymphoma (SLL) in adults and is now being evaluated to treat other types of cancers, including multiple myeloma. It is part of a class of medications called B-cell lymphoma-2 (BCL-2) inhibitors that work by blocking the action of BCL-2 (a protein in the body that regulates cell death). Trials using Venetoclax were discussed in this webinar. You can learn about these three trials at the following links:
Myeloma Acronyms & Abbreviations
Watch Ask Dr. Durie Videos:
"Myeloma 101: What does a newly diagnosed patient need to know?"
"What imaging studies, or scans, should myeloma patients undergo?"
Download the IMF's Multiple Myeloma Informational Booklets:
If you have any questions, please contact:
The International Myeloma Foundation
1-800-452-CURE (2873)
[email protected]
---
Patient and Family Webinar Sponsors:
with support from:
Amgen, Binding Site, Bluebird Bio, Bristol Myers Squibb, Genentech, GSK, Janssen, Karyopharm Therapeutics, Oncopeptides, Sanofi Genzyme, and Takeda Oncology
Please check out these multiple myeloma resources from our sponsors:
(All the sponsor links below are external links and you acknowledge that you are leaving the IMF website. The IMF is not responsible for content provided by the links below and you may be subject to the Privacy Policy and Terms & Conditions of the destination site(s).)
Even The Odds
Virtual Patient Booth

Bluebirdbio website

Revlimid Treatment Overview brochure

Pomalyst Transition Treatment brochure

DARZALEX FASPRO™ Patient Brochure

Learn About Our Mechanism of Action

Oncopeptides, Inc. website

Talking to Your Healthcare Team
Previous Post
IMF Global Research Collaborations Bring Us Closer to a Cure
Next Post
IMF Virtual Regional Community Workshop (RCW) - California Greater Bay and Surrounding Area