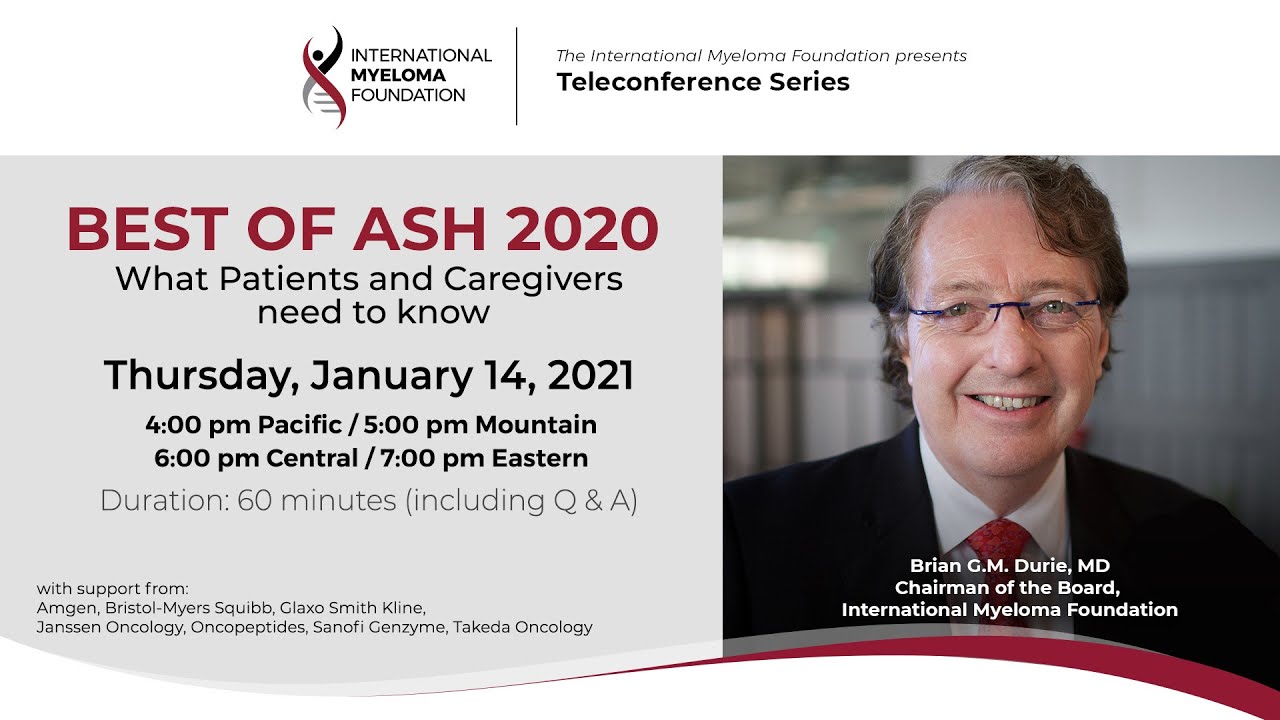 Top Myeloma Takeaways From the 2020 American Society of Hematology Meeting
click on the image above to view the video
Key Multiple Myeloma Takeaways From ASH 2020
Dr. Brian G.M. Durie discusses important takeaways relating to multiple myeloma from the annual American Society of Hematology (ASH) conference.
Of the 4,800 abstracts presented at the 2020 ASH meeting, 688 were multiple myeloma-related. In this "Best of ASH 2020" webinar, Dr. Brian G.M. Durie highlights the top myeloma abstracts presented during the virtual conference.
Topic Details:
Smoldering Myeloma
In this segment, Dr. Durie touches on what "myeloma defining events" influence the decision to either continue close monitoring or begin treatment of the disease. He discusses how the IMF's International Myeloma Working Group (IMWG) has developed a scoring system to predict the risk of myeloma progression.
Dr. Durie touches on the phase III QuiRedex trial, which studied the outcomes of treating smoldering myeloma patients early using lenalidomide and dexamethasone. The trial results showed the benefit of early treatment versus continued observation with no indication that starting treatment early would lead to more resistant relapses in the future.
He closes this segment detailing the current recommendations for patients with smoldering myeloma ranging from low risk to high risk.
Frontline Therapy
Dr. Durie discusses key takeaways as relates to frontline therapy from the 2020 ASH meeting including:
The 4-year follow of the MAIA study (abstract 2276) presented during the virtual conference. The conclusion after its four-year follow-up is that the addition of daratumumab (D) to the doublet Revlimid® and dexamethasone (Rd) continues to demonstrate a superior progression-free survival benefit. More patients continued to have deeper and more durable responses with D-Rd vs Rd alone. No new safety concerns were observed with longer follow-up. These results continue to support the use of D-Rd in the first line of treatment for patients with transplant-ineligible newly diagnosed myeloma.
The Forte trial (abstract 491) studies the evaluation of the rate of conversion from minimal residual disease (MRD) positivity to MRD-negativity with multiparameter flow cytometry (MFC) and next-generation sequencing (NGS) during maintenance. The trial also studies the impact on progression-free survival (PFS) and overall survival (OS) of MRD-negativity with both techniques in different subgroups including different treatment arms.
The long-term follow-up analysis of the IFM 2009 study (abstract 143) prospectively evaluated the combination of 8 cycles of lenalidomide, Velcade (bortezomib), and dexamethasone (RVd) versus (vs) 3 cycles of RVd plus high dose melphalan with autologous stem cell transplantation plus 2 consolidation RVd cycles, followed by lenalidomide maintenance for 12 months in newly diagnosed multiple myeloma patients (Attal M et al, NEJM 2017). The conclusion suggests that quadruplets with anti-CD38 monoclonal antibodies combined with the selective use of high-dose therapy and transplant, followed by extended maintenance, should be considered in the future to further improve patient outcomes. Such an approach could potentially provide a functional cure for a significant proportion of newly diagnosed myeloma patients.
Early Relapse
In this segment, Dr. Brian G.M. Durie outlines the available treatment options patients have if they experience early relapse. He also discusses the available treatment options for patients who are lenalidomide refractory.
The New Role of Immune Therapies
Dr. Durie discusses the latest news from ASH on immune therapies tested on triple-class refractory myeloma patients including:
The Phase 1b/2 CARTITUDE-1 Study (abstract 177) of the drug cilta-cel (ciltacabtagene autoleucel), a B-cell maturation antigen–directed chimeric antigen receptor (CAR) T-cell therapy for relapsed or refractory myeloma. The study indicates that a single low-dose infusion of cilta-cel leads to early, deep, and durable responses in heavily pretreated myeloma patients.
Updated Results from Phase 1 CRB-401 Study (abstract 131), which is evaluating the drug ide-cel (decabtagene vicleuce), a BCMA-directed CAR T-cell therapy used in patients with relapsed and refractory myeloma. In this study, Ide-cel demonstrated deep and durable responses in heavily pretreated relapsed/refractory myeloma patients. The FDA has since approved ide-cel, trade name Abecma®, for use in adult patients with relapsed or refractory multiple myeloma after four or more prior lines of therapy, including an immunomodulatory agent, a proteasome inhibitor, and an anti-CD38 monoclonal antibody.
Updated phase 1 results of the drug Talquetamab (abstract 290), a B-cell maturation antigen (BCMA) targeting CD3 bispecific antibody being used in patients with relapsed and/or refractory myeloma. These phase 1 results show that Talquetamab has a manageable safety profile, which includes low-grade cytokine release syndrome (with no gr ≥3 events) and low severe infection and neurotoxicity rates with both iv and sc administration. Deep and durable responses were observed with both iv and sc administration. The tolerability and efficacy of Talquetamab support the planned phase 2 monotherapy trial along with future combination studies.
Webinar Slides:
Download the webinar slides and follow along.
Other Resources:
---
Webinar Sponsors:
with support from:
Amgen, Bristol-Myers Squibb, Glaxo Smith Kline, Janssen Oncology, Karyopharm Therapeutics, Oncopeptides, Sanofi Genzyme, Takeda Oncology
Previous Post
When patients test as having borderline high-risk smoldering myeloma, should they receive treatment?
Next Post
Virtual Webinar On Building Your Resilience During Challenging Times