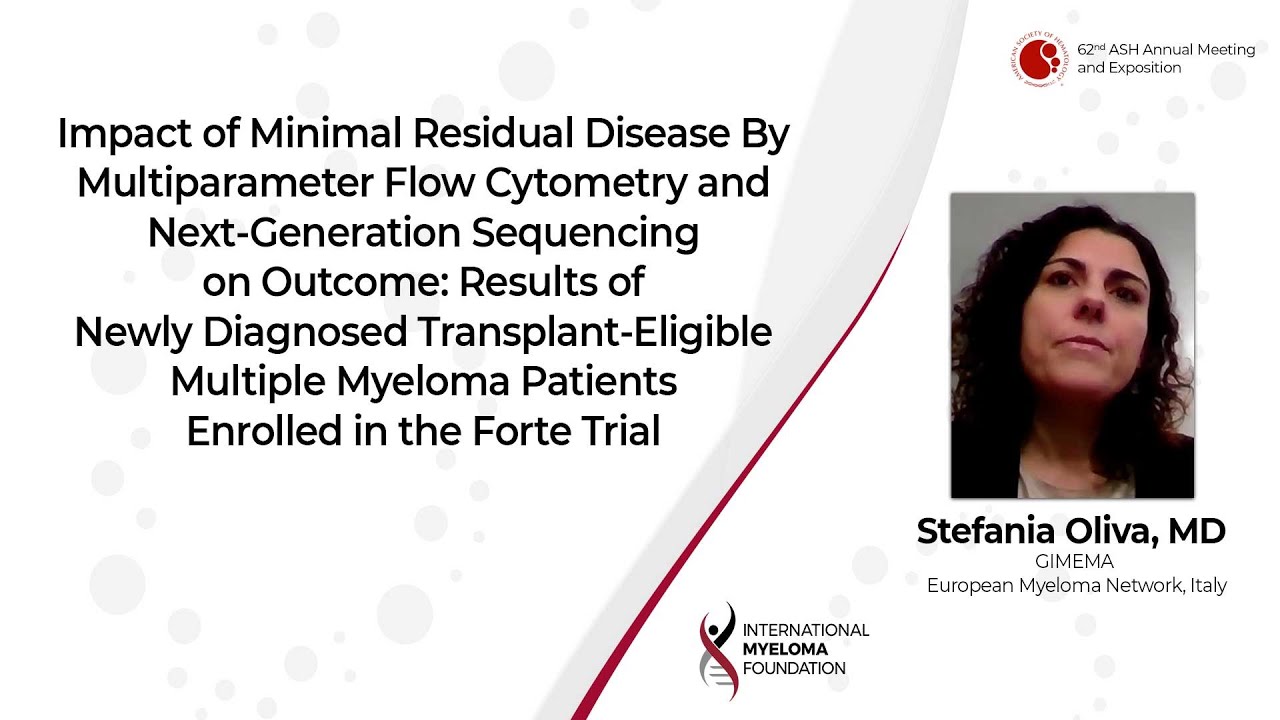 Results of Newly Diagnosed Transplant-Eligible Multiple Myeloma Patients Enrolled in the Forte Trial
What is the purpose of this study?
The aims of this analysis were the evaluation of (1) the rate of conversion from MRD-positivity (MRD-pos) to MRD-negativity (MRD-neg) with MFC and NGS during maintenance and (2) the impact on progression-free survival (PFS) and overall survival (OS) of MRD-neg with both techniques in different subgroups including different treatment arms.
In this video:
Dr. Stefania Oliva gives a report on the results of the FORTE trial on MRD via multiparameter flow cytometry (MFC) and next-generation sequencing (NGS) techniques. MRD was evaluated by these two techniques and the best technique between these two was evaluated.
Results:
The outcomes of patients who were MRD-NEG by MFC and NGS at 10-5 were similar, as well as those of patients with 1-year sustained MRD-NEG by MFC and NGS.
Conclusion:
The final outcome of MRD negative patients is superimposable regardless of treament. High degree of clinical concordance between MFC and NGS MRD.
ASH 2020: Abstract 491
---
STEFANIA OLIVA, MD, PhD
Dr. Stefania Oliva isa member of the Myeloma Unit, Division of Hematology, University of Torino, Turin University Hospital Azienda Ospedaliero‐Universitaria Città della Salute e della Scienza di Torino.
Previous Post
Updated Efficacy and Safety Results of the Phase 3 CANDOR study
Next Post
A Phase 1 Study of AMG 701 in Subjects With Relapsed/Refractory Multiple Myeloma