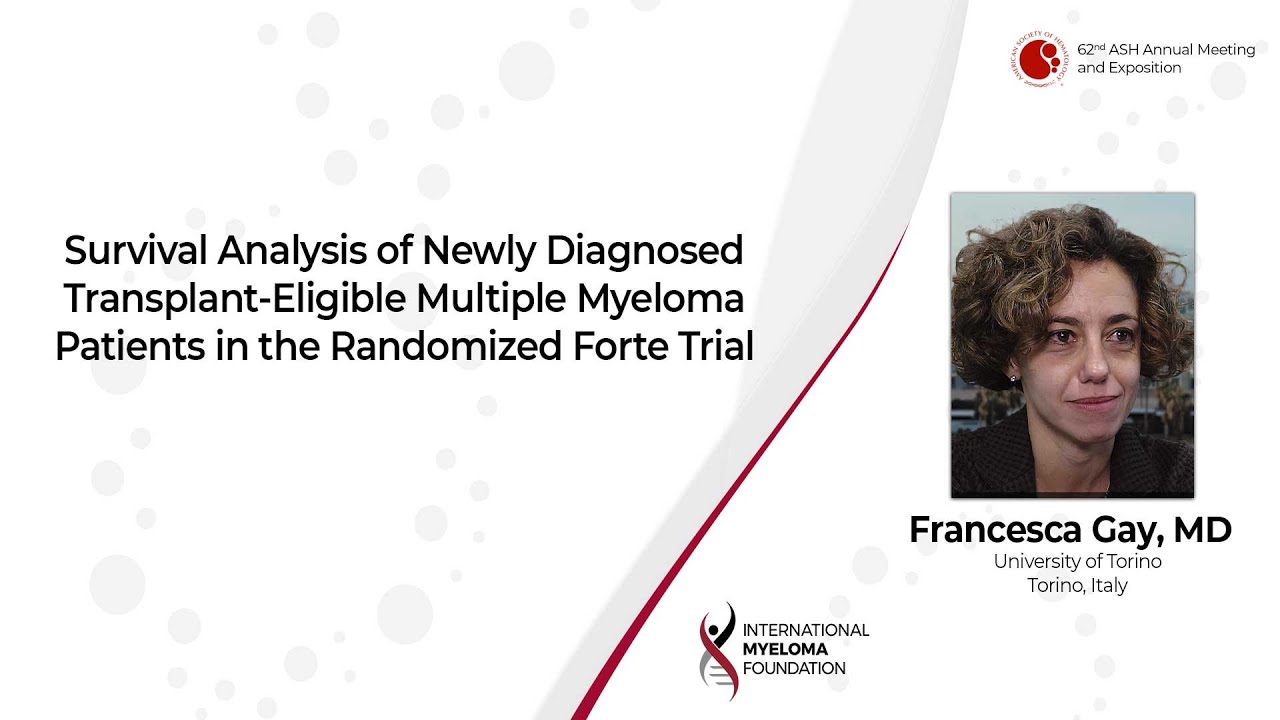 Survival Analysis of Newly Diagnosed Transplant-Eligible Multiple Myeloma Patients in the Randomized Forte Trial
What is the purpose of this study?
The aims of this analysis were to evaluate the progression-free survival (PFS) of KRd induction-ASCT-KRd consolidation (KRd_ASCT) vs 12 cycles of KRd (KRd12) vs KCd induction-ASCT-KCd consolidation (KCd_ASCT) and the PFS of KR vs R maintenance.
In this video:
Dr. Francesca Gay summarizes the results of the survival analysis of the FORTE study.
Conclusion:
Treatment with KRd_ASCT significantly improved PFS compared with both KRd12 and KCd_ASCT. Maintenance with KR also improved PFS vs R.
ASH 2020: Abstract 141
---
Francesca Gay, MD
Dr. Francesca Gay is a hematologist at the Myeloma Unit, Division of Hematology, Azienda Ospedaliero Università Città della Salute e della Scienza, in Torino, Italy. She completed her medical degree in 2004 and her fellowship in hematology in 2008 at the University of Torino, Italy. She obtained her PhD in Medicine and Experimental Therapy in 2014. She focuses on multiple myeloma and associated disorders, as well as helps the design and development of myeloma clinical trials. Her papers have been published in peer-reviewed journals, and she has been a reviewer for medical journals including Leukemia and Hematologica.
Previous Post
Carfilzomib Twice Weekly in Combination with Dex and Daratumumab Vs Dara with Bortezomib and Dex
Next Post
Updated Safety and Efficacy from ANCHOR Study of Melflufen in Relapsed Refractory Multiple Myeloma