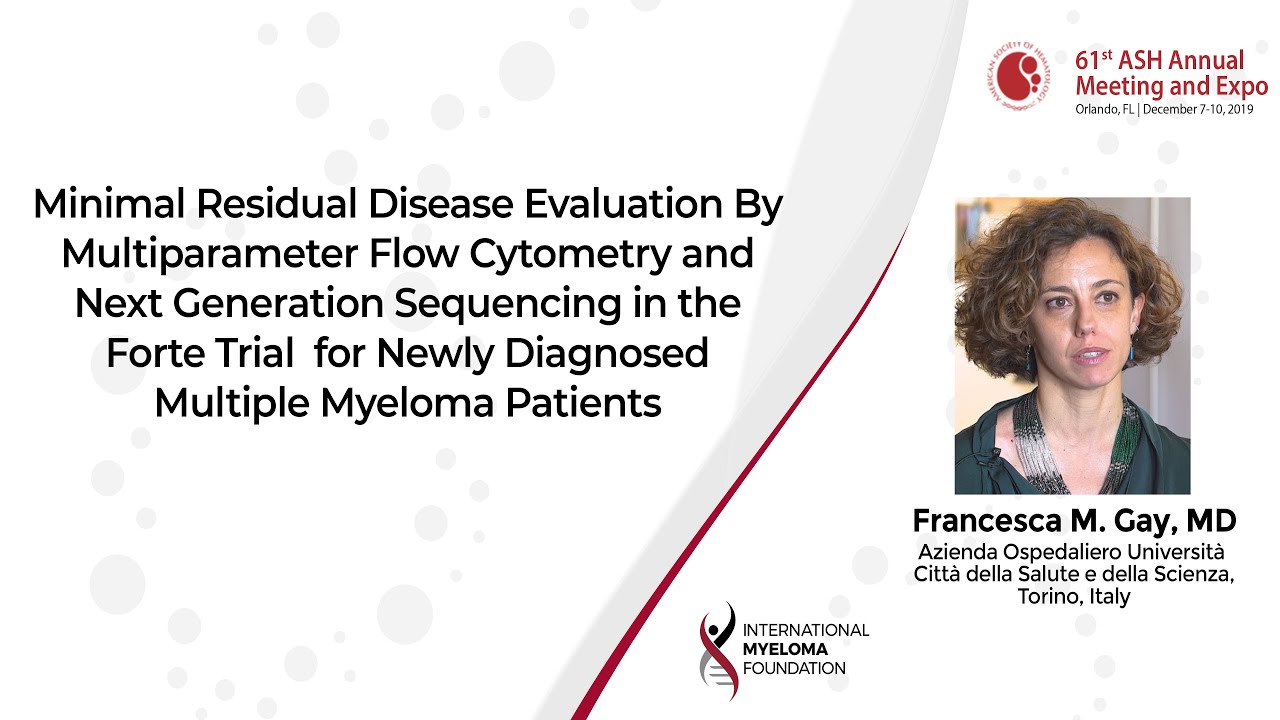 Minimal Residual Disease Evaluation By Multiparameter Flow Cytometry and Next Generation Sequencing in the Forte Trial
Minimal Residual Disease Evaluation By Multiparameter Flow Cytometry and Next Generation Sequencing in the Forte Trial for Newly Diagnosed Multiple Myeloma Patients 
Background: The role of Minimal residual disease (MRD) as surrogate for survival in Multiple Myeloma (MM) patients is well established. Therefore, new response criteria recommend including Multiparameter Flow cytometry (MFC) and next generation Sequencing (NGS) MRD negativity (minimum sensitivity of 1 in 105 nucleated cell) to deeply characterize complete remission (CR) [Kumar SK, Lancet Oncol 2016]. Here we analyzed and compared MRD data from the FORTE trial both by MFC and NGS techniques.
Conclusion: In patients who achieved ≥ CR, rate of at least 10-5 MRD MCF negativity was 79% and rate of at least 10-5 NGS negativity was 49%. Assessment both by MFC and NGS showed a good concordance, particularly if the same sensitivity is reached. Longer follow up is needed to assess the impact of MFC in comparison with NGS on patients' outcomes, particularly to evaluate if 10-6 NGS or NGF sensitivity may provide further clinical information, possibly identifying patients with very long survival or potentially cured.
---
ABOUT FRANCESCA GAY, MD, PhD
Dr. Francesca Gay is a hematologist at the Myeloma Unit, Division of Hematology, Azienda Ospedaliero Università Città della Salute e della Scienza, in Torino, Italy. She completed her medical degree in 2004 and her fellowship in hematology in 2008 at the University of Torino, Italy. She obtained her PhD in Medicine and Experimental Therapy in 2014. She focuses on multiple myeloma and associated disorders, as well as helps the design and development of myeloma clinical trials. Her papers have been published in peer-reviewed journals, and she has been a reviewer for medical journals including Leukemia and Haematologica.
Previous Post
Curative Strategy (GEM-CESAR) for High-Risk Smoldering Myeloma (SMM)
Next Post
Estrategia curativa (GEM-CESAR) para el mieloma latente de alto riesgo (SMM)