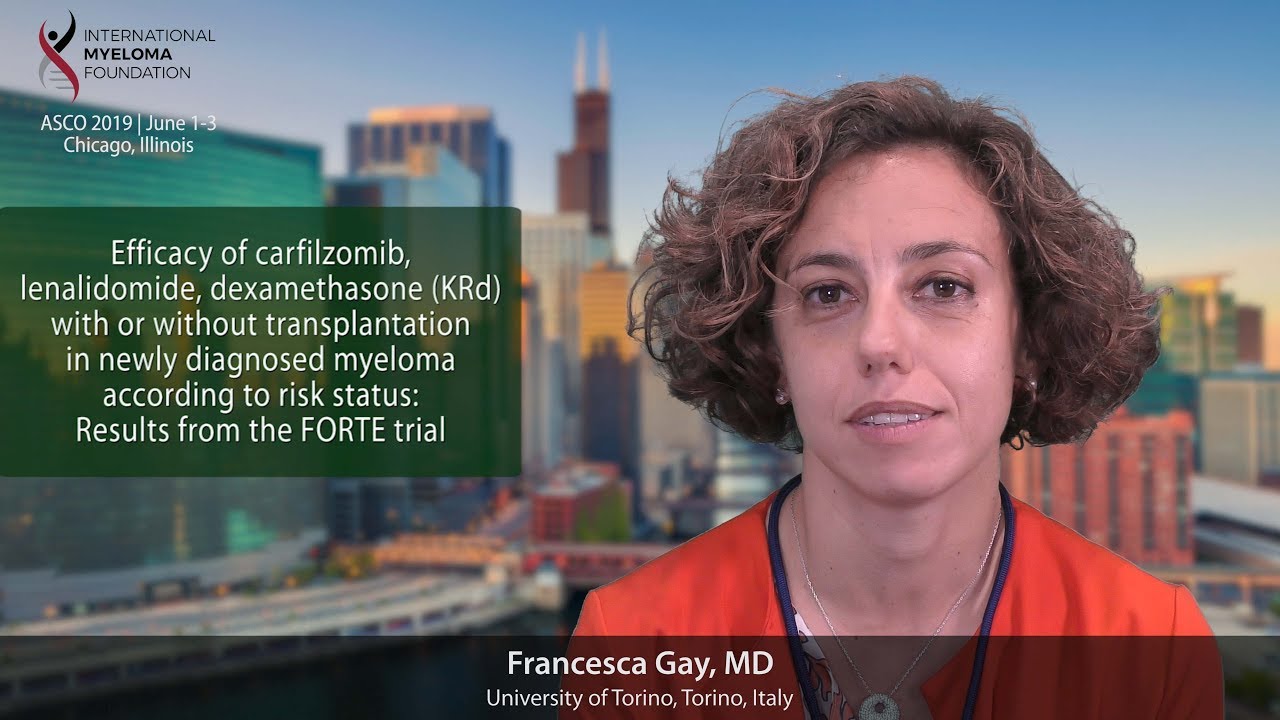 Efficacy of KRd with or without transplantation in newly diagnosed myeloma according to risk status: Results from the FORTE trial
Dr. Francesca Gay on the FORTE Trial
Video Transcript
My name is Francesca Guy and I work in the University Hospital in Torino, Italy. Here at ASCO 2019, I presented as the behalf of the investigators of the Torino group, the results of the FORTE study, which is a randomized study for newly diagnosed patients eligible for transplant.
In this analysis of the study, we focused on two of the three arms of the trial. And we compared it to the outcome to patients randomized to induction with KRd, followed by transplant and KRd consolidation versus continuous treatment with KRd for a total of 12 cycles. We thought at the end of this therapy that the rate of response as well as the rate of minimal residual-negativity, sensitivity 10-5, was comparable between to the overall population of the patients in the two arms. It was comparable between the two arms, also in standard-risk and high-risk patients. 
Then we looked at how many patients maintained for at least one year, MRD-negativity. And we saw that 90% of patients receiving transplant maintained MRD-negativity for one year. Where 78% of patients who did not receive transplant maintained MRD-negativity.
This difference in the rate of patients have enough persistent minimal residual disease negativity of one year was particularly evident in high-risk patients, because high-risk patients receiving a transplant, 90% of them have minimal residual negativity maintained for one year versus 72% of patients who did not receive a transplant.
We also look at the rate of early relapse in the two arms – that is rate of relapse within 18 months from the randomization to treatment.
We saw data – the number of patients relapsing within 18 months was almost doubled in patients that did not receive transplant versus patients who did receive a transplant. But the majority of them were high-risk patients and were high-risk patients that did not get into MRD-negativity. 
From these results, we can conclude that both KRd with transplant and KRD without transplant are highly effective in using high-quality -----, however, the rate of persistence one-year MRD-negativity is higher with transplant, and this is problem explains, since the difference is particularly evident in high-risk, this explains why transplant is of benefit at present in the trial, in particular with patients with high-risk disease.
We need a longer follow-up to analyze the progression-free and overall survival data
 
Conclusions
KRd-ASCT-KRd and KRd12 were equally effective in inducing high-quality responses, with about 50% of high-risk pts achieving MRD negativity. In high-risk patients, ASCT reduced the risk of early relapse. 
Authors:
Francesca Gay, Chiara Cerrato, Maria Teresa Petrucci, Renato Zambello, Barbara Gamberi, Stelvio Ballanti, Paola Omedè, Salvatore Palmieri, Rossella Troia, Stefano Spada, Alessandro Gozzetti, Tommaso Caravita, Antonio Spadano, Antonio Palumbo, Vittorio Montefusco, Pellegrino Musto, Michele Cavo, Mario Boccadoro; GIMEMA, European Myeloma Network, Italy; Myeloma Unit, Division of Hematology, University of Torino - Currently Takeda Pharmaceuticals Co., Torino, Zurich, Italy
---
Clinical trial information: NCT02203643
ASCO 2019 Abstract No: 8002
Citation:
J Clin Oncol 37, 2019 (suppl; abstr 8002)
---
ABOUT FRANCESCA GAY, MD, PhD
Dr. Francesca Gay is a hematologist at the Myeloma Unit, Division of Hematology, Azienda Ospedaliero Università Città della Salute e della Scienza, in Torino, Italy. She completed her medical degree in 2004 and her fellowship in hematology in 2008 at the University of Torino, Italy. She obtained her PhD in Medicine and Experimental Therapy in 2014. She focuses on multiple myeloma and associated disorders, as well as helps the design and development of myeloma clinical trials. Her papers have been published in peer-reviewed journals, and she has been a reviewer for medical journals including Leukemia and Hematologica.
ASH 2014, ASH abstract, American Society of Hematology, ASH
Previous Post
Overall survival with oral selinexor plus low dose dexamethasone in patients with triple class refractory-multiple myeloma
Next Post
E3A06: Randomized phase III trial of lenalidomide versus observation alone in patients with asymptomatic high-risk smoldering multiple myeloma