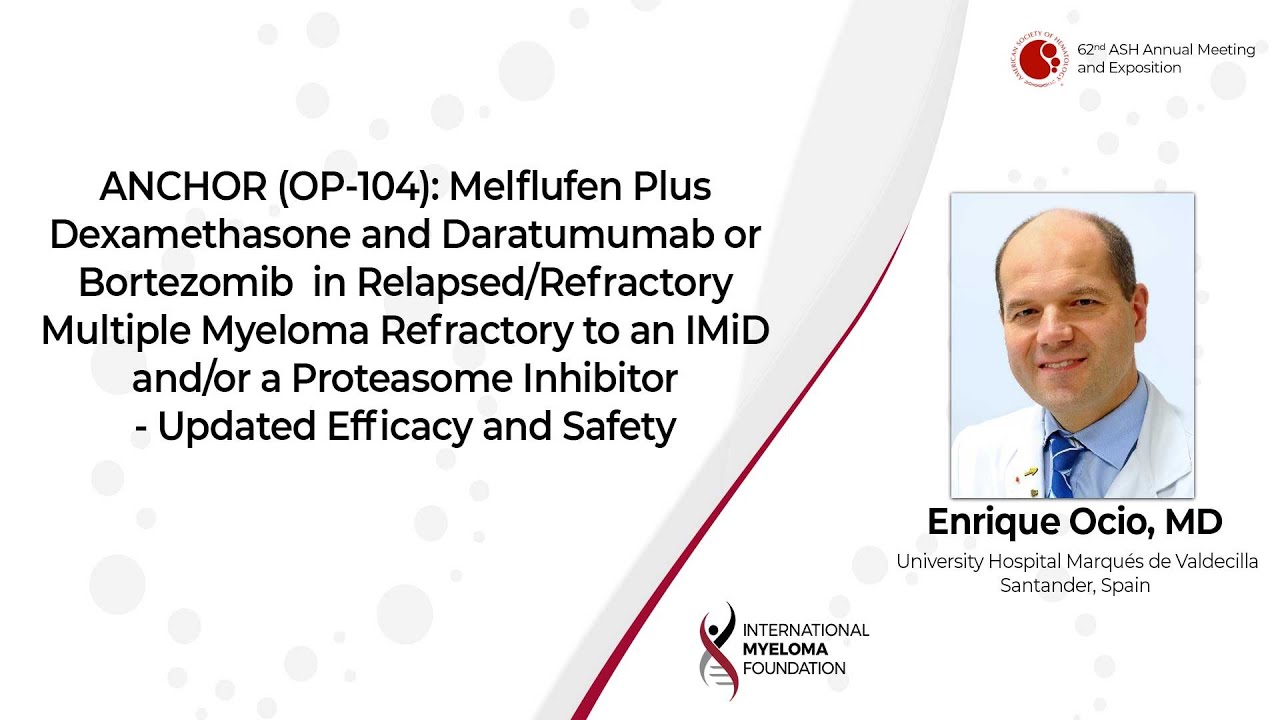 Updated Safety and Efficacy from ANCHOR Study of Melflufen in Relapsed Refractory Multiple Myeloma
What is the purpose of this study?
Melflufen is a first-in-class peptide-drug conjugate that enables alkylating agents to be released directly into tumor cells. The phase 1/2 study OP-104 ANCHOR evaluates the safety and efficacy of melflufen and dexamethasone in a triplet regimen with bortezomib or daratumumab in patients with relapsed/refractory multiple myeloma (RRMM).
In this video:
Dr. Enrique Ocio explains the latest findings of the safety and efficacy of ANCHOR study melphalan flufenamide (melflufen) plus dexamethasone, and daratumumab or bortezomib treatment in relapsed/refractory multiple myeloma.
Conclusion:
Both arms show encouraging clinical activity and good tolerability. The daratumumab arm contained more patients, with longer follow up, suggesting consistent responses with continued therapy.
ASH 2020: Abstract 417
---
Enrique Ocio, MD
Dr. Enrique M. Ocio is the Head of the Hematology Department at the Hospital Universitario Marqués de Valdecilla, Universidad de Cantabria, Spain. His fields of expertise are clinical trials, new drugs development and, particularly, multiple myeloma.
Previous Post
Survival Analysis of Newly Diagnosed Transplant-Eligible Multiple Myeloma Patients in the Randomized Forte Trial
Next Post
Results of Iberdomide in Combination with Dex and Daratumumab or Bortezomib in Patients with RRMM