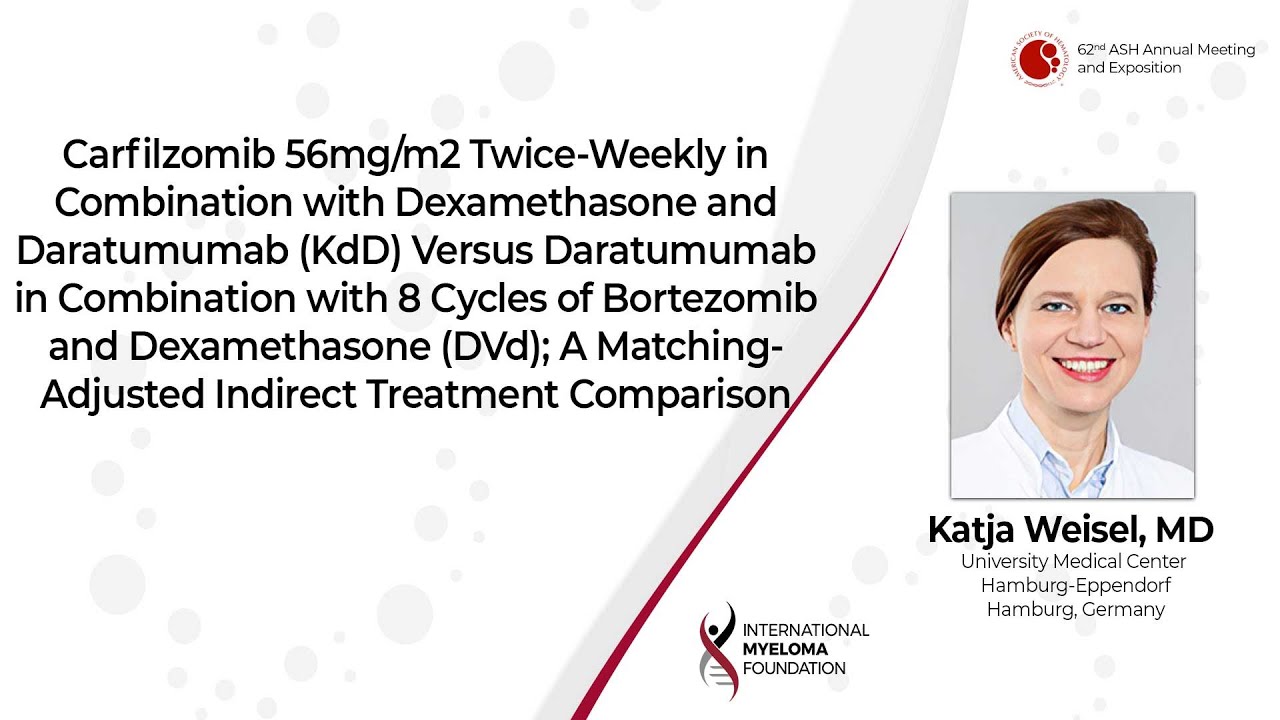 Carfilzomib Twice Weekly in Combination with Dex and Daratumumab Vs Dara with Bortezomib and Dex
What is the purpose of this study?
Determine the efficacy of Carfilzomib in combination with Dexamethasone and Daratumumab (KdD) versus Daratumumab with Bortezomib and Dexamethasone (DVd)

In this video:
Dr. Katja Weisel presents the analysis comparing these KdD vs DVd for the treatment of Relapsed Refractory Multiple Myeloma (RRMM) in terms of Progression Free Survival (PFS) based on evidence from the CASTOR and CANDOR trials.
Results:
Results suggests that KdD with Carfilzomib until progression improves outcomes compared with DVd in patients with RRMM.
Conclusion:
In conclusion, the results highlight that carfilzomib is an effective combination partner with daratumumab and provide rational for KdD as a preferred regimen for the treatment of RRMM.
ASH 2020: Abstract 1655
---
Katja Weisel, MD
Dr. Katja Weisel is the Deputy Clinic Director and Senior Physician at the University Medical Center Hamburg-Eppendorf, Hamburg, Germany. Visit Dr. Katja Weisel's full biography.
Previous Post
Outcomes from the CARTITUDE-1 Study Assessing CAR T-Cell Therapy in Relapsed Refractory Multiple Myeloma
Next Post
Survival Analysis of Newly Diagnosed Transplant-Eligible Multiple Myeloma Patients in the Randomized Forte Trial