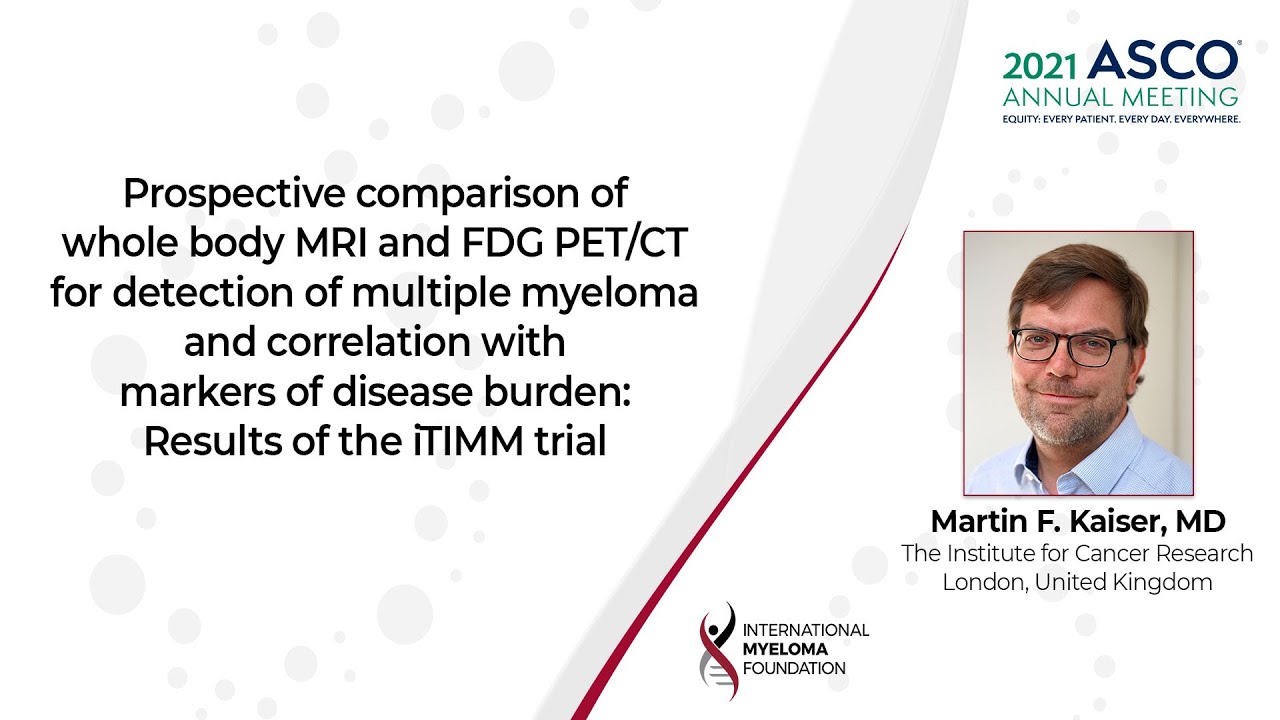 Prospective comparison of whole body MRI and FDG PET/CT for detection of multiple myeloma and correlation with markers of disease burden: Results of the iTIMM trial
Dr. Martin Frasier on the iTIMM Study
What is the background of this study?
Early and sensitive detection of bone marrow disease and stratified patient management according to clinical risk can confer survival advantages in multiple myeloma (MM). Whole body MRI (WB MRI) and Fluorodeoxyglucose (FDG) PET/CT are included in international guidelines for imaging in patients with a suspected diagnosis of MM. However prospective studies comparing detection of MM by contemporary WB MRI as per recent MY-RADS consensus against FDG PET/CT are lacking. We report here protocol-defined endpoints from the prospective iTIMM (NCT02403102) study, comparing WB MRI and PET/CT, their relationship with serum and bone marrow estimates of disease burden, as well as molecular tumor characteristics.
In this video:
Dr. Martin Kaiser (Institute of Cancer Research, London, United Kingdom) discusses the results of the iTIMM trial which compares whole body MRI and FDG PET/CT for detection of multiple myeloma.
Conclusions:
WB MRI increases detection of focal and diffuse disease compared with FDG PET/CT, including improved detection of focal lesions meeting criteria for active disease as per International Myeloma Working Group diagnostic criteria, proposing it as a gold standard for tumor imaging in MM.
Clinical trial information: NCT02403102
Previous Post
Effects of refractory status to lenalidomide on safety and efficacy of selinexor, bortezomib, and dexamethasone (XVd) versus bortezomib and dexamethasone (Vd) in patients with previously treated multiple myeloma
Next Post
Upfront autologous stem cell transplantation versus carfilzomib-cyclophosphamide-dexamethasone consolidation with K maintenance in transplant-eligible, newly diagnosed multiple myeloma