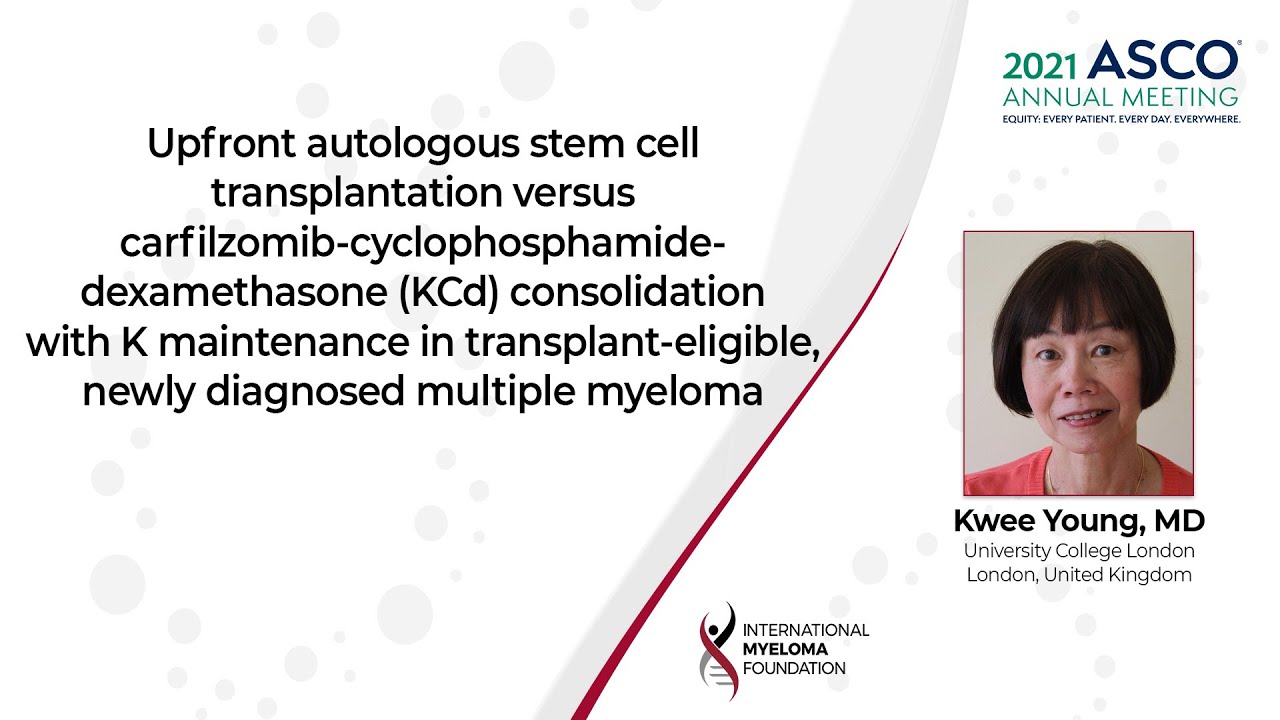 Upfront autologous stem cell transplantation versus carfilzomib-cyclophosphamide-dexamethasone consolidation with K maintenance in transplant-eligible, newly diagnosed multiple myeloma
Dr. Kwee Young on the CARDAMON Study
What is the background of the study?
Upfront autologous stem cell transplant (ASCT) for newly diagnosed, transplant-eligible multiple myeloma patients remains under evaluation with high MRD rates following novel induction and consolidation (cons) strategies. Current phase 3 trials support ASCT, however these employ lenalidomide maintenance which predominantly benefits standard risk (SR) patients (pts). The CARDAMON trial investigated the role of ASCT using Kyprolis-based induction and maintenance.
In this video:
Dr. Kwee Young (University College Hospital, London, United Kingdom) discusses the results of the CARDAMON trial which evaluated upfront ASCT versus KCd consolidation with Kyprolis maintenance in transplant-eligible, newly diagnosed MM.
Conclusions:
In NDMM receiving Kyporlis, cyclophosphamide, and dexamethasone (KCd) induction and K maintenance, KCd cons was non-inferior to ASCT. High-risk patients had inferior outcomes, that were not influenced by ASCT or cons randomization.
Clinical trial information: NCT02315716
Previous Post
Prospective comparison of whole body MRI and FDG PET/CT for detection of multiple myeloma and correlation with markers of disease burden: Results of the iTIMM trial
Next Post
Daratumumab maintenance or observation after treatment with VTd with or without DARA and ASCT in patients with newly diagnosed multiple myeloma: CASSIOPEIA 2