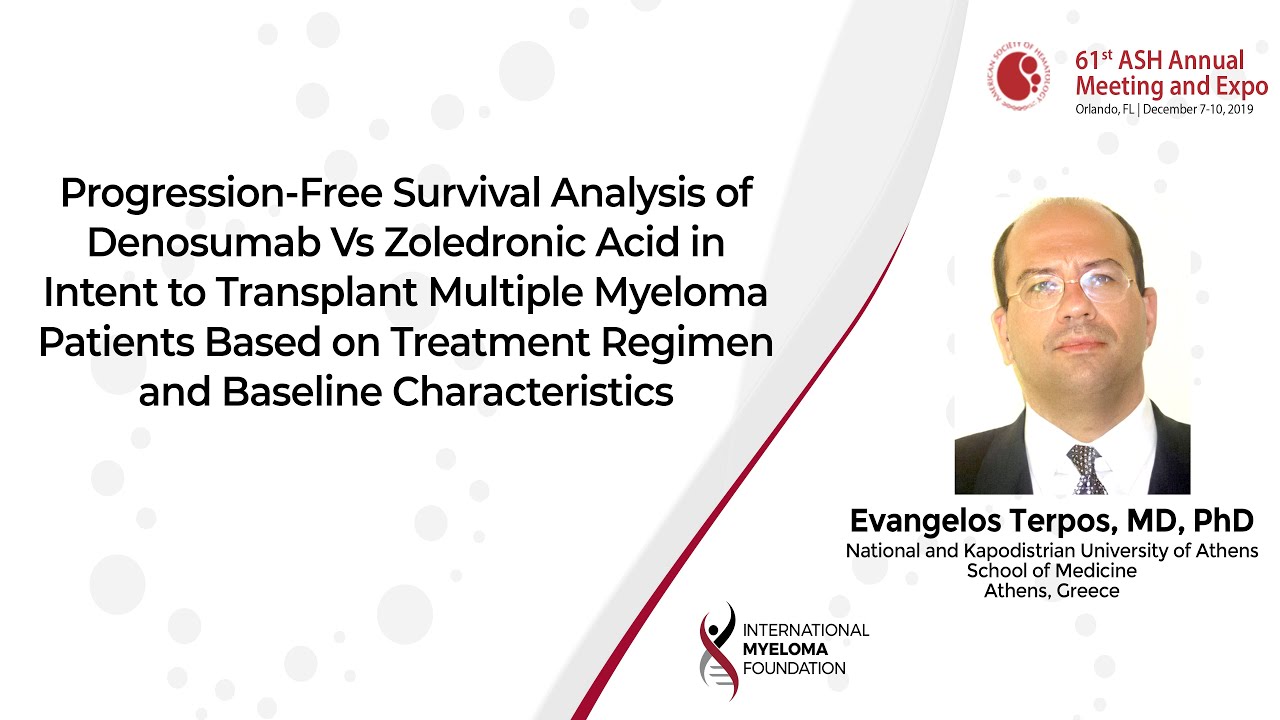 Progression-Free Survival Analysis of Denosumab Vs Zoledronic Acid in Intent to Transplant Multiple Myeloma Patients Based on Treatment Regimen and Baseline Characteristics
Introduction: Denosumab is a monoclonal antibody targeting Receptor Activator of Nuclear Factor-Kappa B Ligand (RANKL) that has been shown to reduce skeletal related events associated with bone lesions in patients with multiple myeloma and solid tumors. Results from the full primary analysis of 1718 patients with newly diagnosed multiple myeloma in an international double blind, randomized, controlled phase 3 (20090482) study that assessed the efficacy of denosumab (Dmab) vs zoledronic acid (ZA) for preventing SREs met its primary end point of non-inferiority regarding time to first SRE. The analysis of the PFS exploratory endpoint showed a clinically meaningful 10.7 months median PFS benefit (HR, 0.82; 95% CI, 0.68-0.99; descriptive P= 0.036) of Dmab vs ZA. This benefit was most pronounced in patients who were stratified into the "intent to undergo Autologous Stem Cell Transplant (ASCT)" group at randomization. Thus, we present an in-depth analysis of relevant baseline characteristics, treatment regimens and PFS outcome in patients with intent to undergo transplant receiving Dmab and ZA.
Conclusion: Results from this post-hoc subgroup analysis suggest a more profound PFS benefit in the "intent to undergo ASCT" patient subgroup. Multiple myeloma treatment received in the intent to undergo transplant subjects was similar between the denosumab and zoledronic acid arms. No significant imbalance in demographics or baseline disease characteristics was observed between the two treatment arms.
ASH 2019 ABSTRACT #606
---
ABOUT EVANGELOS TERPOS, MD, PhD
Evangelos Terpos, MD, PhD, is an Associate Professor of Hematology, in the Department of Clinical Therapeutics at the University of Athens, School of Medicine. Dr. Terpos is co-chair of the Bone Subgroup of the International Myeloma Working Group and the Guideline Subgroup of the European Myeloma Network. He is a reviewer of scientific papers in more than 50 medical journals and has reviewed abstracts for ASH, EHA & EBMT meetings. He is a member of the editorial board of Haematologica. Visit Dr. Evangelos Terpos' full biography.
Previous Post
Safety and Efficacy of Venetoclax in Combination with Dexamethasone As Targeted Therapy for Patients with t(11;14) Relapsed/Refractory Multiple Myeloma
Next Post
Primary Analysis Results from the Randomized, Open-Label, Phase 3 Study Candor