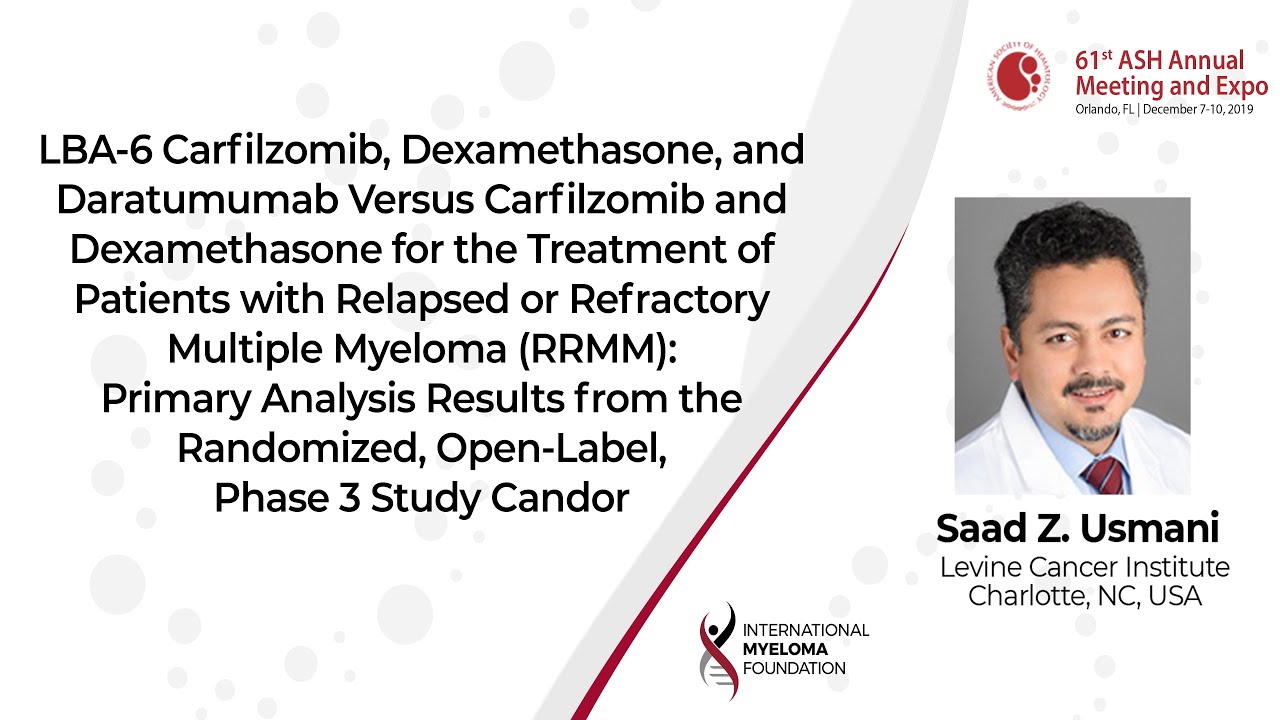 Primary Analysis Results from the Randomized, Open-Label, Phase 3 Study Candor
LBA-6 Carfilzomib, Dexamethasone, and Daratumumab Versus Carfilzomib and Dexamethasone for the Treatment of Patients with Relapsed or Refractory Multiple Myeloma (RRMM): Primary Analysis Results from the Randomized, Open-Label, Phase 3 Study Candor
Introduction: The use of lenalidomide (LEN) and bortezomib (BTZ) in newly diagnosed multiple myeloma (MM) patients (pts), along with continuous or maintenance therapy paradigm have improved survival outcomes. However, many pts progress while on these agents or discontinue them due to toxicity. There is a need for novel, efficacious, and tolerable regimens that can treat MM pts who are exposed or refractory to LEN or BTZ. The proteasome inhibitor carfilzomib and the anti-CD38 monoclonal antibody daratumumab have both been approved as single agents or as components of combination regimens for the treatment of RRMM. The combination of carfilzomib, dexamethasone, and daratumumab has been shown to be efficacious and safe in RRMM in the phase I study MMY1001 (Chari, Blood 2019). We present results from the primary analysis of CANDOR, a multicenter, phase III, randomized study comparing carfilzomib, dexamethasone, and daratumumab (KdD) vs carfilzomib and dexamethasone (Kd) in RRMM patients.
Conclusion: KdD resulted in a significant PFS benefit over Kd, with a 37% reduction in the risk of progression or death. Patients treated with KdD achieved deeper responses, with a nearly 10-times higher MRD negative-complete response rate vs Kd-treated pts. The PFS benefit of KdD was maintained across pre-specified clinically important subgroups, particularly among LEN-exposed and LEN-refractory pts. Adverse Events were generally manageable and the incidence of adverse events leading to treatment discontinuation was similar in the arms. Overall, KdD was associated with a favorable benefit-risk profile and represents an efficacious new regimen for RRMM, including for LEN-exposed and/or LEN-refractory pts.
---
ABOUT SAAD USMANI, MD
Dr. Saad Usmani is Chief of Plasma Cell Disorders and Director of Clinical Research in Hematologic Malignancies at the Levine Cancer Institute Hematologic Oncology and Blood Disorders and Carolinas HealthCare System.
Previous Post
Progression-Free Survival Analysis of Denosumab Vs Zoledronic Acid in Intent to Transplant Multiple Myeloma Patients Based on Treatment Regimen and Baseline Characteristics
Next Post
Curative Strategy (GEM-CESAR) for High-Risk Smoldering Myeloma (SMM)