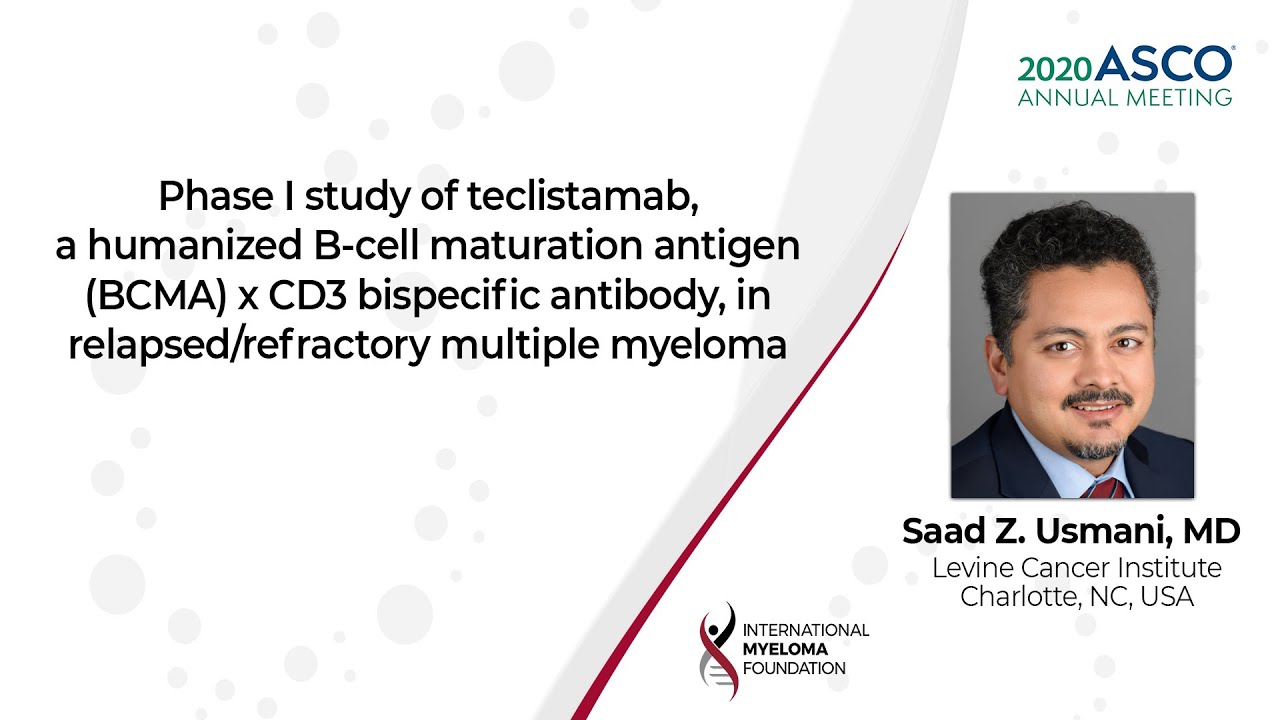 Phase I study of teclistamab, a humanized B-cell maturation antigen (BCMA) x CD3 bispecific antibody, in relapsed/refractory multiple myeloma
What is teclistamab (JNJ-64007957)?
Teclistamab is a bispecific BCMA (B-cell maturation antigen) x CD3 antibody. Teclistamab induces T cell-mediated cytotoxicity against BCMA-expressing myeloma cells.
In this video:
Dr. Saad Z. Usmani (Levine Cancer Institute —Charlotte, North Carolina) explains the initial results from an ongoing study of teclistamab in relapsed refractory multiple myeloma (RRMM).
Conclusions:
Teclistamab has manageable safety across all doses explored. A 78% overall response rate was observed at the highest weekly treatment dose in patients with advanced RRMM, supporting further evaluation of teclistamab in expansion cohorts. 
Clinical trial information: NCT03145181
---
SAAD USMANI, MD, FACP
Dr. Usmani joined Levine Cancer Institute as the Director of Plasma Cell Disorder program and the Director of Clinical Research in Hematologic Malignancies at Levine Cancer Institute/Carolinas Healthcare System. He is a specialist in Hematology, Medical Oncology and Bone Marrow Transplantation.
Previous Post
First-in-human phase I study of the novel CELMoD agent CC-92480 combined with dexamethasone in patients with relapsed refractory multiple myeloma
Next Post
Idecabtagene vicleucel (ide-cel; bb2121), a BCMA-targeted CAR T-cell therapy, in patients with relapsed and refractory multiple myeloma (RRMM): Initial KarMMa results