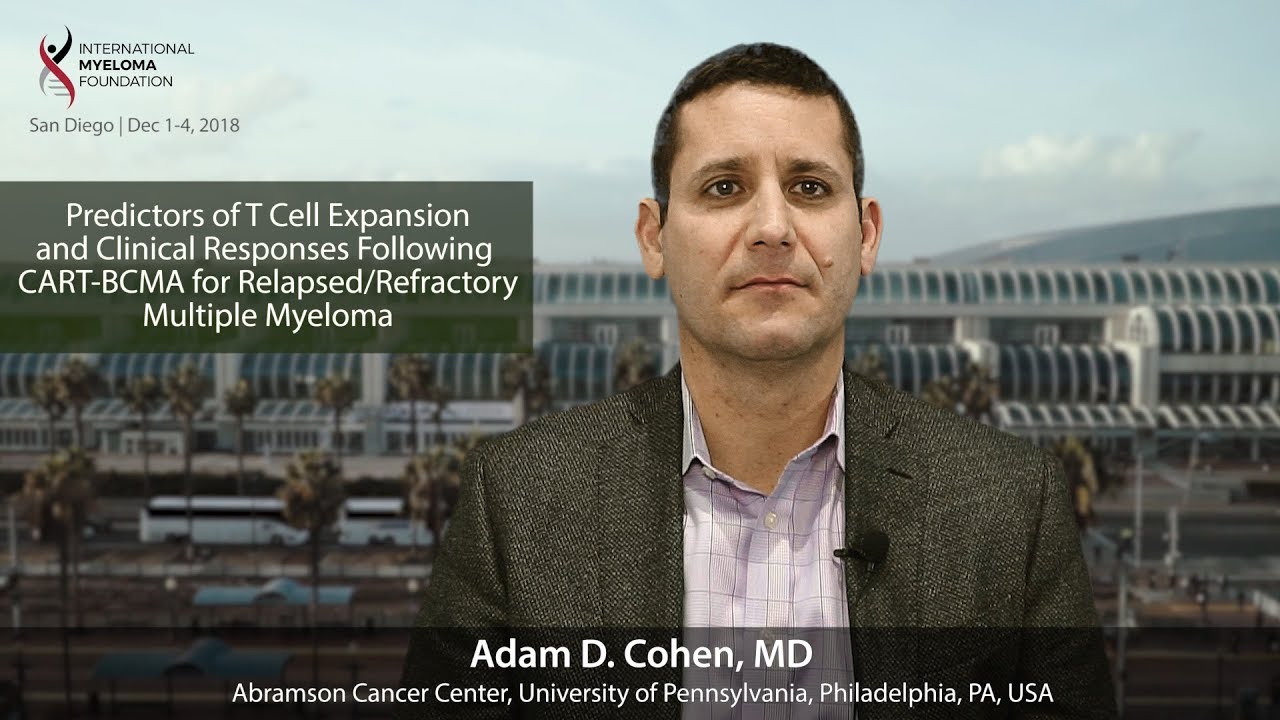 Predictors of T Cell Expansion and Clinical Responses Following CART-BCMA for Relapsed/Refractory Multiple Myeloma
Relapsed/refractory (rel/ref) MM is associated with progressive immune dysfunction, including reversal of CD4:CD8 T cell ratio and acquisition of terminally-differentiated T cell phenotypes. BCMA-directed CAR T cells have promising activity in MM, but the factors that predict for robust in vivo expansion and responses are not known. In a phase 1 study of CART-BCMA (autologous T cells expressing a human BCMA-specific CAR with CD3ζ/4-1BB signaling domains) in refractory MM patients (median 7 priors, 96% high-risk cytogenetics), we observed partial response (PR) or better in 12/25 (47%) (Cohen et al, ASH 2017, #505). Recently, we demonstrated in CLL pts receiving CD19-directed CAR T cells that certain T cell phenotypes prior to generation of the CAR T product were associated with improved in vivo expansion and clinical outcomes (Fraietta et al, Nat Med 2018). We thus sought to identify pre-treatment clinical or immunological features associated with CART-BCMA expansion and/or response.
In this study, we found that CART-BCMA expansion and responses in heavily-pretreated MM patients were not associated with tumor burden or other clinical characteristics, but did correlate with certain immunological features prior to T cell collection and manufacturing, namely preservation of normal CD4:CD8 ratio and increased frequency of CD8 T cells with a CD45RO-CD27+ phenotype. This suggests that patients with less dysregulated immune systems may generate more effective CAR T cell products in MM, and has implications for optimizing patient selection, timing of T cell collection, and manufacturing techniques to try to overcome these limitations in MM patients.
Authors:
Adam D. Cohen, MD, J. Joseph Melenhorst, PhD, Alfred L. Garfall, MD, Simon F Lacey, PhD, BS, Megan Davis, PhD, Dan T. Vogl, MD, Lifeng Tian, PhD, Vanessa Gonzalez, Iulian Pruteanu, PhD, Anne Marie Nelson, Gabriela Plesa, MD, Adam Waxman, MD, Regina M Young, PhD, Bruce L Levine, PhD, Carl H June, MD, Edward A. Stadtmauer, MD, FACP and Michael C. Milone, MD, PhD
---
ASH 2018 Abstract 1974 "Predictors of T Cell Expansion and Clinical Responses Following B-Cell Maturation Antigen-Specific Chimeric Antigen Receptor T Cell Therapy (CART-BCMA) for Relapsed/Refractory Multiple Myeloma (MM)"
---
ABOUT ADAM D. COHEN, MD
Dr. Adam Cohen is an Assistant Professor in the Hematology and Oncology Division at the Abramson Cancer Center of the University of Pennsylvania, Philadelphia. Dr. Cohen is board certified in internal medicine, medical oncology, and hematology. He is a member of the American College of Physicians, American Society of Clinical Oncology, American Association for Cancer Research, American Society for Blood and Marrow Transplantation, and the American Society of Hematology. He is also a member of the Multiple Myeloma Committee, Eastern Cooperative Oncology Group and the Multiple Myeloma Panel, National Comprehensive Cancer Network. Dr. Cohen is a reviewer for Annals of Oncology, Cytotherapy, Journal of Translational Medicine, Blood, Amyloid, and Clinical Cancer Research. Visit Dr. Adam Cohen's full biography.
Previous Post
Pomalidomide + Low-Dose Dexamethasone + Daratumumab in Relapsed and/or Refractory Multiple Myeloma after Lenalidomide-Based Treatment Failure
Next Post
NKG2D-CAR Transduced Primary Natural Killer Cells Efficiently Target Multiple Myeloma Cells