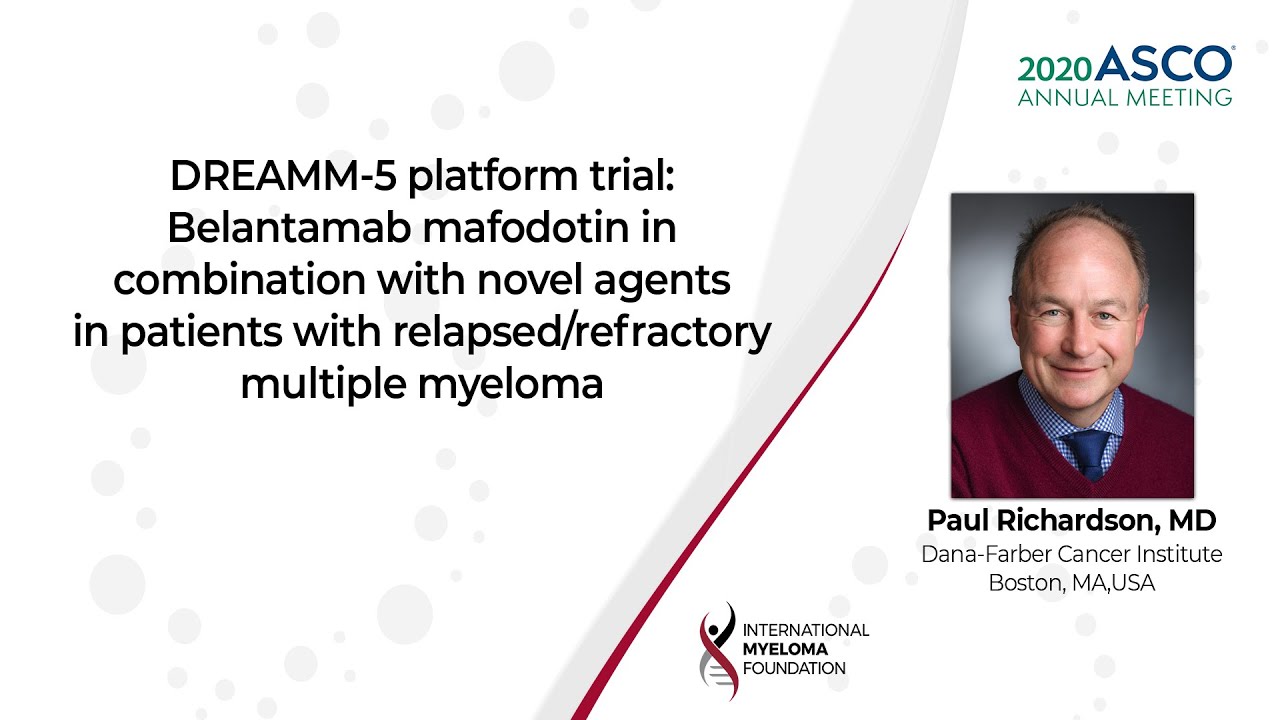 DREAMM-5 platform trial: Belantamab mafodotin in combination with novel agents in patients with relapsed/refractory multiple myeloma
Belantamab mafodotin induced deep and durable responses in relapsed refractory myeloma patients
What is the DREAMM-5 platform trial?
The DREAMM-5 platform trials studies the single-agent belantamab mafodotin (GSK2857916), a B-cell maturation antigen targeting immunoconjugates.
In this video:
Dr. Paul G. Richardson (Dana Farber Cancer Institute — Boston) explains that belantamab mafodotin induced deep and durable responses in patients with relapsed refractory multiple myeloma with a manageable safety profile. He describes how this platform trial design allowed for efficient evaluation of belantamab mafodotin in combination with other anti-myeloma agents, such as a humanized wild-type IgG1 anti-OX40 agonist, an IgG4 inducible T-cell costimulatory (ICOS) agonist, and a gamma-secretase inhibitor.
Conclusion:
The unique, multimodal mechanisms of action (MoAs) of belantamab mafodotin, in combination with MoAs of these agents, has the potential to achieve synergistic effects in MM, to further enhance anti-myeloma activity without compromising safety.
Clinical trial information: NCT04162210
---
PAUL G. RICHARDSON, MD
Paul G. Richardson, M.D. is the Clinical Program Leader and Director of Clinical Research at the Jerome Lipper Multiple Myeloma Center at Dana-Farber Cancer Institute in Boston. He is also an Institute Physician and a RJ Corman Professor of Medicine, at Harvard Medical School in Cambridge, MA. In addition to multiple myeloma, his key clinical interests are regimen-related toxicity, stem cell transplantation, experimental therapies and cancer pharmacology, and more. Visit Dr. Paul Richardson's full biography.
Previous Post
Analysis of treatment efficacy in the GEM-CESAR trial for high-risk smoldering multiple myeloma patients
Next Post
DREAMM-9: Phase III study of belantamab mafodotin plus VRd versus VRd alone in transplant-ineligible newly diagnosed multiple myeloma