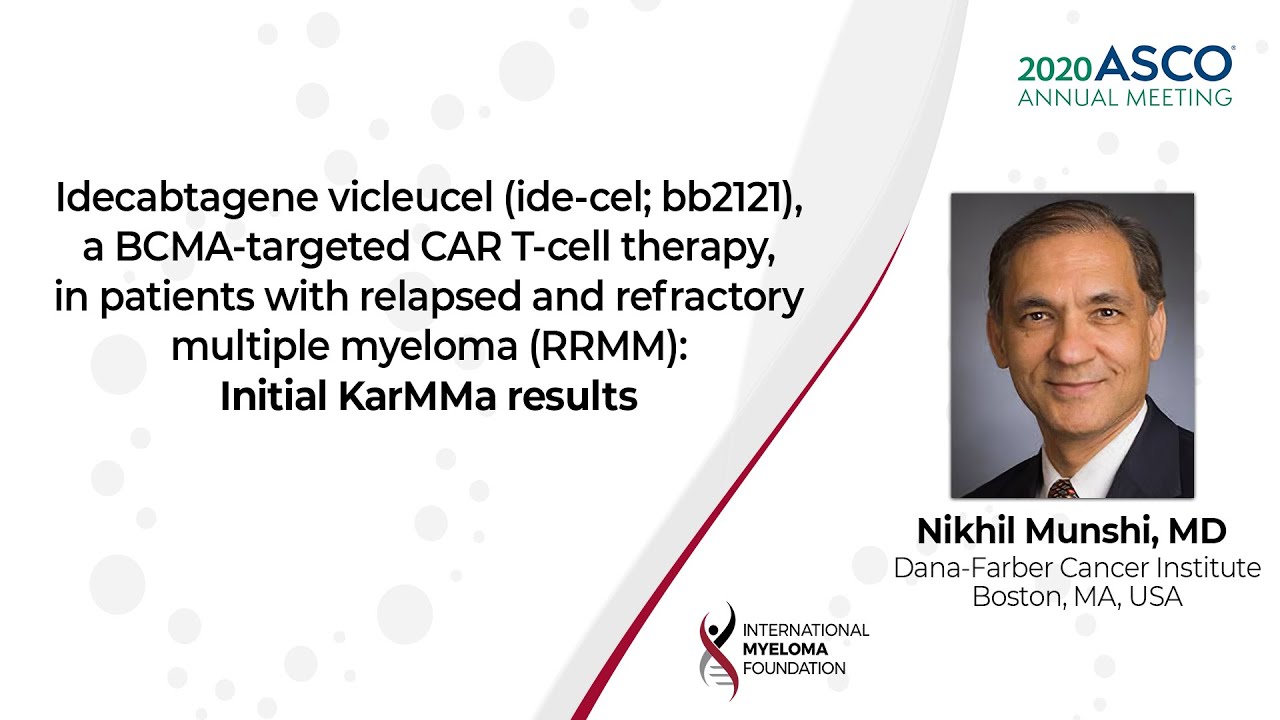 Idecabtagene vicleucel (ide-cel; bb2121), a BCMA-targeted CAR T-cell therapy, in patients with relapsed and refractory multiple myeloma (RRMM): Initial KarMMa results
Dr. Nikhil Munshi Discusses Ide-Cel Therapy
What is ide-cel?
Ide-cel is a B-cell maturation antigen (BCMA) targeted CAR T-cell therapy. It demonstrates promising tolerability and efficacy in relapsed refractory multiple myeloma (RRMM) patients.
In this video:
Dr. Nikhil Munshi (Dana-Farber Cancer Institute — Boston) explains that ide-cel demonstrated deep, durable responses in heavily pretreated RRMM patients. He discusses why outcomes are poor in triple-class exposed RRMM patients who progress on immunomodulatory agents (IMiDs), proteasome inhibitors (PIs), and CD38 antibodies (mAbs). 
Conclusion:
Efficacy and safety reflected prior reports and support a favorable ide-cel clinical benefit-risk profile across the target dose range. 
Clinical trial information: NCT03361748
---
NIKHIL MUNSHI, MD
Dr. Munshi received his MD from Maharaja Sayjirao University, India, in 1984. He completed his postgraduate training in Internal Medicine at SSG Hospital and Maharaja Sayjirao University, followed by fellowships at Johns Hopkins Oncology Center and Indiana University Medical Center. In 2001, he joined Dana-Farber Cancer Institute and is currently the Director of Basic and Correlative Science, Jerome Lipper Multiple Myeloma Center.
Previous Post
Phase I study of teclistamab, a humanized B-cell maturation antigen (BCMA) x CD3 bispecific antibody, in relapsed/refractory multiple myeloma
Next Post
Long-term follow-up of BMT CTN 0702 (STaMINA) of postautologous hematopoietic cell transplantation strategies in the upfront treatment of multiple myeloma