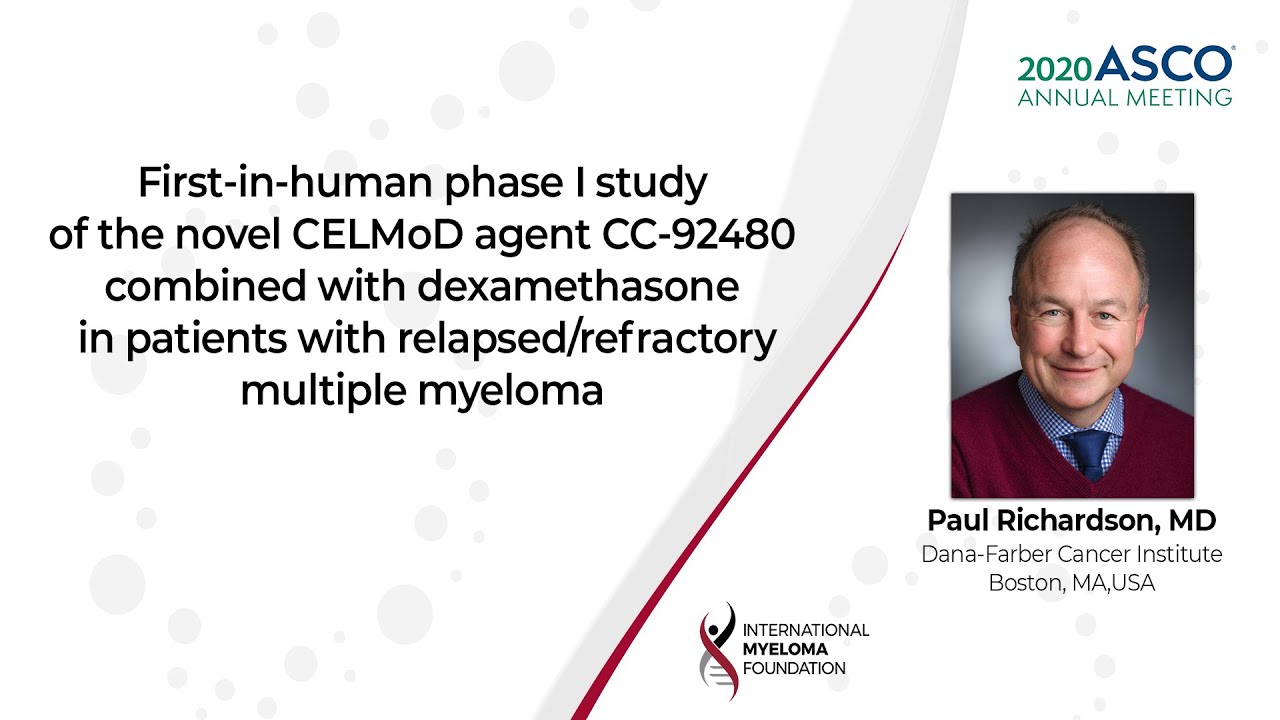 First-in-human phase I study of the novel CELMoD agent CC-92480 combined with dexamethasone in patients with relapsed refractory multiple myeloma
What is the first-in-human phase I study of the novel CELMoD agent?
CC-92480 is a novel cereblon E3 ligase modulator (CELMoD) agent designed for rapid, maximal degradation of Ikaros and Aiolos. In vitro, it has enhanced antiproliferative and tumoricidal activity in multiple myeloma cell lines, including those resistant to lenalidomide (LEN) and pomalidomide (POM), with strong immune stimulatory activity.
In this video:
Dr. Paul Richardson (Dana-Farber Cancer Institute — Boston) explains that treatment-emergent adverse events of CC-92480 were mainly related to myelosuppression in heavily pretreated, including triple-class-refractory, relapsed refractory multiple myeloma patients.
Results and conclusions:
Promising activity with 48% overall response rate (ORR) at therapeutic doses was observed. The study is ongoing to further optimize dose and schedule, with combination studies underway and dose expansion cohorts planned. 
Clinical trial information: NCT03374085
---
PAUL G. RICHARDSON, MD
Paul G. Richardson, M.D. is the Clinical Program Leader and Director of Clinical Research at the Jerome Lipper Multiple Myeloma Center at Dana-Farber Cancer Institute in Boston. He is also an Institute Physician and a RJ Corman Professor of Medicine, at Harvard Medical School in Cambridge, MA. In addition to multiple myeloma, his key clinical interests are regimen-related toxicity, stem cell transplantation, experimental therapies and cancer pharmacology, and more. Visit Dr. Paul Richardson's full biography.
Previous Post
Isatuximab Plus Carfilzomib and Dexamethasone (ISA-Kd) Vs Kd In RRMM (IKEMA): Interim Analysis of A Phase III, Randomized, Open-Label Study
Next Post
Phase I study of teclistamab, a humanized B-cell maturation antigen (BCMA) x CD3 bispecific antibody, in relapsed/refractory multiple myeloma