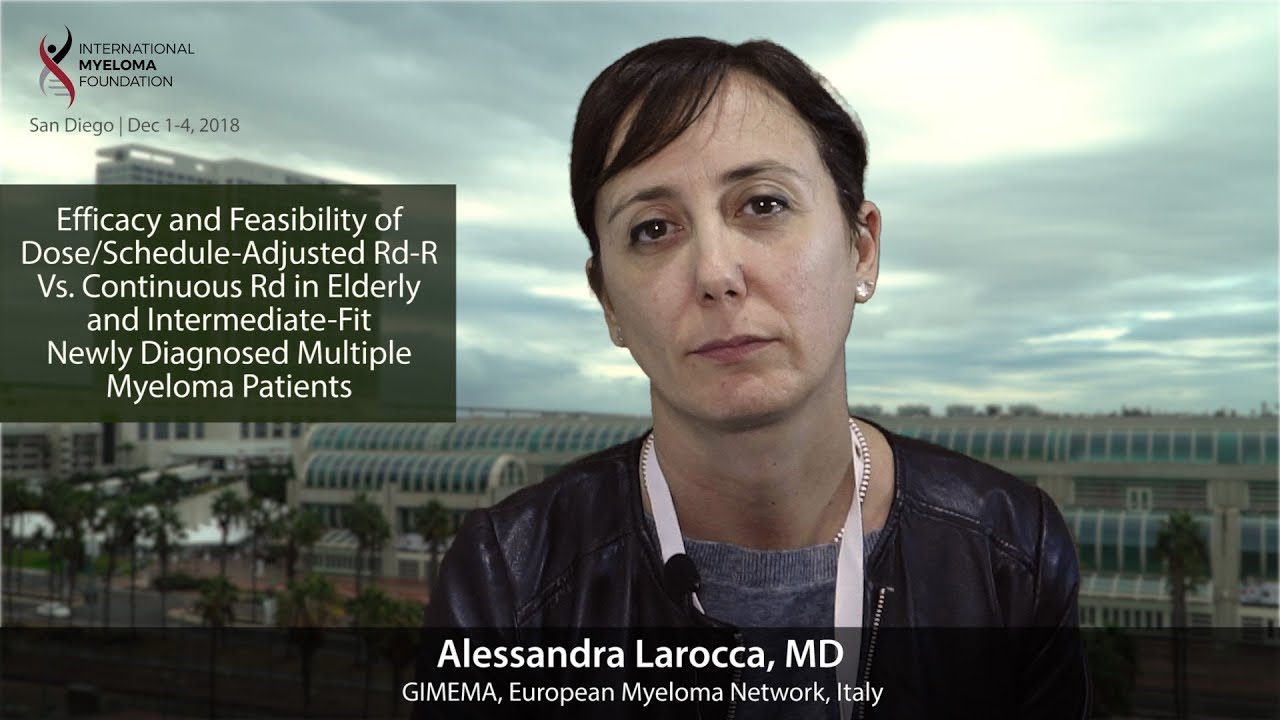 Efficacy and Feasibility of Dose/Schedule-Adjusted Rd-R Vs. Continuous Rd in Elderly and Intermediate-Fit Newly Diagnosed Multiple Myeloma Patients
Elderly patients with newly diagnosed multiple myeloma (NDMM) are highly heterogeneous and their outcome is influenced by many factors: beside age, also comorbidities, general physical fitness, and cognitive function play a crucial role. The IMWG frailty score combines age, functional status, and comorbidities, and it identifies fit, intermediate-fit and frail patients, with different risk of toxicity, treatment discontinuation, and mortality (Palumbo A et al. Blood 2015). Until now, evidence-based tailored treatments according to patients' frailty are still lacking. Therefore, this phase III study investigated the efficacy and feasibility of dose/schedule-adjusted lenalidomide-dexamethasone therapy followed by lenalidomide maintenance (Rd-R) versus continuous lenalidomide-dexamethasone (Rd) in elderly, intermediate-fit NDMM patients. 
This is the first prospective randomized phase III trial specifically designed for real-life intermediate-fit NDMM patients. A dose/schedule-adjusted Rd-R treatment was more feasible compared to full dose continuous Rd treatment in elderly intermediate-fit NDMM patients, with no negative impact but rather a comparable outcome. These results confirm the need for an appropriate definition of patient frailty, and pave the way to a frailty-adjusted treatment approach to better balance efficacy and safety in elderly NDMM patients.
Authors:
Alessandra Larocca, MD, Marco Salvini, MD, Lorenzo De Paoli, MD, Nicola Cascavilla, MD, Giulia Benevolo, MD, Monica Galli, MD, Vittorio Montefusco, MD, Tommaso Caravita di Toritto, MD, Anna Baraldi, MD, Stefano Spada, Nicola Giuliani, MD, PhD , Chiara Pautasso, Stefano Pulini, MD, Sonia Ronconi, MD, Norbert Pescosta, MD, Anna Marina Liberati, MD, Francesca Patriarca, MD, Claudia Cellini, MD, Patrizia Tosi, MD, Massimo Offidani, MD, Michele Cavo, MD, Antonio Palumbo, MD, Mario Boccadoro, MD, and Sara Bringhen, MD
---
305 Efficacy and Feasibility of Dose/Schedule-Adjusted Rd-R Vs. Continuous Rd in Elderly and Intermediate-Fit Newly Diagnosed Multiple Myeloma (NDMM) Patients: RV-MM-PI-0752 Phase III Randomized Study 
---
ABOUT ALESSANDRA LAROCCA, MD, PhD
Dr. Alessandra Larocca is Assistant Professor of the Division of Hematology at the Department of Hematology-Oncology of the University-Hospital Città della Salute e della Scienza, Torino, Italy. She received her medical degree from the University of Milano, where she also served her residency in Hematology. She got her PhD in Pathology and Experimental Oncology at the University of Torino in 2014. Her research interests include multiple myeloma and associated disorders, and in particular the treatment of elderly and frail patients, and the assessment of frailty.
Previous Post
Safety and Efficacy of Multiantigen-Targeted T Cells for Multiple Myeloma
Next Post
Pomalidomide + Low-Dose Dexamethasone + Daratumumab in Relapsed and/or Refractory Multiple Myeloma after Lenalidomide-Based Treatment Failure