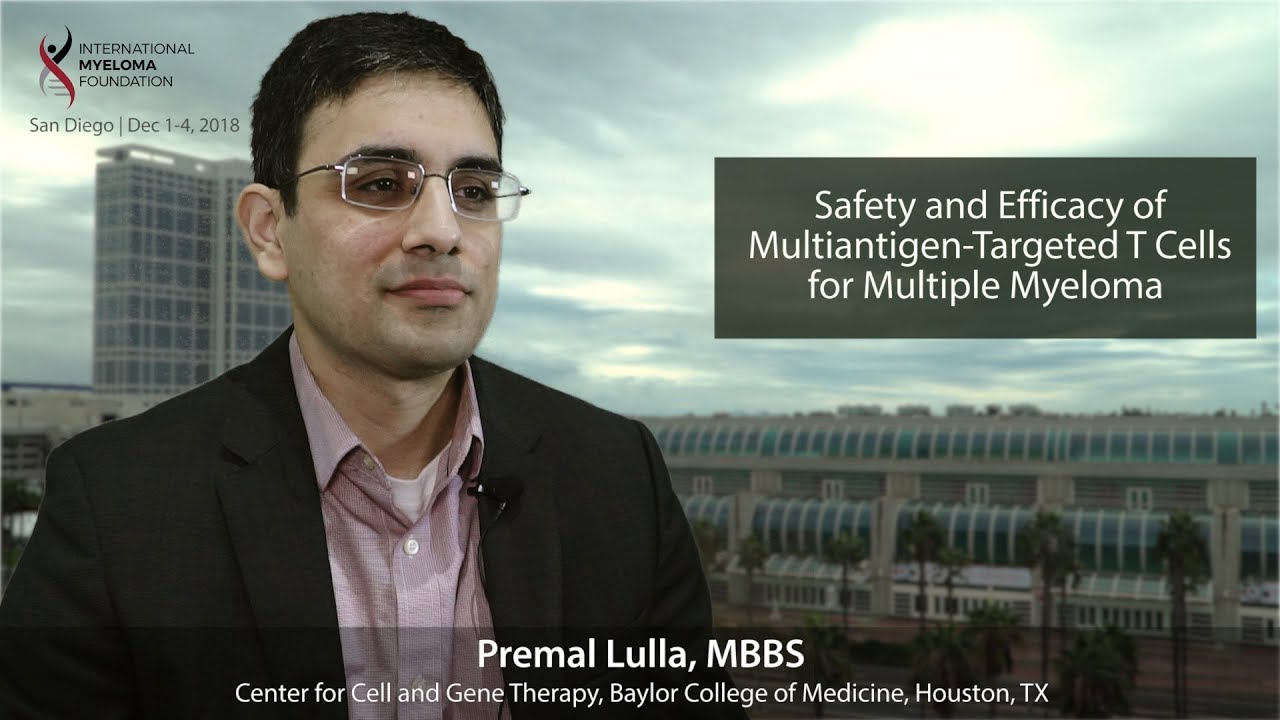 Safety and Efficacy of Multiantigen-Targeted T Cells for Multiple Myeloma
Despite an array of approved agents for the treatment of multiple myeloma (MM), most patients eventually relapse after conventional treatments. The adoptive transfer of tumor-targeted T cells has demonstrated efficacy in the treatment of patients with chemo-refractory hematological malignancies including MM. While the majority of T cell-based immunotherapeutic studies in the clinic explore genetically modified T cells that target a single tumor-expressed antigen, we have developed a strategy to generate non-engineered T cell lines that simultaneously target multiple MM-expressed antigens, thereby reducing the risk of tumor immune evasion. We manufacture multiTAA-specific T cells targeting the tumor-associated antigens PRAME, SSX2, MAGEA4, NY-ESO-1 and Survivin by culturing patient-derived PBMCs with autologous DCs loaded with pepmixes (15mer peptides overlapping by 11 aminos acids) spanning all 5 target antigens in the presence of a Th1-polarizing/pro-proliferative cytokine cocktail. 
Notably, no patient, including the complete responder, had infusion-related systemic- or neuro-toxicity. Thus, autologous multiTAA-targeted T cells directed to PRAME, SSX2, MAGEA4, NY-ESO-1, and Surviving can be safely administered to patients with MM, in whom they can subsequently be detected long-term in peripheral blood and marrow, and where they produce sustained tumor responses including CR. It will be of interest to discover whether larger or more frequent doses of these T cells can produce further benefit with maintained safety.
Authors:
Premal Lulla, MBBS, Ifigeneia Tzannou, MD, George Carrum, MD, Carlos A. Ramos, MD, Rammurti Kamble, MD, Mrinalini Bilgi, Shivani Mukhi, Betty Chung, DO, MPH, MA, Ayumi Watanabe, Manik Kuvalekar, Adrian P. Gee, PhD, Bambi J. Grilley, RPh, Malcolm K. Brenner, MD, PhD, Helen E. Heslop, MD, DSc, Juan F. Vera, MD and Ann M. Leen, PhD
---
1014 Safety and Efficacy of Multiantigen-Targeted T Cells for Multiple Myeloma
---
ABOUT PREMAL LULLA, MD
Dr. Premal Lulla is a Hematologist and Oncologist affiliated with multiple hospitals, including the Baylor St. Luke's Medical Center and Houston Methodist Hospital. Dr. Lulla has an interest in translational medicine and specifically in the use of T cell immunotherapy to treat a spectrum of cancers, including multiple myeloma, acute myeloid leukemia, Hodgkin, and non-Hodgkin lymphoma.
Previous Post
Standardization of 18F-FDG PET/CT According to Deauville Criteria for MRD Evaluation in MM Patients
Next Post
Efficacy and Feasibility of Dose/Schedule-Adjusted Rd-R Vs. Continuous Rd in Elderly and Intermediate-Fit Newly Diagnosed Multiple Myeloma Patients