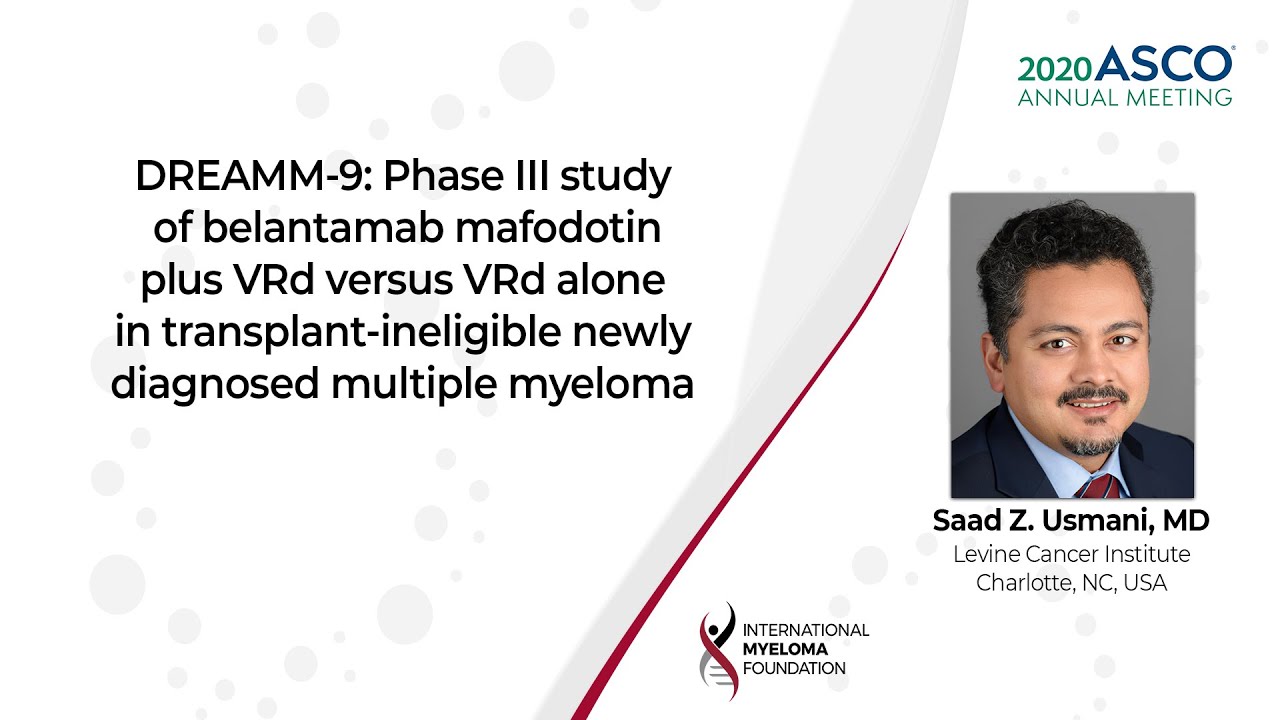 DREAMM-9: Phase III study of belantamab mafodotin plus VRd versus VRd alone in transplant-ineligible newly diagnosed multiple myeloma
What is the DREAMM-9 trial?
The DREAMM-9 trial is a phase III study of bortezomib, lenalidomide, and dexamethasone (VRd) as the standard of care for transplant-eligible and transplant-ineligible newly diagnosed multiple myeloma patients. Yet, relapse is usually inevitable.
In this video:
Dr. Saad Usmani explains that the median progression-free survival (PFS) is around three years for patients with transplant-ineligible newly diagnosed multiple myeloma. Also, with each relapse, the duration of response (DoR) diminishes, highlighting the need for novel, effective, targeted agents.
Conclusion:
Single-agent belantamab mafodotin is a first-in-class B-cell maturation antigen–binding, humanized, afucosylated, monoclonal immunoconjugate, showing deep and durable responses in heavily pretreated patients with relapsed/refractory multiple myeloma. Preclinical work suggests belantamab mafodotin plus bortezomib or lenalidomide enhances anti-myeloma activity. Therefore, studying clinical activity of belantamab mafodotin in combination with these agents is warranted.
Clinical trial information: NCT04091126
---
SAAD USMANI, MD, FACP
Dr. Usmani joined Levine Cancer Institute as the Director of Plasma Cell Disorder program and the Director of Clinical Research in Hematologic Malignancies at Levine Cancer Institute/Carolinas Healthcare System. He is a specialist in Hematology, Medical Oncology and Bone Marrow Transplantation.
Previous Post
DREAMM-5 platform trial: Belantamab mafodotin in combination with novel agents in patients with relapsed/refractory multiple myeloma
Next Post
Weekly selinexor, bortezomib, and dexamethasone versus twice weekly bortezomib and dexamethasone in patients with multiple myeloma: Initial results of the phase III BOSTON study