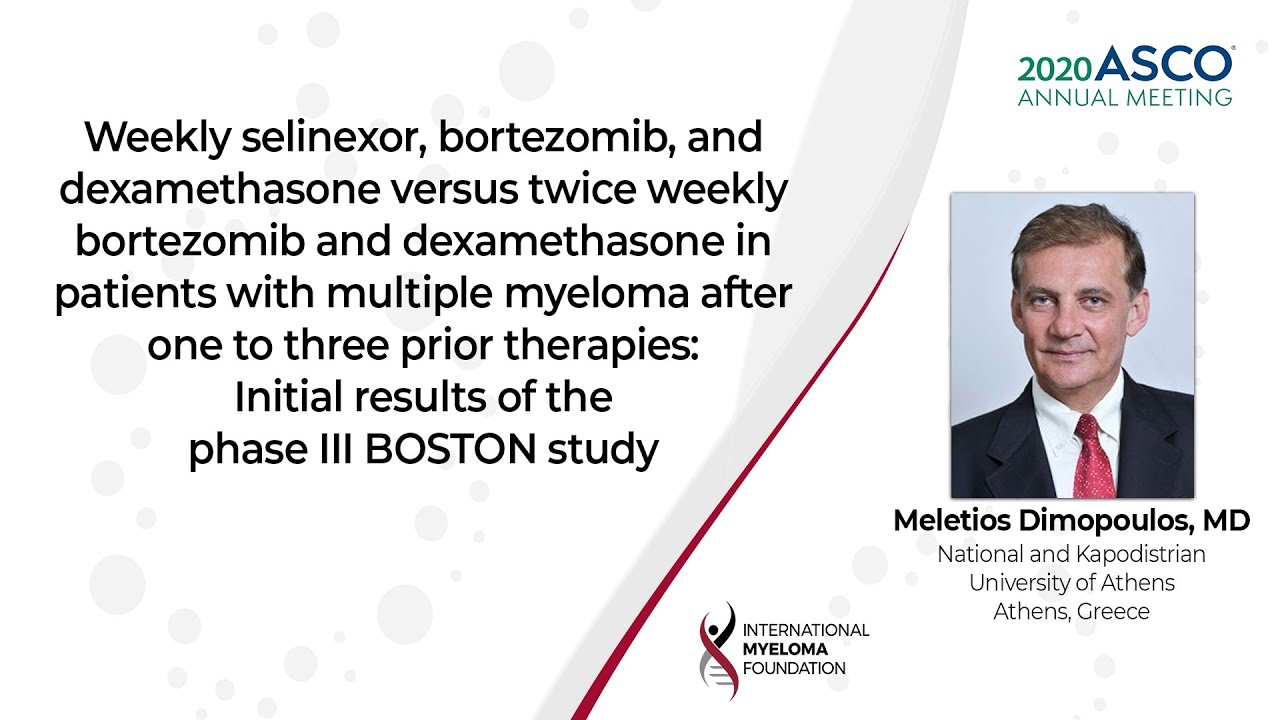 Weekly selinexor, bortezomib, and dexamethasone versus twice weekly bortezomib and dexamethasone in patients with multiple myeloma: Initial results of the phase III BOSTON study
What is the BOSTON Trial?
The BOSTON trial is the first phase III study to evaluate the clinical benefit of selinexor, Velcade (bortezomib), and dexamethasone (XVd) for relapsed/refractory . The BOSTON study was designed to determine if XVd improves progression free survival ( ), overall rates (ORR), and reduces the rate of that is a common side effect of Velcade and dexamethasone.
In this video:
Dr. Meletios A. Dimopoulos (Unviersity of Athens — Athens, Greece) explains that selinexor is an oral, selective inhibitor of XPO1-mediated nuclear export, leading to the reactivation of tumor suppressor proteins. He discusses that in a phase Ib/II study, the combination of once weekly (QW) selinexor with bortezomib and dexamethasone (XVd) was well tolerated with anti- activity in patients with primary immunodeficiency-sensitive and primary immunodeficiency-refractory disease.
Results:
While twice-weekly bortezomib in combination therapy is efficacious, prolonged use is limited due to (PN, 50-60%).
Conclusions:
The study met the primary endpoint: once weekly XVd significantly improved progression-free survival and overall rate compared to twice weekly Vd. Rates of  were significantly reduced with numerically fewer deaths on XVd as opposed to Vd. The full dataset will be presented at the meeting. 
information: NCT03110562
---
MELETIOS A. DIMOPOULOS, MD
Meletios A. Dimopoulos, MD is Professor and Chairman of the Department of Clinical Therapeutics at the University Athens School of Medicine, Athens, Greece. He has been elected Vice Dean of the Medical School for the academic years 2007-2011 and Dean for the academic years 2011-2013. He obtained his medical degree from the University of Athens in 1985, completed a residency in internal medicine at the Royal Victoria Hospital, McGill University, Montreal, Canada and a fellowship in hematology/oncology at the University of Texas M.D. Anderson Cancer Center, Houston, Texas, USA. Dr. Dimopoulos is a member of numerous scientific societies and has authored more than 650 publications (April 2013) in peer-reviewed journals, as well as numerous abstracts and several textbook chapters primarily focusing on plasma cell dyscrasias and genitourinary and gynecologic cancers.
Previous Post
DREAMM-9: Phase III study of belantamab mafodotin plus VRd versus VRd alone in transplant-ineligible newly diagnosed multiple myeloma
Next Post
Isatuximab Plus Carfilzomib and Dexamethasone (ISA-Kd) Vs Kd In RRMM (IKEMA): Interim Analysis of A Phase III, Randomized, Open-Label Study