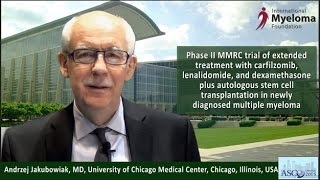 Dr. Andrzej Jakubowiak on the phase II trial of CFZ, LEN and DEX plus ASCT in NDMM (ASCO 2015)
Dr. Andrzej Jakubowiak
University of Chicago Medical Center
Chicago, Illinois, USA
Background: In a phase I/II study of combination treatment with CFZ, LEN, and DEX (KRd) without ASCT, KRd provided a high rate of sCR (55%) in NDMM patients (pts) and 3-year progression-free survival and OS rates of 79% and 96% (Jakubowiak et al. Blood 2012;120:1801-9; Jasielec et al. Blood 2013;122:3220). To further improve response and outcomes, we designed a phase II study to assess activity of extended treatment with KRd and ASCT.
Methods: Pts received 28-day (d) cycles of CFZ 20/36 mg/m2IV (d1, 2, 8, 9, 15, 16), LEN 25mg PO (d1–21), and DEX 40/20 mg PO wkly (cycles1–4 induction/5–8 consolidation) with ASCT after cycle 4. For cycles 8–18, KRd was given with a modified CFZ schedule (d1, 2, 15, 16) and then LEN alone after cycle 18. Response was assessed by IMWG plus nCR. The primary endpoint is the rate of stringent complete response (sCR) at the end of cycle 8, with statistical hypothesis that the improvement of sCR from 30% (KRd without ASCT) to >50% will represent added benefit of ASCT.
Results: As of December 31, 2014 the study accrual goal of 53 pts has been met; median age 62 yr (range 40-76), ISS stage II/III 53%, high-risk cytogenetics 27%, as per IMWG. To date, 49 pts completed induction, 41 transplant, 23 consolidation, and 7 have completed 18 cycles of KRd. A median 9.79x106/kg CD34+ cells were collected (range 3.89-16.79). Response improved with each phase of treatment (Table). At the end of 8 cycles, 15/17 evaluable pts (88%) were MRD-negative. After a median follow-up of 9.7 months (range 1.6-23), all pts were alive and 52 of 53 progression free. KRd was well tolerated during induction with no new or unexpected events. After ASCT, KRd-related AEs were mostly Grade (G) 1/; the, most common G3/4 AEs were lymphopenia (50%), leukopenia (14%), and neutropenia (21%).
Conclusions: KRd with ASCT for NDMM resulted in higher sCR rates than KRd without ASCT and high rate of MRD-negative disease, suggestive of benefit of adding ASCT to KRd treatment. The results to date compare favorably to any prior treatment of NDMM. Clinical trial information: NCT01816971
---
ABOUT ADREZJ J. JAKUBOWIAK, MD, PhD
Dr. Andrezj J. Jakubowiak is a Professor of Medicine and Director of the Myeloma Program at the University of Chicago. His areas of focus include the development of new drugs for the treatment of multiple myeloma. He is the lead investigator on many multi-site clinical trials. He has been published in a number of medical journals, including the Journal of Clinical Oncology, Blood, and Leukemia and Lymphoma. Visit Dr. Adrezj Jakubowiak's full biography.
Previous Post
Dr. Andrzej Jakubowiak on the results of the phase II study of Btz/dex w/wo elotuzumab in RRMM (ASCO 2015)
Next Post
Dr. Morie Gertz on the results of the phase 1/2 study of NEOD001 in patients with amyloidosis (ASCO 2015)