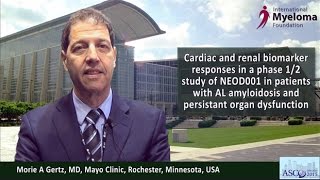 Dr. Morie Gertz on the results of the phase 1/2 study of NEOD001 in patients with amyloidosis (ASCO 2015)
Dr. Morie Gertz
Mayo Clinic
Rochester, MN
Background: Light chain (AL) amyloidosis is caused by an accumulation of misfolded proteins that induce the dysfunction of vital organs (e.g., heart and kidneys). NEOD001, a monoclonal antibody that targets these misfolded proteins, is hypothesized to neutralize circulating soluble protein aggregates and to clear insoluble aggregates from organs. We report data from a phase I/II dose-escalation/expansion study of NEOD001 in patients (pts) with AL amyloidosis and persistent organ dysfunction (NCT01707264).
Methods: Pts who completed ≥ 1 prior anti-plasma cell systemic therapy, had partial response or better, did not require additional chemotherapy, and had persistent organ dysfunction received NEOD001 intravenously every 28 days (q28d). Dose levels of 0.5, 1, 2, 4, 8, 16, and 24 mg/kg were evaluated (3+3 study design). Primary study objectives were to determine safety/tolerability and maximum tolerated dose/recommended phase II dose (RP2D). Secondary and exploratory objectives included pharmacokinetics (PK), immunogenicity, and hematologic and best organ responses based on consensus criteria.
Results: As of September 30, 2014, 27 pts in seven cohorts received 209 infusions. No deaths, drug-related serious adverse events (AEs), discontinuations due to drug-related AEs, dose-limiting toxicities, or antidrug antibodies were reported. Most frequently reported AEs were fatigue, cough, and dyspnea. 24 mg/kg was selected as RP2D. PK data support intravenous dosing q28d. Of the 14 pts evaluable for cardiac biomarker assessment, 50% met criteria for cardiac response (NT-proBNP: 30% reduction), and 50% achieved disease stabilization. Of the 14 renal-evaluable pts, 43% met criteria for renal response (24-hour urine protein: 50% reduction) and 57% achieved disease stabilization.
Conclusions: Monthly infusions of NEOD001 were safe and well tolerated. 24 mg/kg was RP2D. Cardiac response rate was 50% and renal response rate was 43%. These organ response rates compare favorably to those reported with traditional chemotherapy. The phase II expansion phase is ongoing. A phase III study has been initiated. Antibody therapy may represent a new therapeutic platform for management of AL amyloidosis. Clinical trial information: NCT01707264
---
ABOUT MORIE GERTZ, MD
Dr. Morie Gertz is a Hematologist/Oncologist and Chair of General Internal Medicine at the Mayo Clinic in Rochester, Minnesota. He treats both amyloidosis and multiple myeloma. View Dr. Morie Gertz's full biography here.
Previous Post
Dr. Andrzej Jakubowiak on the phase II trial of CFZ, LEN and DEX plus ASCT in NDMM (ASCO 2015)
Next Post
Dr. Shaji Kumar discusses venetoclax monotherapy for R/R multiple myeloma patients (ASCO 2015)