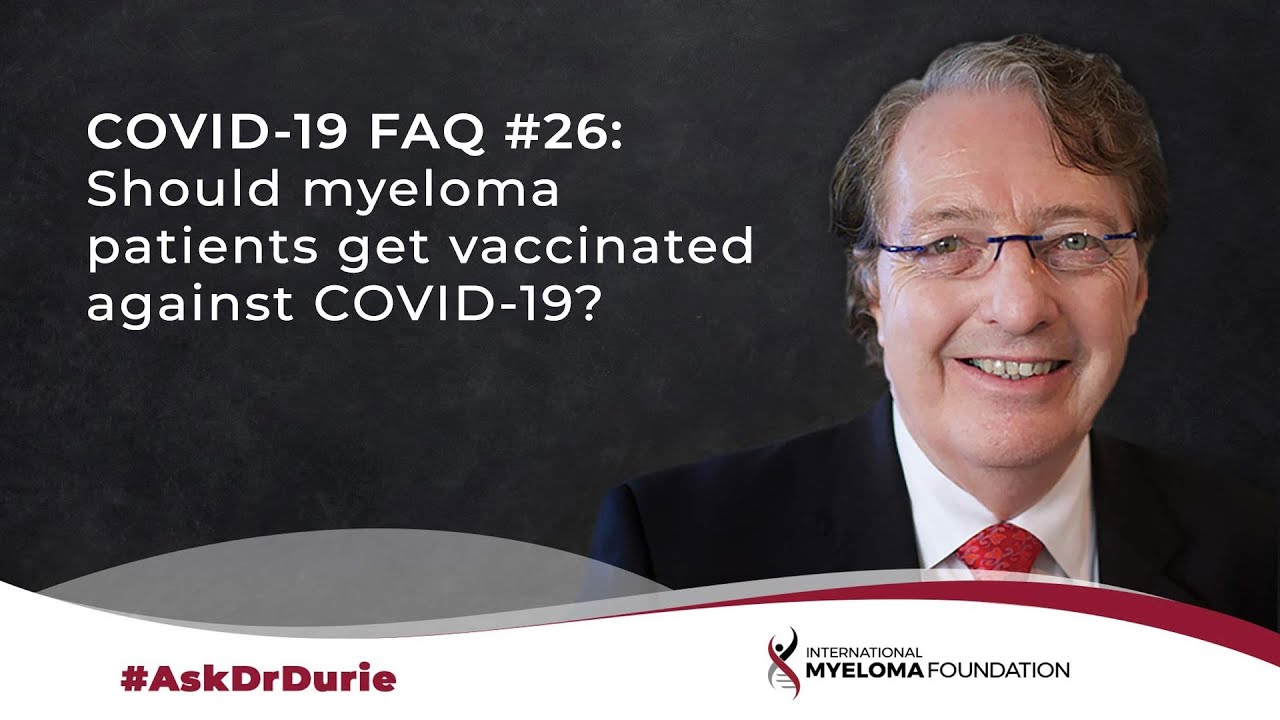 COVID-19 FAQ #26: Should myeloma patients get vaccinated against COVID-19?
Is the COVID-19 Vaccine Safe for Myeloma Patients? 
Continuing his COVID-19 FAQ series, Dr. Brian G.M. Durie advises myeloma patients on the importance of being vaccinated against COVID-19 (coronavirus).
The BOTTOM LINE: 
Getting vaccinated against COVID-19 is highly recommended. Even after receiving the vaccination, continue protective practices including the use of masks.
If you have a question that you'd like to suggest for a future episode of Ask Dr. Durie, please submit it to [email protected]. 
To reach the IMF InfoLine Coordinators, please call 800.452.2873 or email them at [email protected].  
Transcript:
This week's "Ask Dr. Durie" is really the top question of the moment, which is: "Should I get the COVID-19 vaccination?" And obviously, this is an extremely important question for every patient with myeloma, or MGUS, or smoldering myeloma.   
And the answer is: Definitely, Yes. All patients should go ahead and get the vaccination. The vaccines that are currently available are safe and effective. We have no indications of particular problems for myeloma patients with these vaccines. Obviously, we are staying alert, because we early in the stages of this vaccination process. And so, if any patient does in fact note some special problem, please, please, let your doctor know. 
So, are there any situations where there should be some cautions? Well, if you have recently received an autologous stem cell transplant, within the first hundred days, especially within the first month or two, that is not a good time to get vaccinated. So, I would avoid vaccination at that time. 
If you are getting vaccinated, I would also recommend against getting any intense treatment on that same day of the vaccination. For example, if you're taking daratumumab, Darzalex®, don't take that the same day as the vaccination. If you're on maintenance therapy, where you have a week off from Revlimid® or lenalidomide, for example, very, very, good to get vaccinated during that period of one week off. So, just use some common sense and try to avoid therapy that could potentially interfere. 
We actually have no data at this point about the impact of any particular therapy. I've received questions about pomalidomide, Darzalex, all kinds of these different therapies commonly used, but actually, no data yet that would indicate a particular concern with any special type of therapy. 
And so, patients should with confidence go ahead and get vaccinated as soon as they can. We now have three vaccines available: The Pfizer, the Moderna, and the recently approved J&J product, the one-shot product vaccine. All are very, very, effective. And so, there should be no problem in taking any one of those.   
The key thing I recommend is: Whichever one you have access to, please go ahead and take that vaccine. Because the most important thing right now is to go ahead and get vaccinated and to get the protection that you need.   
A couple of points: It may be that all myeloma patients will not get that 95-percent protection reported for Pfizer and Moderna, and it may be a little bit less. But we know that even a 50-percent protection level really has a huge impact on the likelihood of infection. So, please, please go ahead even with this knowledge.  The other thing is, people are concerned: "If I don't get a reaction, is the vaccine working?" Absolutely, some patients do have a severe reaction, but if you don't have a reaction, that's great. The vaccine is still working. 
So, please go ahead and even once you're, for the time being, certainly through the middle part of this year, please continue with your normal protections, wearing a mask when you're out and about, and taking the normal protections to stay safe.
---
Dr. Brian G.M. Durie serves as Chairman of the International Myeloma Foundation and serves on its Scientific Advisory Board. Additionally, he is Chairman of the IMF's International Myeloma Working Group, a consortium of nearly 200 myeloma experts from around the world. Dr. Durie also leads the IMF's Black Swan Research Initiative®.
Previous Post
From Vaccine to Variants: The Latest COVID-19 Safety Guidance
Next Post
Myeloma Treatment Discussion Tool for Patients