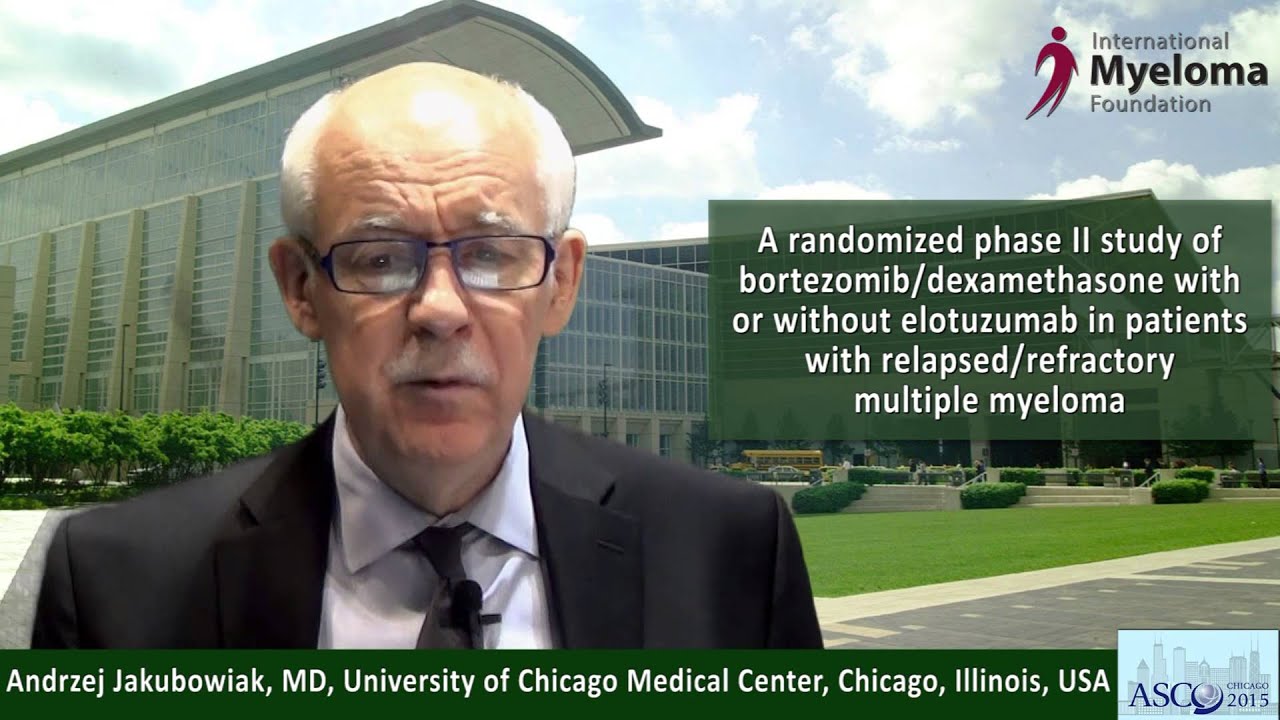 Dr. Andrzej Jakubowiak on the results of the phase II study of Btz/dex w/wo elotuzumab in RRMM (ASCO 2015)
Dr. Andrzej Jakubowiak
University of Chicago Medical Center
Chicago, Illinois, USA
Background: Elo, a monoclonal antibody (mAb) targeting Signaling Lymphocytic Activation Molecule F7 (SLAMF7), kills myeloma cells with minimal effects on normal tissue. Elo showed enhanced activity when combined with Btz in a preclinical myeloma model, (van Rhee F, et al. Mol Cancer Ther 2009;8:2616–24) and encouraging clinical activity in a Ph 1 study (Jakubowiak A, et al. J Clin Oncol 2012;30:1960–65). This Ph 2 open-label study (NCT01478048, CA204-009) investigated the efficacy and safety of Elo + Btz/dex (Bd) in pts with RRMM.
Methods: Pts with RRMM, 1–3 prior therapies, were given Elo + Bd (EBd) or Bd in 21-d (Cycles 1–8) or 28-d cycles (9+) to disease progression/unacceptable toxicity. Elo (10 mg/kg IV): wkly Cycles 1–2, D1+11 Cycles 3–8, then D1+15; Btz (1.3 mg/m2 IV/SC): D1, 4, 8+11 Cycles 1–8, then D1, 8+15; dex 20 mg non-Elo days, 28 mg PO + 8 mg IV Elo days. Primary endpoint: PFS (ITT population). A 2-sided 0.30 significance level was specified (80% power, 103 events) to detect a hazard ratio (HR) of 0.69.
Results: 152 pts were randomized; 77 EBd, 75 Bd. At data cut-off (12 Sep 2014), 18% (EBd) vs 10% (Bd) of pts remained on therapy. Discontinuation was mainly for disease progression (52%). Median PFS was 9.7 mo (EBd) vs 6.9 mo (Bd) (HR 0.71; 70% CI 0.58, 0.87; p = 0.08). PFS HR, adjusting for prognostic factors, was 0.58 (70% CI 0.47, 0.72; p = 0.01). ORR was 66% (EBd) vs 63% (Bd). Early overall survival (OS) results revealed a HR of 0.61 (70% CI 0.43, 0.85); 40 deaths (17 EBd, 23 Bd) were observed, mainly from disease. Common ≥ G3 adverse events (EBd, Bd): thrombocytopenia 7 (9%), 13 (17%); infections 14 (19%), 11 (15%). Infusion reactions (IRs; all grade 1–2, none at max 5 mL/min rate) occurred in 7% of pts with EBd.
Conclusions: This study met the primary endpoint. PFS was longer with EBd than with Bd (HR 0.71). More pts continue on EBd vs Bd and early OS data favor EBd vs Bd. A low rate of IRs was seen with EBd. In patients with RRMM, Elo, an immunotherapeutic mAb, provides clinical benefit with limited added toxicity when combined with Bd vs Bd alone. Clinical trial information: NCT01478048
---
ABOUT ADREZJ J. JAKUBOWIAK, MD, PhD
Dr. Andrezj J. Jakubowiak is a Professor of Medicine and Director of the Myeloma Program at the University of Chicago. His areas of focus include the development of new drugs for the treatment of multiple myeloma. He is the lead investigator on many multi-site clinical trials. He has been published in a number of medical journals, including the Journal of Clinical Oncology, Blood, and Leukemia and Lymphoma. Visit Dr. Adrzej J. Jakubowiak's full biography.
Previous Post
Dr. Edward Stadtmauer on the safety and efficacy of anti-CD19 CAR-T cells in advanced MM (ASCO 2015)
Next Post
Dr. Andrzej Jakubowiak on the phase II trial of CFZ, LEN and DEX plus ASCT in NDMM (ASCO 2015)