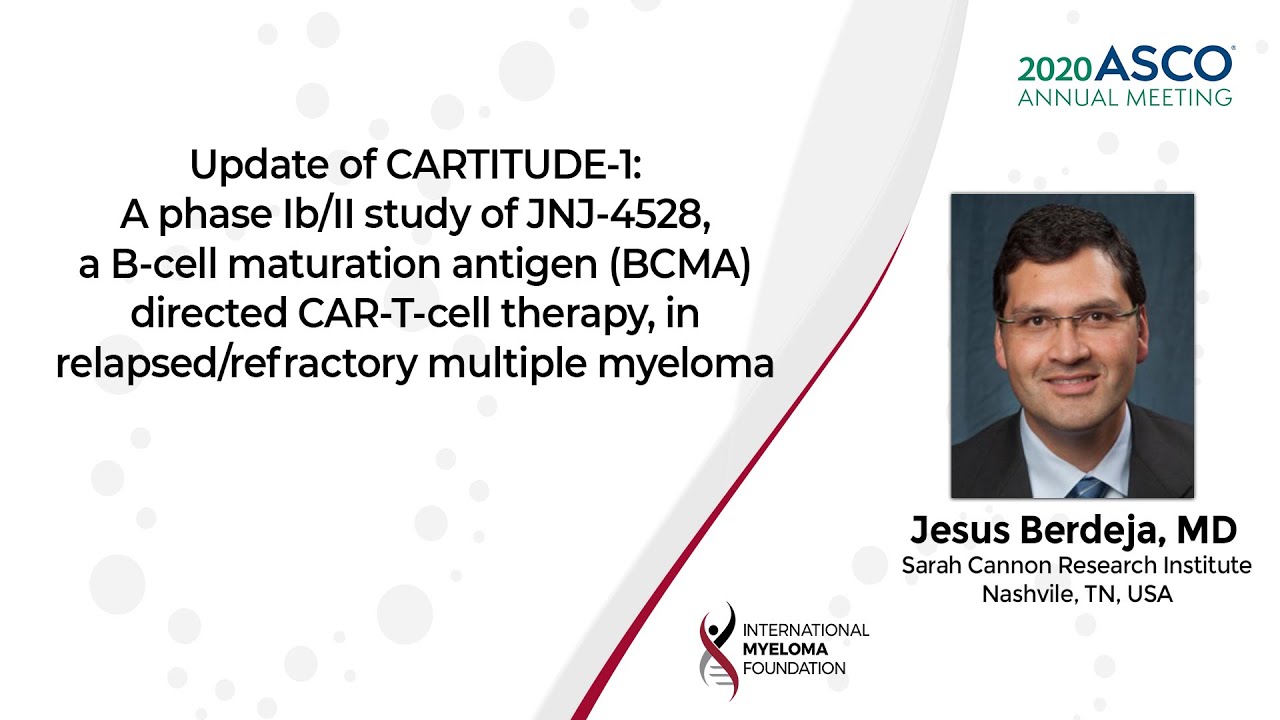 Update of CARTITUDE-1: A phase Ib/II study of JNJ-4528, a BCMA-directed CAR-T-cell therapy, in relapsed refractory multiple myeloma
Dr. Jesus Berdeja on the CARTITUDE-1 Study
What is the CARTITUDE-1 study?
CARTITUDE-1 is an ongoing Phase 1b/2, open-label, multicenter study evaluating the safety and efficacy of the drug JNJ-68284528 in adults with relapsed or refractory multiple myeloma. 97 percent of the patients evaluated were refractory to their last line of treatment; 86 percent of whom were triple-class refractory, meaning their cancer did not, or no longer responds to an immunomodulatory agent (IMiD), a proteasome inhibitor (PI) and an anti-CD38 antibody.
What is the purpose of the CARTITUDE-1 study?
The purpose of the study is to characterize the safety of the B-cell maturation antigen JNJ-68284528, to establish the recommended Phase 2 dose, and to evaluate the efficacy of JNJ-68284528 drug. 
In this video:
Dr. Jesus Berdeja outlines updated results from the Phase 1b/2 CARTITUDE-1 study which evaluates the efficacy and safety of JNJ-4528, an investigational B-cell maturation antigen (BCMA)-directed chimeric antigen receptor T cell (CAR-T) therapy in the treatment of patients with relapsed or refractory multiple myeloma.
The 100 percent overall response rate included 97 percent of patients achieving a very good partial response or better and three percent achieving a partial response. Responses were observed among heavily pretreated patients at a low dose of CAR-T cells, with the median administered dose being 0.72x106 CAR+ viable T cells/kg. Patients evaluated had received a median of five (range, 3-18) prior treatment regimens. 86 percent of the patients evaluated were triple-refractory and 28 percent were penta-refractory. The median time to first response was one month (range, 1-3), and 81 percent of evaluable patients achieved minimal residual disease (MRD)-negative disease status at 10-5 or 10-6 at the time of first suspected complete response. 
Results:
The study shows that all patients had deep responses to the treatment with 86 percent of patients achieving stringent complete response at a median follow-up of 11.5 months and 86 percent of patients being alive and progression free at 9 months.
Clinical trial information: NCT03548207
---
JESUS BERDEJA, MD
Dr. Jesus Berdeja joined Sarah Cannon in 2008 and serves as the director of myeloma research. He is the lead investigator in many clinical trials for patients with blood cancers and has published extensively in the subject. Berdeja received his undergraduate degree from Stanford University in 1990 and medical degree from Harvard Medical School in 1994. He completed his internship and residency in the Department of Internal Medicine at the University of California in San Francisco. He also completed fellowships in medical oncology and hematology at Johns Hopkins University School of Medicine in Baltimore. He is board certified in internal medicine, medical oncology and hematology. Additionally, he is an associate with Tennessee Oncology, PLLC. Visit Dr. Jesus Berdeja's full biography.
Previous Post
Results of ENDURANCE (E1A11) phase III trial: KRd versus VRd for initial therapy of NDMM
Next Post
Updates in Multiple Myeloma from ASCO 2020