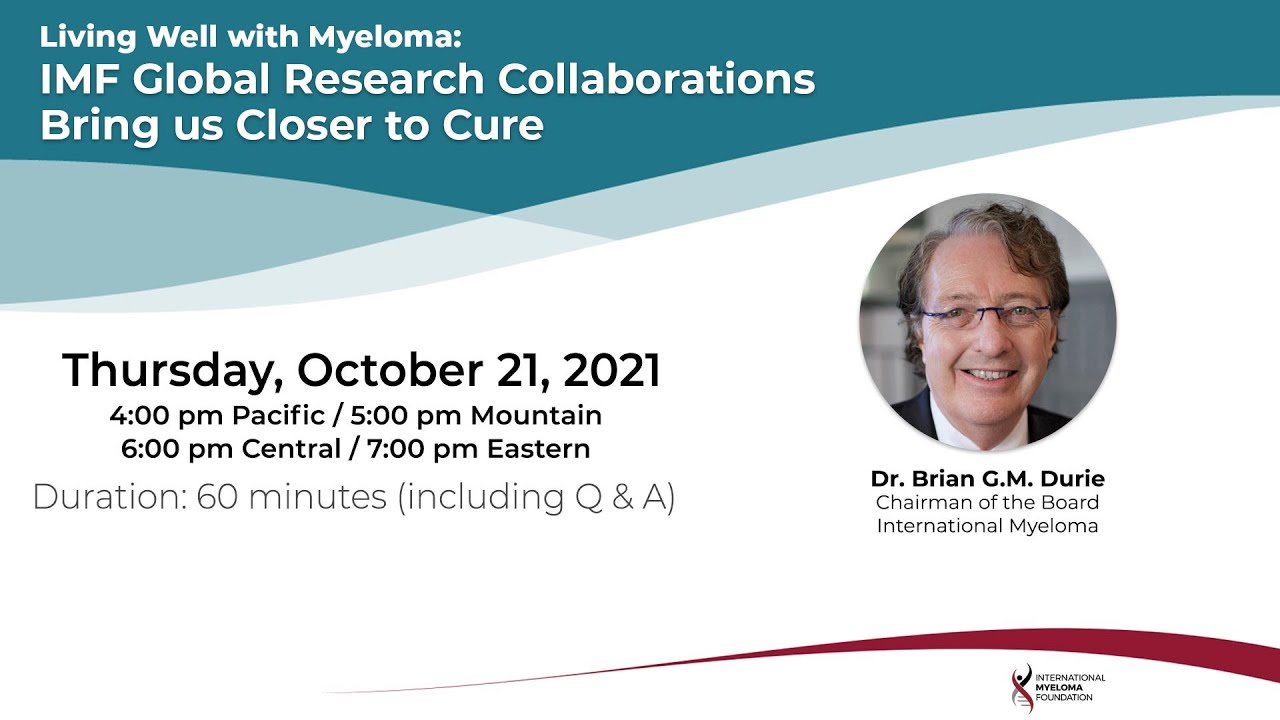 IMF Global Research Collaborations Bring Us Closer to a Cure
IMF Chairman of the Board Dr. Brian G.M. Durie Speaks on IMF Global Research Collaborations
Dr. Durie explains the collaborative IMF's Global Technology Platform, comprised of seven major myeloma research teams. Each team is simultaneously pursuing diverse routes to identify and achieve both prevention and a cure for myeloma.
Did you know that there are new data emerging that will possibly validate the approach of combining Next Generation Flow testing with mass spectrometry testing?

Do you know about the ASCENT trial (Aggressive Smoldering Curative Approach Evaluating Novel Therapies), which evaluates the potential benefits of starting treatment earlier? The trial, which has been accruing since 2020, has very promising early results.

Did you know that the iStopMM project in Iceland, which is the "the largest single-country, randomized trial that has ever been conducted in the cancer field," forges ahead? At Year 4, the Principal Investigator Sigurdur Kristinsson says, "No one has ever done anything like this before, ever. So far it has been a success!"

Did you know the IMF in Australia leads a BSRI-supported team to evaluate DNA in the blood—so-called cell-free or cfDNA? The team has observed a range of mutations that can serve as a basis for possible new treatment strategies for patients with residual disease.
Q & A: Dr. Durie will answer your questions at the end of the presentation.
---
Webinar Sponsors:
The IMF thanks the following event sponsors for their generous support:
Bristol-Myers Squibb, Janssen, Oncopeptides, and Takeda Oncology
Previous Post
IMF Virtual Regional Community Workshop (RCW) - Pacific Northwest Region
Next Post
Advances in Myeloma Treatments: What Patients & Caregivers Need to Know