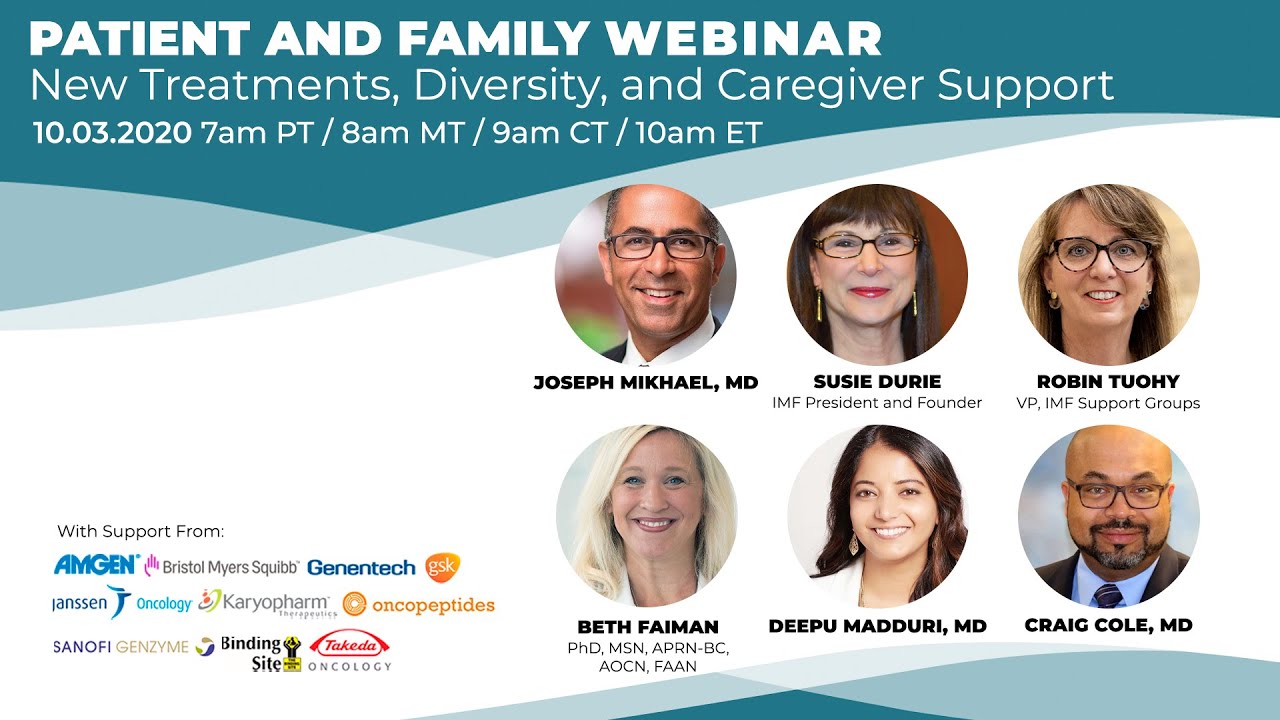 2020 IMF Patient & Family Webinar: Multiple Myeloma - New Treatments, Diversity, and Caregiver Support
(click on the image above to view the replay)
(View the slides by clicking the image above.
Click on the rectangle icon on the bottom right to view fullscreen.)
Listen to a replay of the IMF Patient & Family Webinar. This free two-hour webinar features a panel discussion about the latest treatments, diversity and caregiver support led by IMF Chief Medical Officer Dr. Joseph Mikhael of Translational Genomics Research Institute (TGen). IMF President, Founder, and CEO Susie Durie and IMF Vice President of Support Groups Robin Tuohy lead a special segment dedicated to caregiver support. 
Other panelists include Deepu Madduri, MD of Tisch Cancer Institute/Mount Sinai Hospital; Craig Emmitt Cole, MD of Michigan State University; and Beth Faiman PhD, MSN, APRN-BC, AOCN, FAAN of Cleveland Clinic Taussig Cancer Institute. 
We suggest you acquaint yourselves with the following resources on the IMF website in order to better understand the discussions. 
---
with support from:
Amgen; Bristol-Myers Squibb; Genentech; GSK; Janssen Oncology; Oncopeptides, Inc; Karyopharm Therapuetics; Sanofi Genzyme; The Binding Site; Takeda Oncology
Please check out these multiple myeloma resources from our sponsors:
 

Revlimid Treatment Overview brochure

Pomalyst Transition Treatment brochure

 
Multiple Myeloma and You website

DARZALEX FASPRO™ Patient Brochure

Oncopeptides, Inc. website

Talking to Your Healthcare Team

Understanding Ninlaro booklet
Virtual Patient Booth
Download Understanding Series booklets:
Next Post
Southern USA Region Virtual Myeloma Workshop